Remember last season, when the Yankees had a revolving door at shortstop just about all summer? They had seven players start at least five games at short at year ago. This summer it was only four players, and two of them made fewer than nine starts. The Yankees still cycled through a healthy collection of random backup infielders in 2014, though thankfully it was not as substantial a group as 2013. Let's recap their seasons.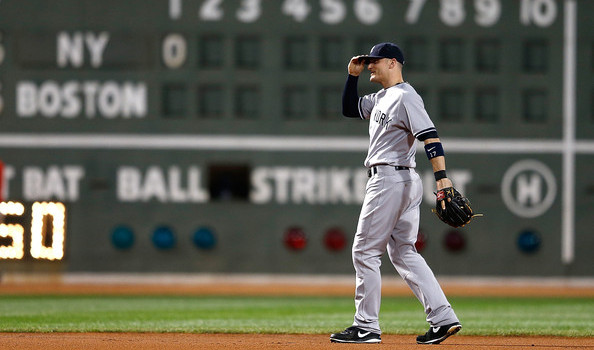 Brendan Ryan
Giving Ryan a two-year contract with a player option for a third year definitely flew under the radar as a LOLWTF move last offseason. I mean, I get it, the Yankees had to protect themselves in case Derek Jeter's ankle and legs couldn't hold up, but still. One year in, that's a weird contract even though it only pays him peanuts. You don't see players like this get multi-year contracts all that often.
Ryan, 32, actually started this past season on the disabled list after hurting his back in Spring Training — he suffered a pinched nerve in his upper back during drills, then re-aggravated it sitting on the bus during a long Grapefruit League road trip — and he didn't join the team until early-May. He was a seldom used backup infielder, appearing in only 49 games and starting only 33. Ryan hit a weak .167/.211/.202 (12 wRC+) with no homers, four walks, and 30 strikeouts in 124 plate appearances. He had two (2) multi-hit games.
The Yankees did get their money's worth out of Ryan defensively by playing him at all four infield spots. Yes, that includes first base. The image of Ryan playing first while Jeter plays short will forever be my lasting memory of the 2014 Yankees. Everything was just so backwards. Ryan is still a quality gloveman but he is clearly no longer elite defensively. That's sort of the problem. He can't hit — he's never hit and never will — and if he's not going to dominant defensively, then he's not really worth a roster spot. Of course, if the 2015 season started today, Ryan would be the starting shortstop.
Zelous Wheeler
Because of Jeter's lost 2013 season, Alex Rodriguez's suspension, and Robinson Cano's free agency defection, the Yankees hoarded some infielders on minor league contracts last winter. The 27-year-old Wheeler was one of those players, and he put himself on the map with a strong Spring Training and an excellent (132 wRC+) first few weeks with Triple-A Scranton. The Yankees called him up in early-July when Yangervis Solarte played his way down to the minors, and in his very first MLB game, Wheeler did this:
Not a bad way to start your big league career, no? Wheeler swatted another solo homer a week later and didn't do much else offensively the rest of the season, finishing the year with a .193/.230/.298 (43 wRC+) batting line in 62 plate appearances. He went back down to Triple-A at one point and was recalled in August.
Wheeler is actually still on the 40-man roster, though now that I think about it, it isn't all that surprising. First off the Yankees have some open 40-man spots, so it's not like they need to get rid of someone, but also the infield is one giant question mark. They don't have a second baseman, a third baseman, or a shortstop right now. Wheeler could always go to the minors and I guess he's worth keeping around as depth for the time being.
Dean Anna
Man, what a season this was. Guys named Dean Anna and Yangervis Solarte actually made the Opening Day roster. The Yankees acquired Anna from the Padres in the offseason — they sent reliever Ben Paulus to San Diego, and he had a 4.65 ERA (4.49 FIP) while repeated High-A this summer — and he beat out Eduardo Nunez for the spare infielder's job in Spring Training. Both he and Solarte did, fair and square.
Anna, 27, played very sparingly in April, though he did record his first career hit in his first career game, a single off Jeremy Jeffress. Anna took Clay Buchholz deep for his first career homerun a week later, though that wasn't the highlight of his time in pinstripes. One day after sparing the bullpen and throwing a scoreless inning in a blowout loss (video), Anna drew a bases loaded walk in the 12th inning to give the Yankees a 2-1 lead over the Rays:
I wish there was video of the entire at-bat somewhere. It was great. Anna saw eight pitches, fouled off a few tough sliders, and took some others for balls. You can even see Mark Teixeira say it in the video, "that's a great at-bat." Ken Singleton said the same thing.
The Yankees sent Anna to Triple-A when Michael Pineda was suspended for the pine tar incident — the suspension forced them to play with a 24-man roster, so they sent down Anna and called up a pitcher to replace Pineda — and he spent the rest of his time in the organization there before being designated for assignment in early-July to clear a 40-man spot for Wheeler. The Pirates claimed Anna off waivers and he spent the rest of the season with their Triple-A club. Anna hit .136/.200/.318 (38 wRC+) in 25 plate appearances with the Yankees.
Jose Pirela
Unlike everyone else in this post, Pirela is actually homegrown. The 24-year-old spent most of the last three years tearing the cover off the ball in Double-A, and he opened this past season with Triple-A Scranton. Pirela hit .305/.351/.441 (117 wRC+) with ten homers and 15 stolen bases in 130 games with the RailRiders but did not get called up on September 1st. He wasn't on the 40-man roster but would have been eligible for minor league free agency  after the season (again), and the team opted against adding him to the roster.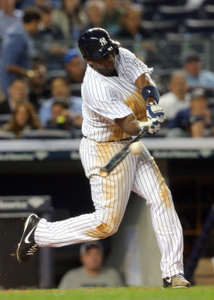 That all changed when Martin Prado's season unexpectedly ended due to an emergency appendectomy in mid-September. The Yankees did indeed call up Pirela after that, though he sat on the bench for about a week before finally getting into a game. He tripled off Wei-Yin Chen in his first career plate appearance — it was a bomb off the wall in left-center, I thought it was gone off the bat — and sliced a single to right next time up. Pirela went 2-for-3 with the triple in his first career game and was a mainstay in the lineup after that, starting six of the team's final seven games and coming off the bench in the seventh.
All told, Pirela went 8-for-24 (.333) with a double and two triples (149 wRC+) during his brief time in pinstripes at the end of the year. He started three games at DH and the final three games of the seasons at second base, after the Yankees had been eliminated. Pirela is one of those guys who has done nothing but put up great numbers in the minors even though the scouting reports aren't glowing. The Yankees were able to re-sign him when he became a minor league free agent last winter, but after his strong season in Triple-A, another team might have offered more opportunity this offseason. Adding him to the 40-man will keep him in the organization, and, right now, Pirela has the inside track for a big league job in 2015, either at second base or on the bench.
Scott Sizemore
Sizemore was part of that group of infielders the Yankees brought in as minor league free agents last winter. The 29-year-old spent most of the season with Triple-A Scranton but did get called up to New York a few times, going 5-for-16 (.313) with three doubles and eight strikeouts (107 wRC+). He also drove in four runs in his limited time, which is kinda neat. Sizemore had a 108 wRC+ in Triple-A, was released at the end of July, then re-signed a few days later. He spent a bunch of time on the disabled list with an unknown injury as well as on the restricted list with some kind of off-the-field problem. In a season of mostly forgettable random infielders, Sizemore was the most forgettable.