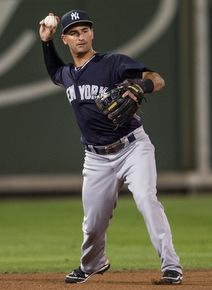 When Spring Training started, the Yankees had about six players in serious consideration for the final bench spot. The number of bench candidates has whittled down over the weeks and, thanks to the pinched nerve in Brendan Ryan's back, another bench spot has opened. Joe Girardi has indicated they will take two of Eduardo Nunez, Dean Anna, and Yangervis Solarte north when the team breaks camp in a week.
Nunez seems like a lock for one of those two bench spots even though he has been the same guy he's always been this spring, meaning lots of contact, lots of speed, but also lots of defensive adventures. Yet, because he's the incumbent, Nunez appears to have a roster spot in the bag, especially in the wake of Ryan's injury. That leaves one spot for Anna or Solarte. Is one a better fit for the roster than the other? Let's look at what they have to offer.
The Case for Dean Anna
Acquired in a minor offseason trade with the Padres, the 27-year-old Anna provides four things, specifically: patience, contact skills, solid defense, and some versatility. He has always been a high-walk (12.6% in Double-A and Triple-A), low-strikeout (12.0%) hitter from the left side of the plate, though his power and speed are non-factors. Anna has a ton of experience at second base and shortstop, plus some at third and the two corner outfield spots. He's not a Gold Glover but he's not Nunez either. Adequate all around the infield, which is valuable.
Carrying Anna would give the team another lefty bat off the bench in addition to Ichiro Suzuki — considering they both make a bunch of contact, Anna's probably the greater offensive threat because he'll take a walk and not hack at everything — but this isn't a lineup that will require a bunch of pinch-hitters. The Yankees will live and die with the starting position players. Anna's glove is more reliable that Nunez's, which would be valuable whenever Derek Jeter gets a day off from playing the field. That figures to happen fairly regularly, at least early in the season.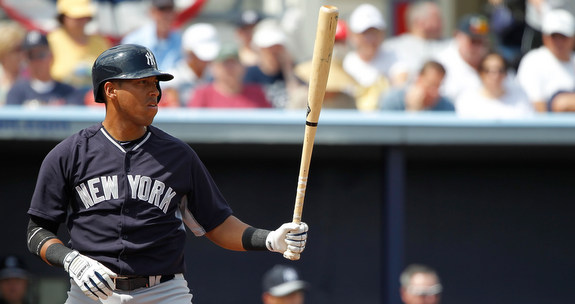 The Case for Yangervis Solarte
The only reason the Solarte is in the conversation for a bench spot right now is his Spring Training performance. He's gone 16-for-35 (.457) with two homers in camp, the kind of numbers that get a non-roster player noticed. Solarte, 26, has also spent a bunch of time at the three non-first base infield positions as well as left field this spring, though he's spent most of his minor league career at second, third, and left. Only 30 games at short in parts of eight seasons, 20 of which came in 2013.
Solarte hit .282/.332/.404 in over 1,100 Triple-A plate appearances the last two seasons, which were spent in the hitter friendly Pacific Coast League. Nothing about his 91 wRC+ from 2012-13 suggests he can be an asset at the plate in the show, though it's always possible something has clicked this spring and he's a new hitter. Since he is another low power, little speed, adequate defense guy, the only things Solarte has on Anna are his versatility (more experience in third and left, less at short) and his ability to switch-hit. Having a switch-hitter on the bench is always nice for matchup purposes, but again, Girardi doesn't figure to use many pinch-hitters this summer.
* * *
Brian Cashman said "all the answers are here in camp" the other day when asked about going outside the organization to replace Ryan, and unless they're going to pony up for Stephen Drew, there aren't many available options anyway. The recently designated for assignment Juan Francisco could make some sense as a corner fielder with (huge) left-handed power, though he's a butcher in the field who won't walk and will strike out a ton. He's a lefty Mark Reynolds without the plate discipline, basically. As the last man on the bench, maybe he makes more sense that Anna or Solarte.
The Yankees have a 40-man roster crunch at the moment, which could give Anna (on the 40-man) a leg up over Solarte (not on the 40-man). Adding Solarte to the roster will cost the team another player, unless Ryan's back injury is so bad that he's a 60-day DL candidate. Anna is the simpler move and since he a) can play short no questions asked, and b) seems like a safer bet offensively because of his contact/discipline approach, he might be the best fit for the bench. Solarte is hitting the ball far better right now and is a switch-hitter with a bit more versatility, so it's not like he has nothing to offer. Either way, whoever wins the job will have a big opportunity early in the season.