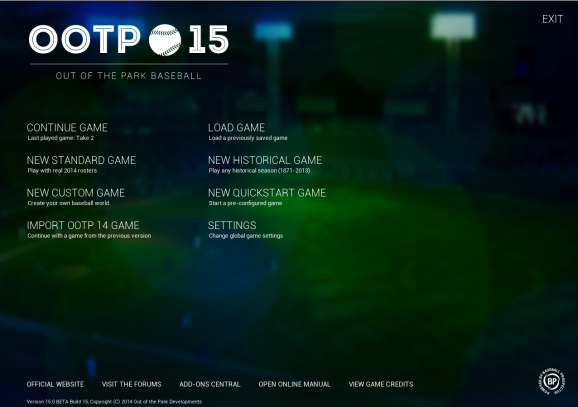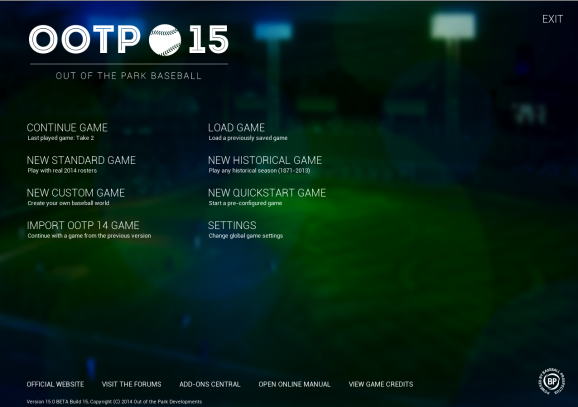 You might remember a review of Out of the Park Baseball 14 from about a year ago. For those who don't, OOTP is a powerful baseball simulation game that provides a fully customized experience. If you like the management aspects of The Show, but think that actually playing the games takes too long*, OOTP can scratch that itch.
* From what I've read, The Show is much more manageable this year due to a number of new features. It's also apparently not impossible to score runs in The Show 14. Too bad this is the year I decided not to buy it.
For a full treatment of OOTP, please click the link above and read last year's review. There are also some great points in the comments from long-time OOTP players. The beauty of OOTP is that the engine largely stays the same from year-to-year. Yet there are always changes that make the newest version better than the previous.
3D Live Simulation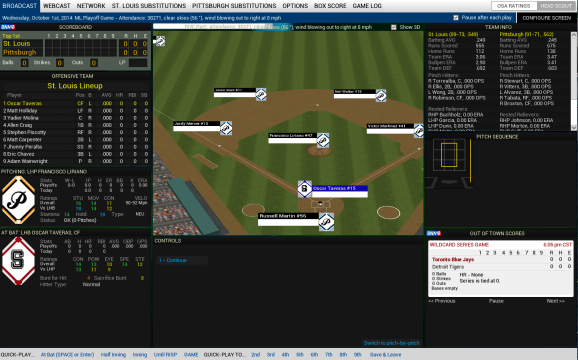 If, for some reason, you would like to watch and manage one of your games, OOTP has a new feature to make it more worthwhile. You can actually watch the game in 3D mode. It might not be my bag — I want to plow through seasons and see the fruits of my labor — but OOTP has at least made the sim process interesting.
I imagine in a few years they'll have actual 3D player models to stand on the 3D field. A few years after that, actual pitches and swings. For now we have this. It's not the most compelling feature, but it certainly beats the old watching method, if you prefer to play the dramatic games rather than just hit the sim button.
All sorts of leagues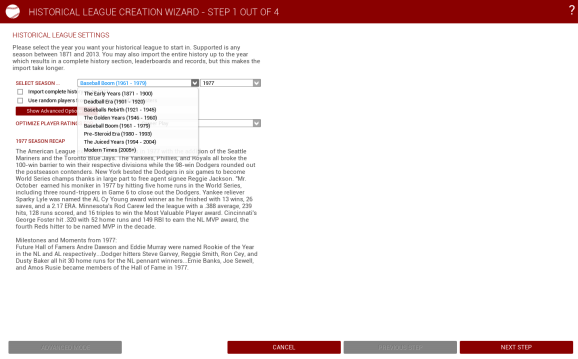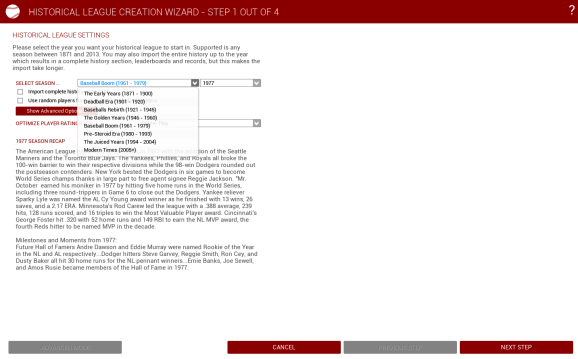 You don't have to play starting at the 2014 MLB season. You can start from many historical points, which is part of what makes this game stand out. It's pretty fun to start a historical team and sim like crazy.
You can also create a completely custom fictional league, even with fictional players. Have ideas for different rules? You can implement them. If you want to play with an international league — Japan, Korea, Taiwan, Mexico, Cuba, Netherlands, Italy — you can do that, too.
The ratings system
One thing I love about OOTP is the ratings system. When you set up a new league, make sure that scouting is on. You'll have to hire a scouting director, and the strength of your scouting director will determine how well you evaluate players.
For instance, your scouting director might rate a guy as having five-star potential, but the default ratings might have him as two-stars. If you have a great scout, you might have a diamond in the rough on your hands. But your scout can be wrong. To me this is one of the most realistic aspects of the game.
You can, if you're so inclined, eschew the star rating and put guys on the 20-80 scale. It's not for me, but it might give you some granularity you don't get with the 10-point system (half stars).
The ratings seem to be stronger this year, too. There are a number of ratings, both actual and potential, that underlie a player's star rating. It's a lot of information to process, but it ultimately makes the game satisfying.
Strongest suggestion: make trades hard
If you leave trades at the default setting, they're far too easy. There is just no way the Pirates would deal a healthy Jamison Taillon for Jeff Samardzija and a three-star prospect. Yet that's what happened during the first year of my first franchise. It's almost like MVP 2004: if you make enough trades, you can get a team full of four- and five-star prospects and players.
If you bump up the trade difficulty one setting, you'll have a much more difficult time trading. That makes it more realistic. If you have a poorly performing reliever on a one-year contract, you won't get any offers for him. That's the way it should be. Teams just don't do that; otherwise maybe the Mets could have traded Kyle Farnsworth. It also means that you can't go plucking top prospects from teams. They don't trade them unless there's a need and it makes sense for them.
iOOTP 2014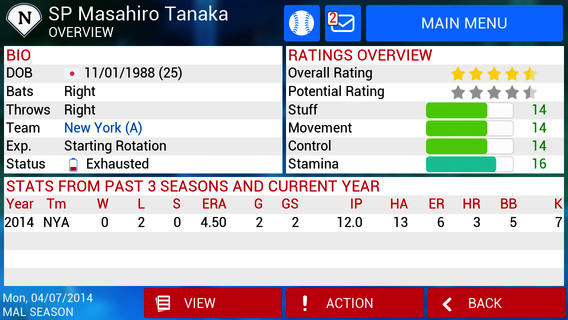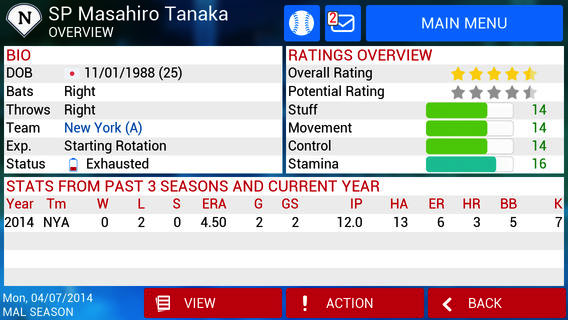 I also got a chance to check out iOOTP, the stripped-down iOS version of the game. For $5 you could do a lot worse. It gives you the most basic version of the game. There is no minor league system, just a list of 20 to 30 minor leaguers who you can call up and send down at will. They develop, but they don't play any games while in the minors.
I find the interface a bit obnoxious, but that's because I'm used to the desktop version. You have to tap through a few screens to edit your lineups. In fact, the entire problem with the UI is the sheer number of times you have to tap the screen. But other than that, it's a nice alternative if you'd rather just lay on the couch and sim some seasons.
Where you can get it
Head over to OOTP Developments website to pick up a copy of OOTP 15 for Windows, Mac, or Linux. It costs $39.99, so less than a copy of The Show. I don't know about anyone else, but I find myself engaged in OOTP for far longer than I am with The Show or any other console baseball game.
You can get iOOTP 2014 from iTunes. Again, it's $5. Not bad at all.