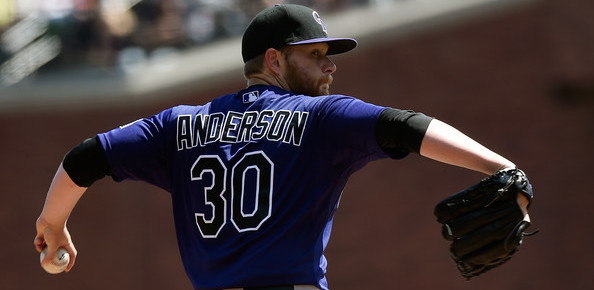 According to Jeff Passan and Buster Olney, the Yankees were among the runners-up for left-hander Brett Anderson, who signed with the Dodgers earlier this week. The Braves, Royals, and Athletics were also after him. The Dodgers gave Anderson a one-year contract worth $10M with a bunch of incentives a few days ago.
As noted in our Scouting The Market post a few weeks ago, the Yankees tried to acquire Anderson several times in the past, so their interest in him as a free agent this winter is no surprise. They tried to get him from the Athletics last offseason and again from the Rockies at the trade deadline this past season. Anderson, who will turn 27 in February, was the youngest free agent on the market this winter.
I'd love to know what the Yankees were willing to offer Anderson — chances are we'll never find out, of course — because that $10M deal seems a little crazy for a guy with his injury history. (Anderson has thrown only 206.1 innings since 2011.) Most contract estimates pegged him for a $7M salary on a one-year deal coming into the winter. I guess $10M isn't all that crazy then. Reclamation projects don't cost $1M or $2M anymore.
The Yankees re-signed Chris Capuano yesterday and I suppose that could be a direct result of losing out on Anderson. Once they realized they weren't getting Anderson, they turned around and gave the money to Capuano. That sort of thing. The Yankees do need multiple starters this winter though, so maybe they would have signed Capuano even if they had landed Anderson. Who knows.
Anderson is still really young and has upside remaining — the upside being he continues to pitch exactly like he has but actually stays healthy all year — but there is no shortage of reclamation project arms still available. Chad Billingsley, Kris Medlen, Brandon Beachy, Josh Johnson, and Alexi Ogando have all had a bunch of injury problems in recent years and remain on the market. Still plenty of opportunity for the Yankees to add even more injury risk to the rotation.