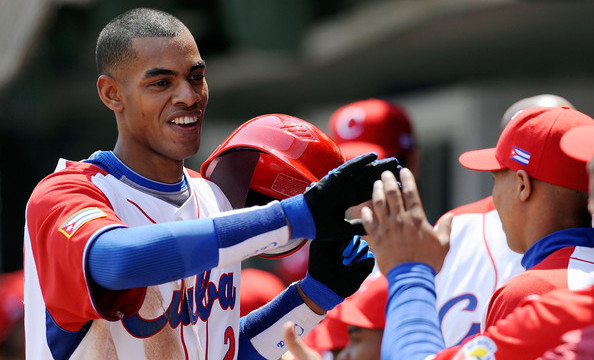 As the baseball world waits for Yoan Moncada to become eligible to sign — Jesse Sanchez says Moncada has yet to receive clearance from the Office of Foreign Assets Control but will start private workouts soon — another free agent Cuban infielder has emerged, Hector Olivera. And, according to Ben Badler (no subs. req'd), the Yankees are one of three teams most connected to Olivera, along with the Padres and Athletics.
Olivera, who will turn 30 in April, is "right up there with Yasiel Puig as one of the most fascinating players to ever leave the island, a mixture of premium talent, performance, health issues, a lack of recent looks and age," according to Badler. Badler also says Olivera is a better MLB prospect than Yasmany Tomas despite being nearly five years older. Here's a scouting report:
At around 6-foot-2, 220 pounds, Olivera is a physical righthanded hitter with a loose, quick swing and a good hitting approach. He showed good power for a middle infielder, and given that several Cuban players have transformed their bodies and increased their power since leaving the island, it wouldn't be a surprise if Olivera did the same. His size, athleticism and plus speed (at least at his peak) made him one of the most well-rounded players in Cuba.
Olivera, who is a second baseman by trade but can also play third, flat out raked in Cuba, hitting .335/~.426/.567 with an average of with 23 doubles, 15 homeruns, 49 walks, and 25 strikeouts per season from 2008-12. (They play 90-game seasons in Cuba). That's better than what Tomas hit in Cuba, not as good as what Jose Abreu hit in Cuba, and on par with what Puig and Yoenis Cespedes hit in Cuba.
Now, here's the catch: scouts haven't seen Olivera play all that much recently. A blood disorder — Badler says it was reported as "thrombosis in his left biceps" — caused him to miss the entire 2012-13 season, and Olivera hasn't played in any international tournaments either. He has not yet held a showcase for scouts but is expected to do so eventually.
Olivera is not close to being able to sign yet — he has yet to establish residency, and then must be unblocked by the OFAC and declared a free agent by MLB. It seems unlikely all of that will happen before Opening Day. It's unclear how much it will cost to sign him, though it figures to be less than the six-year, $68.5M deal the Diamondbacks gave Tomas because Olivera is older and hasn't played much recently.
Badler notes Yankees international scouting director Donny Rowland has been around forever, so he's seen Olivera play in his prime, but that's not necessarily the Olivera they'd be signing at this point. They're getting the guy who turns 30 in a few months and hasn't faced high-caliber competition in a while. His eventual showcases will be important.
The Yankees are still considered a favorite to sign Moncada according to Badler, and Moncada is the much more desirable target as the 19-year-old potential star. That said, if they lose out on Moncada for whatever reason — he has to be cleared by the OFAC before June 15th, otherwise the Yankees can't offer him more than $300,000 because of this summer's international spending spree, and $300,000 won't get it done — Olivera could be an alternative.