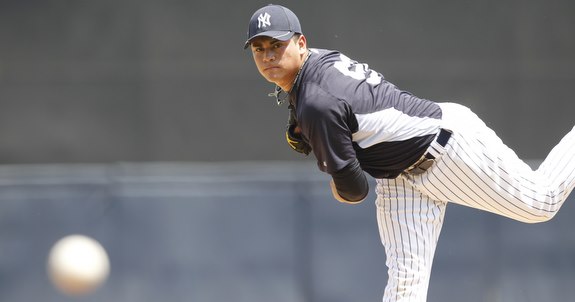 7:37pm: It's a done deal, both teams have officially announced the trade. Banuelos for Carpenter and Shreve, as reported. So long, Manny.
5:38pm: After spending parts of seven seasons in the farm system, Manny Banuelos will not make his MLB debut with the Yankees. New York has traded the southpaw to the Braves for righty reliever David Carpenter and lefty reliever Chasen Shreve, according to Jack Curry. The 40-man roster is now full. Neither team has announced the trade yet.
The 23-year-old Banuelos was once the organization's top prospect, but he missed most of 2012 and all of 2013 with elbow injuries, including Tommy John surgery. He had a 4.11 ERA (4.66 FIP) in 76.2 innings at three minor league levels in 2014 as he worked his way back from elbow construction. Banuelos' stock has definitely fallen the last few years, enough that the Yankees — who know more about him than anyone — would rather have two relievers.
Carpenter, 29, had a 3.54 ERA (2.94 FIP) with excellent strikeout (9.89 K/9 and 25.9 K%) and walk (2.36 BB/9 and 6.2 BB%) rates in 61 innings this past season. His ground ball rate (37.6%) isn't anything special and hasn't been his entire career. Carpenter was better in 2013 (1.78 ERA) despite nearly identical peripherals (2.83 FIP). He's a classic mid-90s fastball/mid-80s slider guy.
As Joel Sherman notes, Carpenter received a strong recommendation from Brian McCann, who was his catcher with the Braves in 2013. Hopefully Carpenter flat out dominates with New York and makes a name for himself, because right now his most memorable moment as a big leaguer ain't so memorable for the Braves:
(Note: I embedded the video only because I love Juan Uribe. One of my favorite players in MLB. I'm not trying to dump on Carpenter.)
The 24-year-old Shreve was drafted in 2010 and has been a pure reliever throughout his career. He reached MLB for the first time in 2014, allowing one run (0.73 ERA) with 15 strikeouts and three walks (1.43 FIP) in 12.1 innings. Shreve was effective against both lefties (.714 OPS and 2.61 FIP) and righties (.680 OPS and 2.98 FIP) in the minors the last four years, so he might not necessarily be a specialist. He's a low-90s fastball/low-80s slider guy.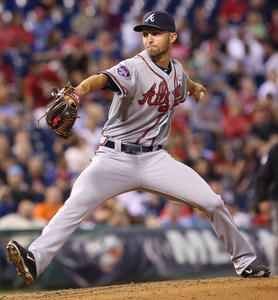 Carpenter is out of minor league options, so he'll stick with the big league team and presumably step into Shawn Kelley's old setup role. MLBTR projects him to earn $1.1M through arbitration in 2015. Shreve has two options remaining and will join Justin Wilson and Jacob Lindgren as lefty bullpen options behind Andrew Miller. Carpenter and Shreve have three and six years of team control left, respectively. Banuelos has one option year and six years of team control remaining.
In a nutshell, the Yankees prefer Carpenter and Shreve to Kelley and Banuelos, with Johnny Barbato serving as a wildcard. At this point only Carpenter, Miller, Dellin Betances, and Adam Warren are locks for the 2015 bullpen, though I think both Wilson and Esmil Rogers have a leg up o a bullpen job as well. Shreve, Lindgren, Jose Ramirez, Branden Pinder, Danny Burawa, Gonzalez Germen, Jose DePaula, Bryan Mitchell, and Chase Whitley are other candidates. That's a lot of arms.
In the grand scheme of things, the Yankees added a setup reliever and replaced one potential up-and-down lefty with another. I'm bummed Banuelos is gone but that's the way it goes. Pitching prospects will break your heart. Obviously the Yankees felt they were better off using Banuelos as a chip to improve the bullpen now rather than holding onto him and hoping for a rebound next year before he has to stick in MLB for good in 2016. Bottom line, the Yankees clearly believe Banuelos is no longer the guy he was from 2008-12, before the injuries.