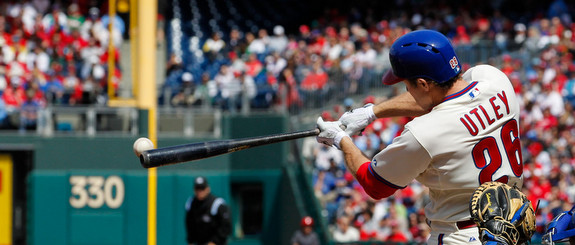 The Phillies traded franchise icon Chase Utley to the Dodgers for two prospects on Wednesday night, both teams announced. Utley had ten-and-five no-trade protection and agreed to a deal to his hometown team. Reports indicate his preference was to go to a contender in Southern California, which limited his market to the Dodgers and Angels, basically.
The Yankees reportedly had some interest in Utley — or at least they had been scouting him in recent weeks — which makes sense because they haven't gotten a whole lot from the second base position this year. Utley is hitting a weak .217/.284/.333 (66 wRC+) on the season, but he's been much better since coming off the DL, going 15-for-31 (.484) with five doubles and one homer in eight games. He missed about seven weeks with an ankle problem.
For all intents and purposes, Utley was the final second baseman on the trade market. (The Marlins don't seem too inclined to move Martin Prado, at least not at a reasonable price.) If Utley truly only wanted to go to Southern California, then the Yankees had no shot at him. It seemed like a long shot the whole time anyway. Like it not, Stephen Drew's the second baseman going forward.