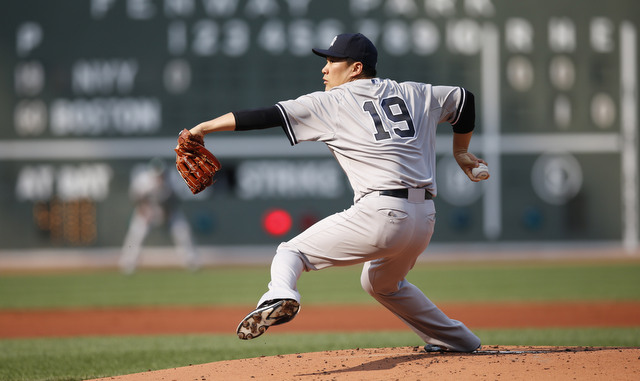 At this time next week the 2015 World Series will be underway. We already know one pennant winner (Mets!) but are still waiting on the other. Regardless of which team wins the ALCS, this is the first time in history two expansion era teams will meet in the World Series. At least one of the original 16 franchises has played in every other World Series. Wild. Anyway, I have some miscellaneous thoughts to share.
1. Masahiro Tanaka's elbow surgery stinks. It's not the surgery we've all been fearing, the seemingly inevitable Tommy John surgery, but getting a bone spur removed is not nothing either. The Yankees said Tanaka has been pitching with it since his time in Japan, so if he's having surgery on it now, it must have acted up at some point and bothered him this season. Who knows how long he pitched with discomfort? Maybe he didn't even say anything. Anyway, the surgery means Tanaka will again come to Spring Training as a question mark due to health. He is expected to be ready in time for camp, sure, but you never really know until he gets to Tampa and begins throwing with some real intensity. Blah. Just more uncertainty in the rotation, I guess.
2. I was and wasn't surprised the Yankees fired hitting coach Jeff Pentland over the weekend. Pentland always felt like a stopgap coach — he turned 69 in September, and let's be real, no one is a long-term coaching solution at that age — but I was thinking two or maybe even three years, not one. It seems Marcus Thames is being groomed for the job — he was the hitting coach at Double-A Trenton last season and Triple-A Scranton this past season — though that doesn't necessarily mean he'll take over the job right now. They might want to him to get his feet wet as an assistant hitting coach first. Perhaps assistant hitting coach Alan Cockrell takes over as the main hitting coach with Thames as the understudy? The Yankees fired Kevin Long on October 10th and hired Pentland on January 12th last offseason. I would be surprised if they waited that long to hire a new hitting coach this winter.
3. On the other hand, I was 100% surprised the Yankees fired bullpen coach Gary Tuck, only because they value catcher defense very highly and Tuck's regarded as a top notch catching coach. Brian McCann credited Tuck for improving his throwing — McCann threw out 24% of attempted base-stealers with the Braves and is at 36% with the Yankees, so yeah — and both John Ryan Murphy and Frankie Cervelli had good things to say about him the last two years as well. I'm sure there was a reason Tuck was let go and chances are we'll never know what that reason is. That's just the way it goes. Based on the little I know, it was a surprise. I guess catcher coaching duties will again fall on the shoulders of Tony Pena, who certainly knows a thing or two about the position. I have no idea what a bullpen coach actually does during a game besides answer the phone, but I'm still curious to see who the Yankees hire to replace Tuck.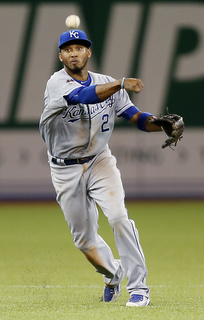 4. Despite yesterday's loss, I really underestimated the Royals not just coming into the postseason, but all season long. They were obviously very good, that was clear, though I did attribute at least some of their regular season success to playing in a crummy division. When you look at their Baseball Reference page it's hard to understand where all the success comes from, but when you watch them play, they're clearly a team where the whole is greater than the some of the parts. It's tough to explain. They seem impossible to put away in big spots and don't give away anything. At-bats at the plate or outs in the field. The Royals are an entire team of pests, even the big names like Eric Hosmer and Alex Gordon. They had a vision — contact, speed, and defense — and GM Dayton Moore stuck to it, and it's working. They might never win a World Series with this group — Gordon is a free agent this winter and the trio of Hosmer, Lorenzo Cain, and Mike Moustakas are free agents after 2017, so the window's not open forever — but they're a very good team. An unconventional one, sure, but still good.
5. Going to close with a few quick rapid fire thoughts. One, remember when the Yankees had interest in acquiring Elvis Andrus last year? Thank goodness that didn't happen. He was a total disaster on both sides of the ball in Game Five of the ALDS after another disappointing regular season. Give me Didi Gregorius all day, every day. Two, I was happy the Astros were eliminated during the ALDS. Not because they beat the Yankees in the wildcard game, but because I hate to see "tanking" rewarded. I am very much against losing on purpose. Three, I still don't like all these off-days during the postseason, though I understand why they're necessary. It would be cool if they could play a best-of-seven series in seven consecutive days, similar to the regular season. That would reward teams with depth, in theory. Fourth and finally, how about them Mets? I think it's pretty damn cool they're going to the World Series.