Once again, the Yankees made some changes to their coaching staff this past offseason. Not huge changes, but changes nonetheless. Two years ago Gary Tuck replaced Mike Harkey as bullpen coach. Last year the duo of Jeff Pentland and Alan Cockrell replaced Kevin Long at hitting coach, and Joe Espada took over as third base coach with Rob Thomson moving to bench coach and Tony Pena moving to first base coach.
This past offseason the Yankees replaced Tuck with Harkey — Tuck was reportedly let go due to a disagreement with the front office about the use of analytics — and promoted Triple-A Scranton hitting coach Marcus Thames to replace Pentland. Well, technically Cockrell was promoted to replace Pentland as the main hitting coach, with Thames replacing Cockrell as the assistant. Got all that?
It's tough to preview or review the coaching staff because so much of what they do happens behind the scenes. Sometimes we can see the results of their work — Thames helped Ben Gamel add a leg kick last year, for example — but oftentimes we're talking about adjustments the untrained eye won't see. So rather than provide a rigorous analysis of the coaching staff, here is a more casual preview of the upcoming season.
The Manager
Can you believe this will be Joe Girardi's ninth season as manager? The Yankees have had two managers over the last two decades. They had eleven managers in the two decades before that, not counting the guys who were hired multiple times. I was still very young when George Steinbrenner was in his hiring and firing heyday, so I can't really appreciate the continuity the Yankees have had the last 20 years.
Anyway, I have long believed the manager's most important work takes place is in the clubhouse, where he has to manage 25 personalities (way more than that, really) day in and day out for eight months a year. That can't be easy. The Yankees seem to have a very cohesive clubhouse — Alex Rodriguez referred to the veteran players as the "Board of Trustees" because of the way they oversee things — and that surely helps Girardi. Over the last few seasons the team has been largely distraction free and that's a good thing. Girardi keeps the chaos to a minimum.
On the field, I think Girardi has two key responsibilities this year. One, don't screw up the laughably great bullpen he's been given. And he won't. Girardi's very good with his relievers. Yes, he makes moves that sometime backfire. That makes him like every other manager. We now have eight years worth of data telling us Girardi is good at a) turning marginal relievers into assets by putting them in good positions to succeed, and b) keeping his bullpeners fresh.
Managing this bullpen with the lead will be easy. Are the Yankees up in the late innings? Bring in Dellin Betances, Andrew Miller, or Aroldis Chapman. Any of three will do. That's the easy part of managing this bullpen. The tough part is all the other innings, when you're trailing or deep into extra innings and the three big guys have been used. The Yankees are going to shuttle relievers in and out all year again, and it'll be up to Girardi to get the most out of them.
The second key on-field responsibility this season is resting the regulars. Girardi and the Yankees seem to be all-in on this. They've been talking about it since the end of last season. They want to rest the veterans and try to avoid another second half offensive collapse. The versatile Aaron Hicks will make resting the outfielders easy. He can play any outfield position and he's a switch-hitter. Hooray for that. The infield? Eh, things are a little up in the air there. Either way, keeping players fresh and productive will be very important in 2016.
Beyond all that, I'd like to see Girardi try a few more Hail Mary instant replay challenges this summer, which I discussed a few months ago. The team's replay success rate may dip, but who cares? They don't give out a prize for that. Girardi has to navigate this weird transition period as the "get younger and trim payroll but remain competitive" thing continues. I don't think his job will be (or should be) in jeopardy if they miss the postseason, but who knows. After eight years, it's pretty clear Girardi is an asset and one of the game's better managers.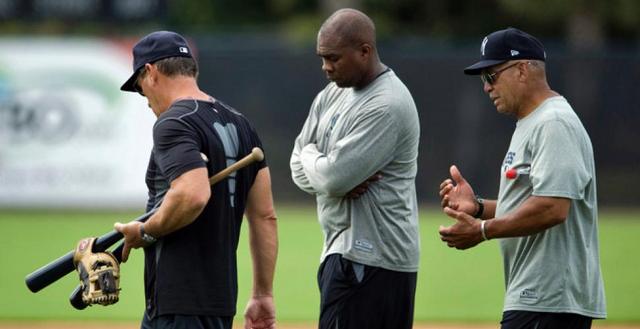 The Hitting Coaches
The Yankees are on their third hitting coach(es) in three years. They scored the second most runs in baseball last season, and outside of Chase Headley and Jacoby Ellsbury, pretty much everyone in the lineup met or exceeded expectations. That seems to be the criteria by which fans judge hitting coaches. Did the team score a lot of runs? Did the players meet expectations? If the answers are yes, the hitting coach is doing a good job.
This summer the Cockrell/Thames tandem will be tasked not so much with keeping the veterans productive, though that's obviously important. Given the team's direction, the more important goal is helping the young players, specifically guys like Didi Gregorius and Starlin Castro. We could also lump Hicks and Gary Sanchez in there as well. The Yankee have put aside the present for the future, that couldn't be any more clear, which is why the young guys are the priority. That's … pretty much all I have to say about the hitting coaches. Go team.
The Pitching Coach
This year the Yankees did not give Larry Rothschild a project. Last season they dropped a shiny new Nathan Eovaldi into his lap and told Rothschild to turn him into a better pitcher. And he did! Rothschild taught Eovaldi a splitter and he was way more effective with that pitch. Based on that, the project was successful in the short-term. We'll see what happens in the long-term.
In 2016, Rothschild's pet project will be Luis Severino and perhaps Bryan Mitchell, assuming he's in the Opening Day bullpen. Severino is very refined for a kid his age, but the Yankees do need to monitor his workload, and Rothschild is in charge of mapping that out. Mitchell has to improve his control and command and gosh, that's a tough one. Rothschild can only do so much there. Baseball history is full of live arms who washed out because they couldn't locate.
Rothschild is about to begin his sixth season as pitching coach — how the hell did that happen? didn't they just hire him? — and in those five years the Yankees have had plenty of pitchers exceed expectations, and I'm talking about both veterans (Bartolo Colon, Freddy Garcia, Hiroki Kuroda) and young pitchers (Betances, Adam Warren, even Ivan Nova). Most of their pitching failures have been injury related. How much credit does Rothschild deserve? We can't say, exactly. After five years, I feel pretty good with him running the show.
The Other Coaches
Harkey left the Yankees two years ago to take over as the Diamondbacks pitching coach. Arizona canned him at the end of last season, which was inevitable. He was a holdover from the previous regime and it was only a matter of time until GM Dave Stewart and head baseball operations hocho Tony La Russa brought in their own guy. They gave Harkey a year, then moved on, so now he's back with the Yankees as bullpen coach. It's like he never left.
Thompson returns as bench coach and I have no opinion about that whatsoever. Pena returns as first base coach — his is Pena's 11th season on the coaching staff, by the way — and I also have no opinion about that. Both guys have been around forever and they wouldn't continue to be around if they weren't quality baseball minds. All bench and first base coaches are cool with me because I'm don't really know what they do or how much influence they have. Pena works with the catchers. I know that much.
Third base coaches generally get a bad rap. They're either hated or unnoticed. Espada was conservative sending runners last year and at least part of that was out of necessity. The Yankees are not a fast team aside from Ellsbury and Brett Gardner. Also, the Yankees scored a lot of runs last year, and when you can hit for power like they did, it makes sense to hold a runner if you think there may be a play at the plate. Teams that struggle to score runs have to really push it. The Yankees aren't one of those teams.
That said, Espada did appear to be overly conservative at times, perhaps due to poor reads or not knowing the scouting reports on the outfielder's arm. (Guessing it was the former, not the latter.) That's something that has to be cleaned up. Espada's not a rookie third base coach — he was the Marlins third base coach from 2010-13 — so he has experience. Hopefully his second year in New York goes a bit more smoothly now that he's seen the league and is more familiar with his personnel.