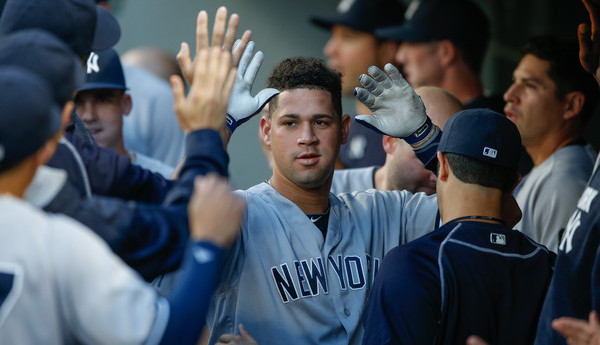 The Yankees just wrapped up a successful six-game West Coast trip that still somehow feels like a bit of a letdown. I guess because the two losses were close games that were very winnable. The Yankees are five games back of the Orioles for the second wildcard spot, and wouldn't you know it, six of their next nine games are against Baltimore. This upcoming stretch is: crucial. I have some thoughts.
1. I'm a bit surprised the Yankees didn't shuffle their rotation to ensure Masahiro Tanaka faces the O's in these next two series. They would have needed to use a sixth starter at some point during the road trip, and again at some point during the series in Kansas City next week. Then again, the Yankees have an off-day today and again next Thursday, which really would have spaced out Tanaka's starts. He's been better on extra rest this year, no doubt about it, but there is such a thing as too much rest too. I don't blame them for starting Tanaka as often as possible. They need all the wins they can get. It just seemed lining him up against the O's would have been a good idea. Right now he's not scheduled to face them at all.
2. Beyond all the dingers, I've been really impressed by Gary Sanchez's overall approach at the plate. All the scouting reports through the years said he has a good approach, and for whatever reason "good approach" has become synonymous with "high walk rate." That's never been Sanchez though. He had a 7.9% walk rate in the minors and he's drawn six unintentional walks in 80 big league plate appearances this year. We have seen that good approach though. Sanchez seems to do a good job laying off breaking balls in the dirt and getting himself into hitter's counts. In fact, he's gotten into a hitter friendly 2-0 or 3-1 count 32 times in his 80 plate appearances this year, or 40%, which is about league average. (That's not counting the intentional walks). This is a kid who's been an everyday player for less than a month, remember. Small sample size warnings and all that apply, obviously. It just seems like Sanchez really knows what he's doing at the plate. The power is a product of that approach.
3. Brian McCann caught Tuesday night and that kinda throws a wrench into this theory, though I still wonder if his sudden move to DH is at least somewhat health related. Yes, of course the Yankees want to get Sanchez behind the plate, but before Tuesday night, Austin Romine had caught Sanchez's previous two off-days. McCann is a warrior. We've seen the guy play through all sorts of injuries since he arrived in New York — earlier this season he had toe and elbow issues, and last year he had a knee problem so severe that he altered his batting stance — and maybe now he's nursing something a little more serious than the typical day-to-day catcher stuff. Perhaps there's some concern about a concussion? Either way, the Yankees are definitely saving some wear-and-tear on their veteran catcher by giving him so much time at DH. McCann probably hasn't felt this good physically in late-August in a long time.
4. Aaron Judge's recent struggles — he's in a 3-for-26 (.115) slump with 13 strikeouts — don't concern me at all. Not yet. It's way too soon for that. Do I wish he was mashing like Sanchez? Of course. But it's not terribly surprising a guy his size is having some trouble in his first exposure to big league pitching. Judge had similar problems when he first got to Triple-A last year. This is why the Yankees called him up two weeks ago, to begin the adjustment period. It might take some time too. A few hundred plate appearances or so. We've already seen all the tools that make Judge such an impressive prospect. The huge power, the rocket arm, the surprising athleticism, all of that. He just needs to figure out how pitchers are approaching him and how to overcome his massive frame at the highest level. That's hard!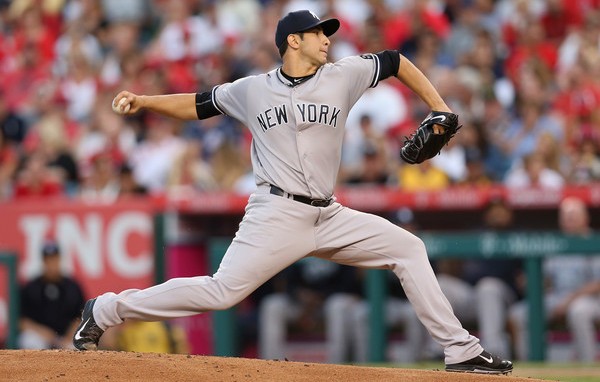 5. So how about Luis Cessa and Chad Green? It looks like the Yankees might have something with those two. Even if they're ultimately nothing more than relievers, that's still a pretty nice haul for a good but not great reliever like Justin Wilson. I think Cessa has a better chance to start long-term than Green because he has more pitches and seems more willing to pitch inside, though I have no way to prove that last point. Point is, these two very clearly have big league caliber arms. They're going to be in the Yankees' plans going forward in some capacity, either starter or reliever. Getting two starters — even fourth of fifth starters, which is what these two profile as — out of that trade would be phenomenal. Guys like that are getting $10M a year as free agents. Given the state of the organization and their current needs, that trade looks better and better by the day.
6. Aaron Hicks in August: .303/.333/.455. It's only 69 plate appearances, so let's not go retiring his number yet, but I don't think it's a coincidence he picked up the pace offensively as soon as he started playing regularly. Hicks has been abysmal most of the season. Unforgivably awful. The Yankees very clearly believe in his talent though and they're sticking with him. When you're a rebuilding transitioning team, the last thing you do is give up on high-end athletes with loud tools after 200-something plate appearances in your uniform. The Twins are a disaster and they have a history of giving up on players only to watch them find success elsewhere. (Carlos Gomez, Danny Valencia, Wilson Ramos, and even Francisco Liriano jump to mind.) They deserve zero benefit of the doubt when it comes to evaluating talent. The Yankees, meanwhile, have been getting better at developing young players the last year or two. Hicks is without a doubt worth a longer look in my opinion. If nothing else, he's playing himself into some more trade value for the offseason.
7. Two recent non-Yankee roster moves I didn't like: Aaron Sanchez and Ryan Buchter being optioned to the minors. The Blue Jays sent Sanchez down to limit his innings and free up a roster spot for a few days. He's expected to be called back up as soon as his ten days are up. The Padres said they sent Buchter down due to fatigue and used his declining spin rate (!) as evidence. Both guys were sent down for non-performance reasons and I hate that. Sanchez is going to get Cy Young votes! He deserves to be in the big leagues. Buchter has a 3.00 ERA (2.96 FIP) and has been San Diego's best reliever all season. If he's fatigued, he's supposed to go on the DL, not Triple-A. The rules say the Blue Jays and Padres have the right to make those moves, but man, what an awful message to send. Two productive players who deserve to be in the show are losing service time and big league pay because it's convenient to the team. There's something to be said for rewarding performance and maintaining a positive relationship with your players. I'm glad the Yankees have never seemed overly concerned with service time. Regardless of the motives, sending Sanchez and Buchter down looks real bad.