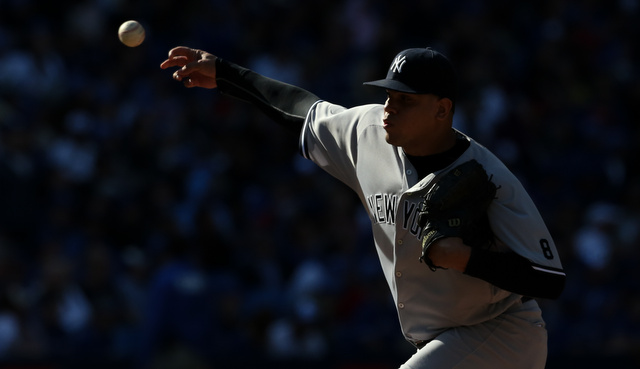 Dellin Betances will indeed pitch in the 2017 World Baseball Classic, but not for Team USA. He told George King he has committed to pitch for the Dominican Republic instead. "Both teams want me to play (for them), but I made a commitment to the DR. That is where my family is from, and I want to make them proud," said Dellin.
The Dominican Republic won the 2013 WBC and there's no reason to think they won't be among the top contenders next spring. Fernando Rodney was their closer and most heavily used reliever in 2013, throwing 7.1 innings in the tournament. Pedro Strop (6.2 innings), Santiago Casilla (5.0), and Kelvin Herrera (4.1) were also on the roster.
The WBC has pitch limits that really only apply to starters, not relievers. Still, no manager is going to push their players too hard. If anything, they'll be overly cautious. Yankees first base coach Tony Pena will manage the Dominican Republic team, so Betances will have a familiar face looking over him. Pena knows how important Dellin is to the Yankees. He won't overdo it.
Betances, 28, had a 3.08 ERA (1.78 FIP) with 126 strikeouts in 73 innings this past season. That is both outrageously good and Dellin's worst season since breaking into the big leagues for good three years ago. Betances has worn down in September the last few years and throwing high-leverage innings in mid-March is not ideal, but what can you do?
Betances was the only Yankee on the preliminary 50-man roster Team USA filed last month. The final rosters aren't due until January, and Team USA can still add players to their preliminary roster. They're not obligated to select their final roster from that pool of 50 players or anything like that.
Didi Gregorius (Netherlands), Masahiro Tanaka (Japan), and Gary Sanchez (Dominican Republic) are the other prominent Yankees with a chance to be selected for the WBC. The Yankees can not prevent a player from playing in the WBC unless they're coming back from a injury.
The 2017 WBC begins with pool play on March 6th. The Championship Game will be played on March 22nd at Dodger Stadium. Here's the full WBC schedule.