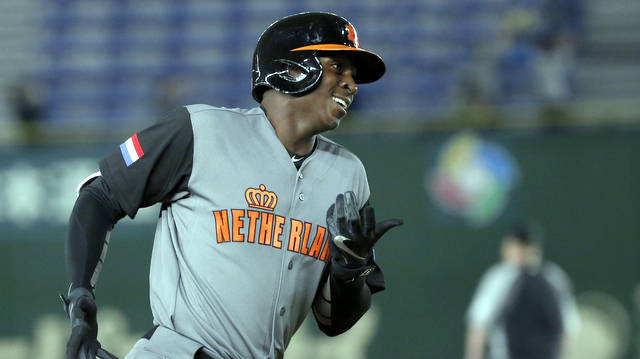 Welp, this isn't good: Didi Gregorius has left Team Netherlands and is returning to Tampa with a right shoulder injury, according to Bryan Hoch and Kevin Kernan. It's a "hematoma of the subcapsular muscle," whatever that means, according to Anthony Rieber. Gregorius had a preliminary MRI yesterday and will go for more tests tomorrow.
"The doctor was really encouraged by his strength and felt good about it, but we thought we're going to cover ourselves," said Joe Girardi to Randy Miller. "It's obviously not what you want to hear, but hopefully it's something short. But again, we have not seen him. The evaluation from the doctor was his strength was really good. But we've got to see him."
Gregorius played six games in the World Baseball Classic — one at shortstop and five at designated hitter in deference to Andrelton Simmons. The Netherlands clinched a spot in the semifinals last week and they've spent the last few days in Arizona working out and playing exhibition games while waiting for the semifinals to start tonight.
It's unclear how exactly Gregorius got hurt, but it could simply be one of those wear and tear baseball injuries. I know everyone will freak out and blame the WBC, but Gregorius could have just as easily gotten hurt with the Yankees. It doesn't really matter though. He's hurt and that's that.
Hopefully tomorrow's tests bring good news because the shortstop depth chart is not pretty. Ronald Torreyes, Ruben Tejada, Donovan Solano, and Pete Kozma are the best in-house options. I don't think the Yankees would be foolish enough to accelerate their timetable with Gleyber Torres because of the injury. Didi getting hurt doesn't make Torres more MLB ready.
Gregorius, 27, hit .276/.304/.447 (98 wRC+) with 20 home runs last season. He went 8-for-23 (.385) with four doubles and a home run in his six WBC games. Opening Day is only 13 days away, so unless this is a really minor injury, Didi's chances of being ready to start the season aren't good.