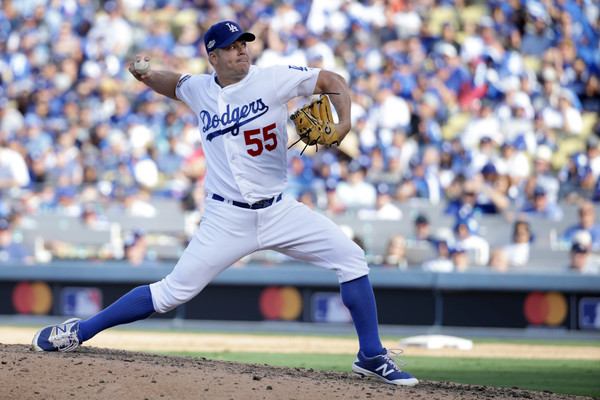 Spring Training is underway, and the Yankees have what feels like several dozen pitchers jockeying for position on the Opening Day roster. That may not be terribly far off the mark, to be fair, considering that the team has thirty-plus pitchers in camp (thirty-three between the 40-man roster, non-roster invitees, and the recently signed Jon Niese) – but there is a very real sense that the back of the rotation and two middle relief roles are up for grabs.
The smart money is on one of the losers of the rotation battle to be shuffled into a relief role, alongside someone that stands out in the pre-season as a whole. And, ultimately, that second role won't be set in stone, as that pitcher will probably ride the shuttle between the Bronx and Scranton for the better part of 2017. The Yankees tend to round out their bullpens with scraps, after all.
At this point in the off-season, however, there is a shockingly good reliever that is somehow still available for straight cash in Joe Blanton. It's not terribly often that one can end one of the 25 best relievers in baseball via free agency in late February, but here we are. The only real question is … why?
Injury History
Blanton has been a portrait of good health over the last five years (with one obvious caveat that I'll get to in the next section). He last spent time on the disabled list in 2011, when he was dealing with a right elbow impingement that kept him off the field from late April through the first week of September. Since that season, Blanton has spent exactly zero days on the disabled list.
Recent Performance
The Angels released Blanton at the end of Spring Training in 2014, when he posted a 7.08 ERA in 20.1 IP. This came on the heels of his atrocious 2013 season (132.2 IP, 6.04 ERA, 5.12 FIP, -2.0 bWAR, -0.5 fWAR), so it isn't terribly surprising that they elected to eat the last year and $8.5 MM of his contract. The A's signed him to a minor-league deal a week later, and he made two starts at Triple-A before retiring.
Blanton got the itch to play again during the 2014-15 off-season, and the Royals obliged, signing him to a minor-league deal. He found his way onto the roster in May, and spent the rest of the season in the Majors, making 36 appearances (four starts) split between Kansas City and Pittsburgh. All told, he pitched to the following line: 76 IP, 2.84 ERA, 2.92 FIP, 25.6 K%, 5.2 BB%.
It was more of the same in 2016, which Blanton spent with the Dodgers after signing a one-year, $4 MM deal. He ranked 6th in the Majors with 80 IP out of the bullpen, with a 2.48 ERA, 3.33 FIP, 25.4% strikeouts, and 8.3% walks. The greatest difference came in his groundball rate, which plummeted from 48.6% in 2015 to 32.5% last season.
His overall line the last two seasons is impressive, to be sure, but it becomes somewhat staggering if you remove his four starts with the Royals, and focus exclusively on his time in the bullpen. To wit: 137.1 IP, 2.29 ERA, 3.01 FIP, 3.7 K/BB, 26.1 K%, 7.0 BB%, 0.7 HR/9. Those numbers were not too heavily slanted by playing half of his games in pitcher-friendly parks these last two years, either, as he posted a 2.40 ERA, 3.0 K/BB, 24.0 K%, and 8.1 BB% away from his home ballparks.
Present Stuff
Blanton's stuff has remained fairly steady as a full-time reliever. Take a look at his month-by-month velocity over the last two seasons (and keep in mind that his four starts were in late June and early July of 2015):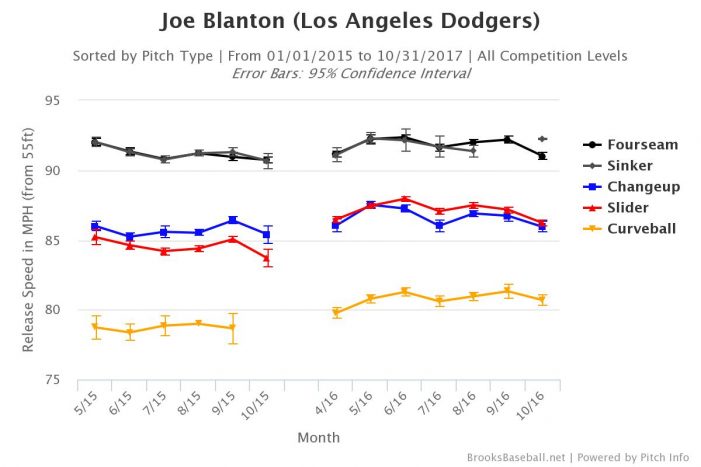 And on a more granular level, his stuff actually ticked-up from 2015 to 2016, perhaps as he grew more acclimated to a regular role as a one-inning reliever: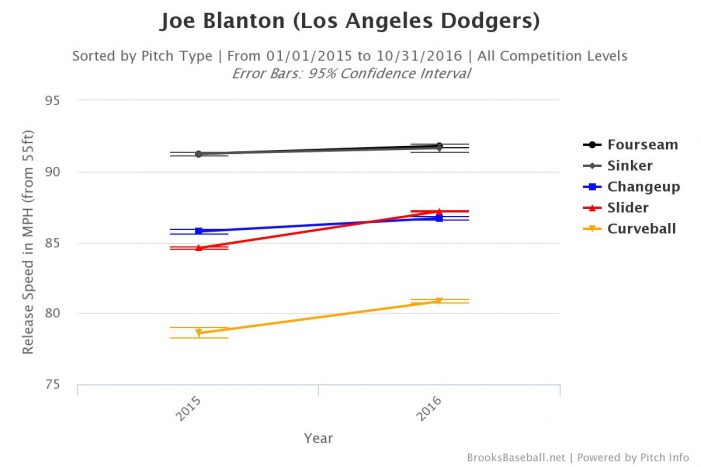 The biggest difference between 2015 and 2016 was pitch selection, as, by Brook Baseball's reckoning, Blanton scrapped his sinker almost entirely in favor of more curves and sliders: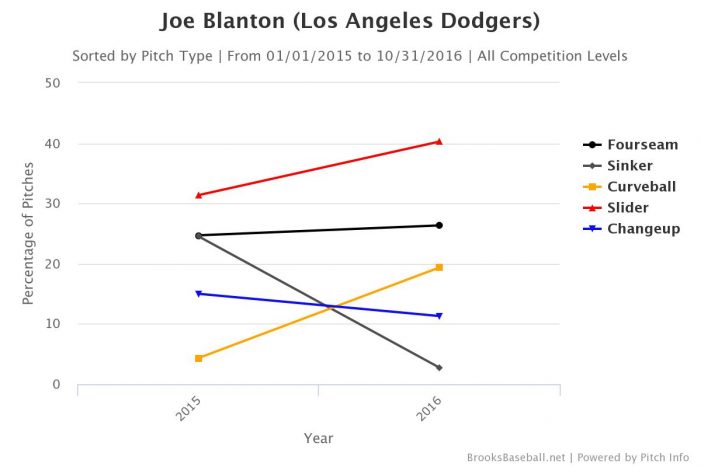 This usage rate jibes with his batted ball profile, given the aforementioned drop-off in groundballs. It did not have any other noteworthy impact on his production, however, as he was borderline dominant in each of the last two seasons.
Contract Estimate
Way back in November, both FanGraphs and MLB Trade Rumors pegged Blanton's deal to be at 2-years, $14 MM. That feels unlikely now, given that we're more than a week into Spring Training and he remains unsigned.
There is the possibility that Blanton values himself highly, given his performance, and is playing the waiting game. After all, pitchers get hurt all the time, and there are still teams looking for a closer (the Nationals are still in talks with the White Sox for David Robertson, for example). It's pure conjecture, of course, but Blanton has walked away before and, at 36-years-old, it's entirely possible that he is only willing to pitch on his terms.
Or, alternatively, that he'll sign yet another minor-league deal by the time you're reading this.
Does He Fit The Yankees?
The short answer is yes. Blanton has been, by most any measure, one of the twenty-five best relievers in baseball over the last two years. The Yankees have at least two openings in their bullpen, and adding a reliever of his quality would undoubtedly improve its depth and performance considerably. There's also the added wrinkle that a successful Blanton could be dealt at the trade deadline if and when the Yankees become sellers, and more contenders are hit with the natural attrition that strikes most bullpens. And, depending on Scranton's roster composition, his presence would allow Luis Severino or Bryan Mitchell (or whoever else isn't in the rotation) to stay stretched out as a starter in Triple-A.
A longer answer may be no, however. The Yankees have a great deal of pitching depth in the upper minors, and it would likely behoove them to figure out what sort of quality that quantity represents. They currently have Severino, Chad Green, Luis Cessa, and Mitchell as the leading candidates for two rotation spots. Two of those four will likely be considered for the bullpen, along with J.P. Feyereisen, Giovanny Gallegos, Ben Heller, and Jonathan Holder. And this ignores Jordan Montgomery (who will almost certainly pitch in the Majors this year), Jon Niese, and a few other pitchers that are an injury or poor performance away from consideration.
Does the upgrade that Blanton offers this year – performance and potential trade value included – negate the potential value of the Yankees sorting through the stockpile of arms currently in Spring Training? I'm not sure. And would the Yankees even be interested? It doesn't seem likely. But it's an intriguing consideration nonetheless.