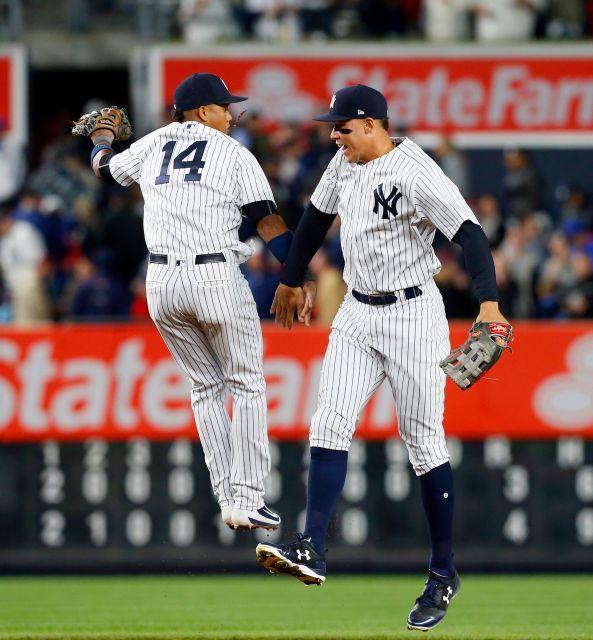 Comeback kids
Behind the improved pitching of Masahiro Tanaka, and the power of Starlin Castro and Austin Romine, the Yankees opened their 2017 Interleague slate on Friday night with a 3-2 come-from-behind win over the Cardinals. This was the Redbirds first visit to the new Yankee Stadium, making the Padres the only team that hasn't visited the Bronx since 2009.
Masahiro Tanaka entered this matchup having allowed just one run in 21 innings (0.43 ERA) over three Interleague starts at Yankee Stadium. That was the lowest ERA in the majors by any pitcher with two career home Interleague starts … until the third batter of the game, Matt Carpenter, crushed a two-run homer to give the Cardinals an early 2-0 lead.
He settled down after that rocky first frame, retiring 10 straight at one point, before faltering again in the seventh. Tanaka has now given up 13 runs in three outings this season – a number he didn't reach until May 10 last year in his seventh start of the 2016 campaign.
Castro quickly evened the scored with a two-run blast in the bottom of the first. It was Castro's 11th game-tying or go-ahead homer in pinstripes, two more than every other Yankee since the start of last season.
Romine then delivered the eventual game-winner, a solo homer in the bottom of the second to put them ahead 3-2. It was the first time in his career he went deep to give the Yankees a lead.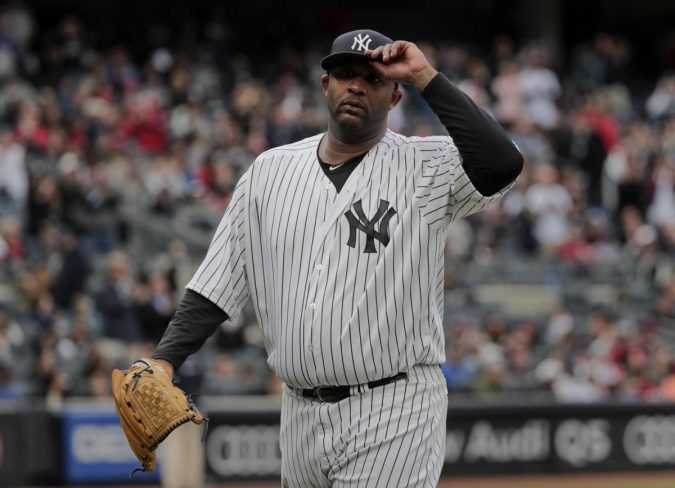 Sabathia > Father Time
CC Sabathia produced a vintage performance in Saturday's 3-2 Yankee victory, throwing 7 1/3 innings of one-run ball, while picking up his his 225th career win on Jackie Robinson Day. That moved him past Hall-of-Famers Jim Bunning and Catfish Hunter for sole possession of 66th place on MLB's all-time wins list.
Sabathia also lowered his ERA to 1.47, the third-lowest of his career through his first three starts of a season; the only better marks were in 2011 (1.45) and 2005 (0.92).
The Yankees needed Sabathia's masterpiece because their offense remained stuck in neutral for much of the game. They went 1-for-13 with runners in scoring position, left 12 men on base and tied a franchise record with 17 strikeouts (done three times previously). Somehow, the Yankees are now 2-1-1 all-time when striking out 17 times in a game.
Cardinals right-hander Carlos Martinez was both utterly dominant and laughably wild at times on Saturday afternoon, finishing with one of the most bizarre pitching lines you'll ever see: 11 strikeouts, eight walks, four hits, three runs allowed.
He's the first pitcher to walk at least eight guys and fan at least 11 batters since Randy Johnson in 1993, and the first to do that against the Yankees since Bob Feller in 1937.
Even more ridiculous is that he did this all in just 5 1/3 innings. Martinez is the only pitcher in major-league history to have 11-or-more strikeouts and eight-or-more walks in a game and not make it out of the sixth inning.
Seventh Heaven
The Yankees completed the sweep of the Cardinals on Sunday with a convincing 9-3 win, extending their win streak to an MLB-best seven games. They now have two sweeps in two home series this season, after notching just three sweeps in 26 home series in 2016.
The victory also pushes their Yankee Stadium record to 6-0, the second time in the Wild Card era (since 1995) they've won their first six games at home. It also happened in 1998, a season that ended … yeah, pretty sweet.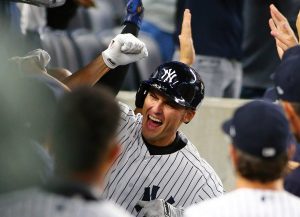 Greg Bird broke out of his brutal season-opening slump in style, as he reached base in all four plate appearances with a home run, double, single and a walk (hey, a triple short of the cycle!).
Prior to his second-inning homer, Bird was hitless in his previous 20 at-bats, and had just one hit and a whopping 13 strikeouts in 30 trips to the plate this season. Entering Sunday, his batting average (.038), slugging percentage (.077) and OPS (.244) were each the worst among the 237 MLB players with at least 30 plate appearances this season.
Bird's homer was his first since Oct. 1, 2015, making him the 10th different Yankee in 2017 to go yard. That's tied with the Tigers, Rays and Brewers for the most players with at least one homer this season.
Chase Headley continued to swing a hot bat, pushing his batting average above .400 and notching his seventh multi-hit performance of the year. He's the first Yankee third baseman since Bobby Murcer in 1969 to have seven multi-hit games this early into the season (first 12 team games), and joins Derek Jeter (2010, 2012) as the only Yankees at any position to do it in the last decade.
Michael Pineda followed up his near-perfecto with another excellent outing, showing a hint of the consistency that has so far eluded him during his Jekyll-and-Hyde career in pinstripes. It was just the second time as a Yankee that he pitched at least seven innings and surrendered no more than two runs in back-to-back games (also May 5-10, 2015).