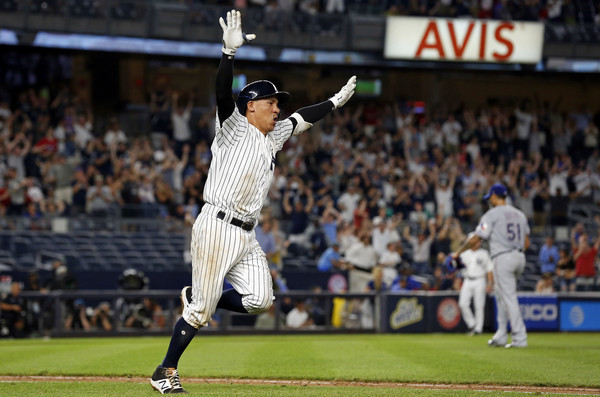 Hey, the Yankees have won two of three! And they could have won the third game too! Things are looking up. They're still in first place, Masahiro Tanaka pitched well last night, Tyler Austin has arrived … it could be worse. Hopefully Austin rakes right away. Would be nice to add a little more length to the lineup.
Anyway, this afternoon the Yankees have a chance to do something they haven't done in two weeks: win a series! The last series win was that depantsing of the Orioles. Winning series is the name of the game. Keep winning series and things will work out. Get the series win today, go for the sweep tomorrow. Here is the Rangers' lineup and here is the Yankees' lineup:
CF Mason Williams
LF Aaron Hicks
RF Aaron Judge
DH Matt Holliday
2B Starlin Castro
SS Didi Gregorius
1B Tyler Austin
3B Ronald Torreyes
C Austin Romine
RHP Luis Cessa
The rain came and went this morning, and now there's a bright blue sky above New York. Nice afternoon for a ballgame. Today's game will start at 1:05pm ET and both YES and MLB Network will have the broadcast. Enjoy the game.
Injury Update: Jacoby Ellsbury (concussion) will begin a minor league rehab assignment with Triple-A Scranton tonight … Adam Warren (shoulder) played catch for the first time since being placed on the disabled list and everything went fine.
Roster Update: Chance Adams was in the clubhouse this afternoon … to pick up a passport. He's not being added to the roster. There are no Canadian teams in the Triple-A International League and the Yankees don't visit the Blue Jays again until mid-August. Minor leaguers need their passports at all times though. You never know when you'll get traded and have to show up in Toronto. I'm kinda surprised Adams didn't have one already.