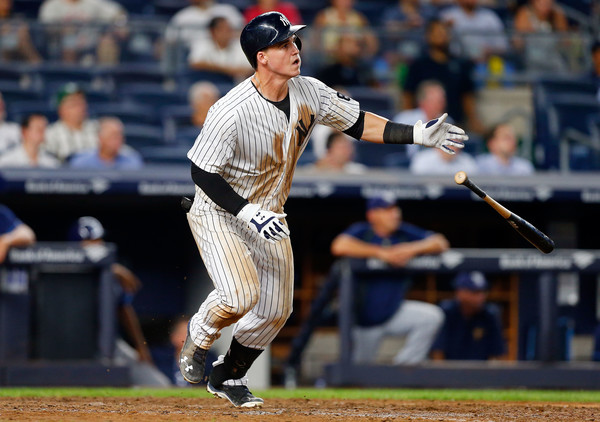 Following tonight's win, the Yankees designated Chris Carter for assignment and called up Tyler Austin, the team announced. I guess Austin is ready now? A few days ago Brian Cashman called Carter the team's best first base option. Austin has hit three homers since then and Carter has, well, struck out a bunch. Does he get cut if he gets a hit (or even a sac fly) in the tenth inning tonight? Probably not.
Carter hit .204/.286/.383 (76 wRC+) with eight home runs in 189 plate appearances for the Yankees, including Friday's game. He'd been playing pretty much every day since Greg Bird went on the disabled list in early May, so it wasn't a playing time issue. We'll always have that homer in Pittsburgh, Chris.
Austin, meanwhile, hit .316/.388/.588 (145 wRC+) with four home runs in 32 minor league games after coming back from his broken ankle. He fouled a ball off the ankle very early in Spring Training and didn't return until last month. Austin hit .241/.300/.458 (102 wRC+) in 90 plate appearances with the Yankees last season.
Bird is still working his way back from an ankle injury of his own — he received a cortisone shot a few days ago and will resume baseball activities soon — and there's no real firm timetable for his return. He might not be back until after the All-Star break. Once he heals up, I assume he's take over as the everyday first baseman again.
At this point Carter has enough service time to collect his entire $3M salary even if he elects free agency after clearing waivers, so stashing him in Triple-A for depth until Bird is healthy might not happen. Probably not. We'll see. Either way, hopefully Austin is an upgrade at first base. It'll be hard for him to be worse.