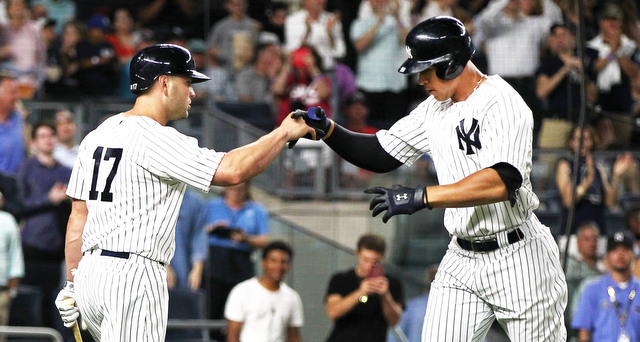 Last night, as the Yankees beat the Tigers for their seventh win in the last eight games, rookie masher Aaron Judge clubbed his MLB leading 34th home run, breaking a tie with Giancarlo Stanton. Judge is having a monster rookie season overall, hitting .303/.429/.639 (179 wRC+) with those 34 homers in 101 games, though he hasn't been all that good lately. He's hitting only .169/.333/.373 (79 wRC+) with a 34.7% strikeout rate since the All-Star break.
Also last night, Matt Holliday went 0-for-3 with three strikeouts, though he did draw an important walk that loaded the bases with no outs and led to the Yankees scoring four runs in the fourth. Holliday, like Judge, has struggled in the second half. He's hitting .130/.164/.188 (-14 wRC+) with a 30.1% strikeout rate since the break. Yikes. Go back to June 12th and Holliday is hitting .133/.205/.248 (17 wRC+) in his last 28 games.
There's no doubt both Judge and Holliday have struggled recently, and watching the games, my eyes tell me these are different types of slumps. Judge's timing seems to be off ever so slightly. He's flying open a bit and missing some pitches he should crush. His strikeout rate is up but he hasn't expanded the zone too much. I mean, his walk rate since the All-Star break is 20.0%. That doesn't happen when a hitter starts swinging at everything out of the zone. Here is his chase rate: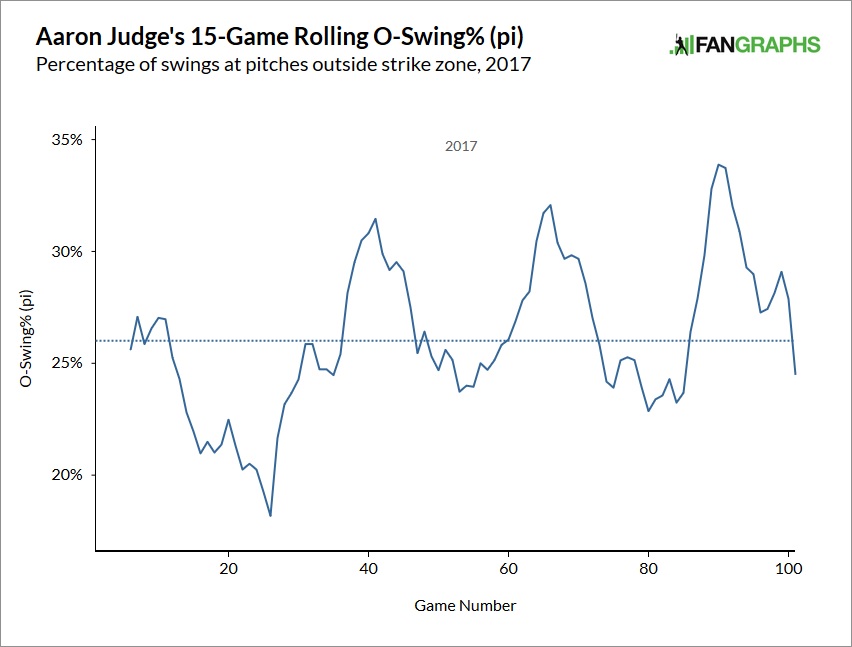 This year Judge's worst 15-game rolling average was a 33.9% chase rate two weeks ago. The MLB average is a 30.8%. Judge peaked at a not-so-high 33.9% chase rate and has brought it down since. His season average is a 26.0% chase rate, which is excellent. There are 164 hitters with enough plate appearances to qualify for the batting title this year and Judge has the 29th lowest chase rate despite being 6-foot-7 and having so much strike zone to cover.
Also, the quality of Judge's contact has been pretty good during this slump. In the first half of the season 62.0% of Judge's batted balls were either a line drive or a fly ball, and his average exit velocity was an MLB best 96.2 mph. Since the All-Star break, more than two-thirds of Judge's batted balls (67.7%, to be exact) are either a line drive or a fly ball, and his average exit velocity is 94.7 mph, again the highest in MLB.
There are two big differences between first half Aaron Judge and second half Aaron Judge. One, he is striking out more often (29.8% vs. 34.7%) and that's because his swings and misses on pitches in the zone have increased. In the first half he had an 82.8% contact rate on pitches in the zone. Since the All-Star break it's 75.8%. The increased strikeouts are the result of swinging and missing more in the strike zone, not chasing out of the zone.
And two, not as many of those well-struck line drives and fly balls are falling in for base hits. I'm not saying Judge has hit into bad luck or anything like that. I'm just stating a fact. Judge's line drives and fly balls are resulting in more outs than they did earlier this season. Here on the numbers on his line drives and fly balls:
First Half: .655 AVG and .530 BABIP (.896 xwOBA)
Second Half: .489 AVG and .303 BABIP (.777 xwOBA)
2017 MLB Average: .469 AVG and .408 BABIP (.549 xwOBA)
(BABIP is lower than AVG because home runs don't count against BABIP. They're not a ball in play. The defense can't make a play on homers.)
xwOBA is the new Statcast hotness expected wOBA, which is based on launch angle and exit velocity and things like that. Judge has been getting the ball airborne since the All-Star break — again, 62.0% line drives and fly balls in the first half and 67.7% in the second half — yet the hits aren't falling in as often. That's baseball. We aren't talking about a huge sample here, remember. Judge has put 34 balls in play since the All-Star break.
All of this is a long way of saying Judge is just slightly off at the plate. He hasn't expanded the zone too much in the second half and when he does make contact, he's still hitting the ball hard and he's still hitting it in the air. The biggest issue has been the misses on pitches in the zone. Something's off mechanically. You can blame the Home Run Derby if you want. That seems pretty lazy to me. (Judge's slump started before the All-Star break.) Whatever it is, Judge is pretty great at making adjustments, and I think it's only a matter of time until he gets straightened out.
As for Holliday, the eye test tells me he simply isn't hitting the ball very hard these days. He isn't hitting it hard and he isn't getting it off the ground. A graph is worth a thousand words: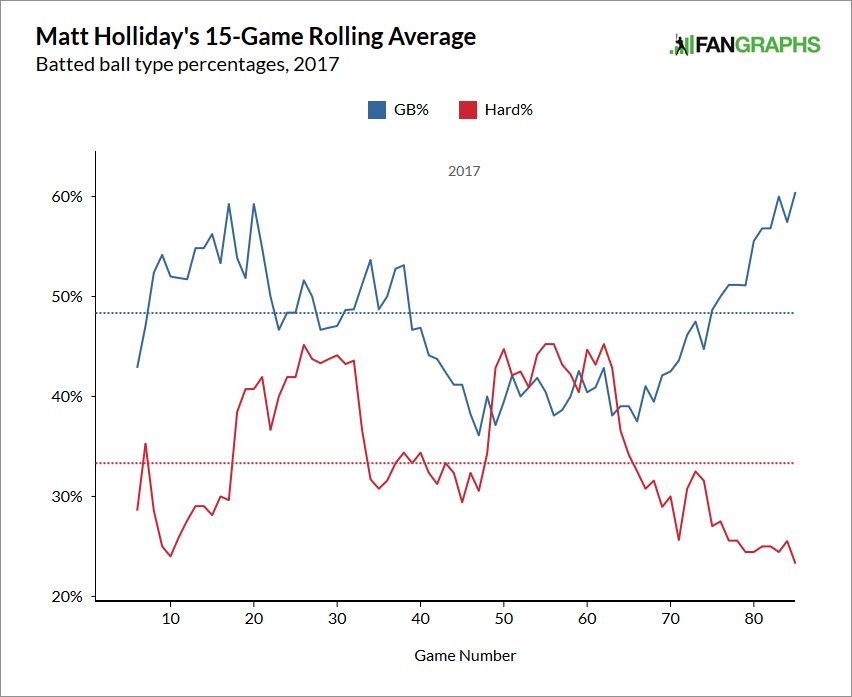 Yeah. That's not good. It's not just less hard contact. It's less hard contact and more balls on the ground. Holliday's ugly 28-game stretch started on June 12th, the first game of the West Coast trip in Anaheim. From Opening Day through June 11th: .375 xwOBA on all batted balls. Since June 12th: .276 xwOBA. That's going from Anthony Rizzo (.378 wOBA) to Billy Hamilton (.276 wOBA).
So why has Holliday basically stopped hitting the ball hard? Two theories. One, he's 37 and older hitters sometimes just stop hitting forever. We saw it with Alfonso Soriano three years ago, Alex Rodriguez two years ago, and Mark Teixeira one year ago. Or two, Holliday is still sick. Remember when he first came down with this mystery illness? It was out on that West Coast trip that started on June 12th. He first sat out a game in Oakland, in the second series on the trip, but who's to say he hadn't already been feeling it for a few days before that?
We've seen some older players go through miserable stretches in which they looked done — like done done — only to rebound later in the season. Raul Ibanez was pretty bad for most of the 2012 regular season before he started socking clutch dingers in September and October. Carlos Beltran looked completely washed in April and May in 2015 before turning it around and hitting like prime Beltran the rest of the season. Who's to say Holliday can't do the same?
With Judge, I see a hitter who is off a bit mechanically and missing hittable pitches. He hasn't chased out of the zone too much, and when he puts the ball in play, it's well-struck. With Holliday, I see a guy who flat out can't hit the ball hard right now, and has a tough time hitting it in the air. That isn't to say he's broken forever. It doesn't look very good right now though. These are two slumping hitters at different points of their careers slumping in different ways. One seems a tick off. The other makes you wonder if he's done for good.
The Yankees have won seven of their last eight games while getting basically nothing from their three best first half hitters — Judge and Holliday have slumped, and Starlin Castro is on the disabled list — and that's pretty impressive. The roster depth has picked those guys up. For the Yankees to win the AL East and make noise in the postseason though, they need Judge and Holliday (and Castro) to produce, so getting them to straighten things out is pretty damn important. I think Judge will figure it out soon enough. Holliday? I'm not so sure.