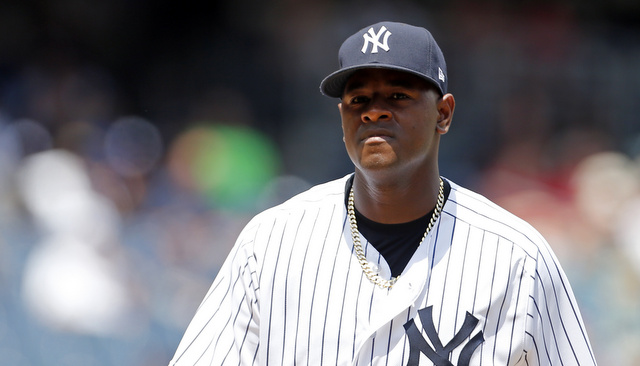 As crummy as the Yankees — the offense in particular — have looked over the last six days, it's pretty amazing they come into today's series finale with a chance to split a four-game series against the defending AL champs. I'm not sure scoring two runs and hanging on for dear life is a sustainable strategy, but it worked last night. Maybe it'll work again today. I'd prefer a stress-free blowout win. Those are cool.
The six-man rotation comes to an end this afternoon, at least in theory, as Luis Severino makes his first start since that five-inning, 116-pitch grind against the Tigers on Monday. Hopefully he's feeling good after the extra day of rest. Severino's numbers are out of this world this year: 2.98 ERA (2.91 FIP) with 28.2% strikeouts, 6.5% walks, and 51.5% grounders. Man. Go get 'em Sevy. Here is the Indians' lineup and here is the Yankees' lineup:
DH Brett Gardner
LF Clint Frazier
SS Didi Gregorius
RF Aaron Judge
1B Chase Headley
3B Todd Frazier
CF Jacoby Ellsbury
2B Ronald Torreyes
C Austin Romine
RHP Luis Severino
Another cool and cloudy day in Cleveland. Not exactly a picturesque day for baseball, but it'll do. This afternoon's series finale will begin at 1:10pm ET and YES will have the broadcast. Enjoy.
Roster Move: Matt Holliday was placed on the 10-day disabled list with a left lumbar strain, the Yankees announced. Not sure how long he'll be sidelined, but given the way he's been hitting, the Yankees aren't losing much. Garrett Cooper was called up from Triple-A Scranton to fill the roster spot. How unexciting.
Injury Update: Greg Bird (ankle) is going to hit in the cage today, and the plan to take full batting practice and begin fielding/baserunning drills next week.