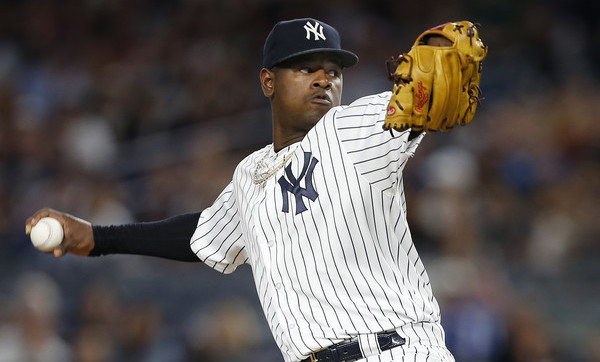 Before we begin, I'm sure that many of you reading this may be in or from Florida or have relatives/friends there. If that's the case, I speak for everyone here when I say that we hope you're safe and they're safe.
CY-Verino
I know Luis Severino isn't going to win the Cy Young Award. And given how Chris Sale and Corey Kluber have pitched this year, he probably doesn't deserve to win it. But dammit if I'm not rooting for those two to crash and burn this month so Severino has a chance to grab it. We've talked a lot about things going as well as possible for Aaron Judge and Gary Sanchez–and I wrote about it regarding Severino last week–but we might be able to argue that things have gone even better for Luis considering what happened last year. He's stepped up for the Yankees time and time again this year, including yesterday, and he's gone a long way towards making me feel better about the rotation next year, which was looking shaky.
Pleasantly Frustrating
This was supposed to be a process year, a developmental year. Then the Yankees started winning and that mindset of mine changed. The Yankees are incredibly likely to win the wild card and host the play-in game for the second time in three years and that's a lot better than we could've hoped for in February and March. But it's also frustrating as hell because the Yankees are clearly better than any of the teams they'd face in that game. Their starters are better than any starter they will face. In the end, that may not matter. One bad game could derail things. That's not to say this season would be any sort of failure if the Yankees don't make it to the Division Series. Would it be disappointing? Definitely. But considering the expectations at the beginning of the year, this season has largely been a success.
The teasing thing is that this is a team built well for a series-style playoff run: a solid rotation of Severino, Masahiro Tanaka, Sonny Gray, and CC Sabathia. A dominant bullpen. A lineup capable of explosion. All of that is dangerous in October, especially the pitching, but they may not even get there. Times like this make me long for the old Wild Card system or something radically new and different.
My pipe dream is a balanced schedule with no divisions within the AL and NL, so the top 4 teams from each league make it. That will never ever happen, but a guy can dream, no?
Anyway, it was nice last year to have a relatively stress-free season (especially in my first year as a parent), but that competitive baseball, the idea of the playoffs, it's something I definitely missed. Sure, this isn't like 2009-12 when you knew the Yankees were racking up division wins and what not, but it feels good to have some form of baseball to look forward to in the fall. Remind me I said this when I'm rocking back and forth like Leo Mazzone during the Wild Card game.