All great things must come to an end. The incredibly fun and better than pretty much everyone expected 2017 Yankees season came to a close Saturday night, with a 4-0 loss to the Astros in Game Seven of the ALCS. Houston will take on the Dodgers in the World Series. The Yankees are heading home. You can either call this season a failure or be happy you got to enjoy the ride. I know which one I'm doing. Still love this team, you guys.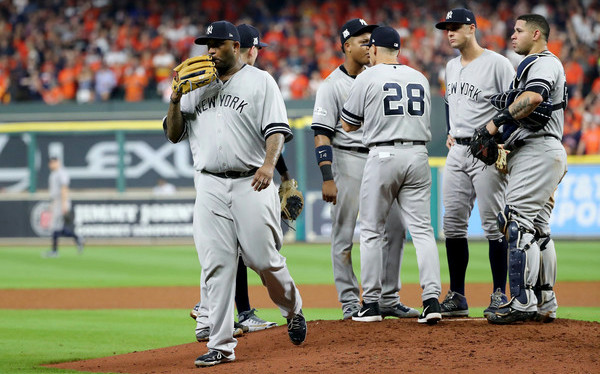 Strugglin' Sabathia
It was clear in the second inning CC Sabathia was not especially sharp in Game Seven. The only reason it wasn't clear in the first inning was three quick outs by the Astros. George Springer led the inning off with a single, then three first pitch weak ground ball outs followed.
The second inning was ominous. Sabathia fell behind in the count 2-0 on Yulieski Gurriel, but survived with a line drive out. Sabathia got ahead in the count 0-2 on Evan Gattis, but couldn't finish him off and needed a hard-hit grounder for an out. Brian McCann then drew a four-pitch walk, Marwin Gonzalez dunked a single to center on the sixth pitch of his at-bat, and Josh Reddick popped up to end the threat. Bad signs abound.
Sabathia faced five batters in the third inning and only one saw a first pitch strike. There was one 2-0 count and one 3-1 count mixed in there, as well as another walk and an infield single. Sabathia looked so shaky — he had nothing to put hitters away with, it was all guts and guile — that I thought it was probably best to pull him after three innings. It felt like only a matter of time until the Astros broke through.
Instead, Sabathia went out for the fourth, got ahead on Gattis 0-2, then couldn't put him away. On the eighth pitch of the at-bat Gattis cranked a hanging slider out to left field for a solo home run and a 1-0 Astros lead. Sabathia then walked McCann on five pitches, and gave up Reddick's first hit of the ALCS. That was finally the end of his night. Tommy Kahnle escaped the inning with a first pitch double play.
Sabathia's final line: 3.1 IP, 5 H, 1 R, 1 ER, 3 BB, 0 K on 65 pitches. Yikes. He generated only three swings and misses, and only nine of 18 batters faced saw a first pitch strike. Sabathia doesn't need to be perfect to succeed, he still has enough movement to get away with mistakes, but only when he's ahead in the count. Falling behind is a recipe for disaster. All things considered, the Yankees were lucky he allowed just the one run in Game Seven.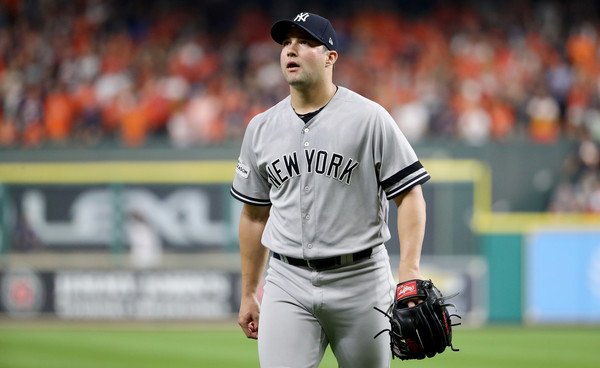 Kahnle Finally Melts Down
Kahnle's emergence as a dominant bullpen force this postseason is a big reason the Yankees got to within one game of the World Series. He finally had a hiccup in Game Seven, and at exactly the wrong time. Jose Altuve took Kahnle deep in the fifth inning — opposite field! — for a 2-0 lead, then a first pitch single and a seven-pitch single put the Astros back in business. Kahnle hung a changeup to McCann, who pounded it to right field for a two-run double and a 4-0 lead. Barf.
The numbers on Kahnle: 1.1 IP, 4 H, 3 R, 3 ER, 0 BB, 1 K. That's after scattering two hits and two walks in his first ten postseason innings. The more important numbers: 16 changeups among 24 pitches, and an average fastball velocity of 96.2 mph. His regular season average was 98.1 mph. That much missing velocity and a boatload of changeups suggests Kahnle was running on fumes and trying to get outs any way he could. It happens.
Adam Warren and David Robertson resorted order and held the Astros to one hit in 3.1 innings combined. Robertson struck out three in two scoreless innings, and looked like David Robertson. After the game Joe Girardi inadvertently admitted Robertson has been sick, which might explain his last few rough outings. I'm a bit surprised Aroldis Chapman did not pitch, though I guess Girardi wanted to make sure he maxed out Robertson in a Game Seven situation before going to Chapman.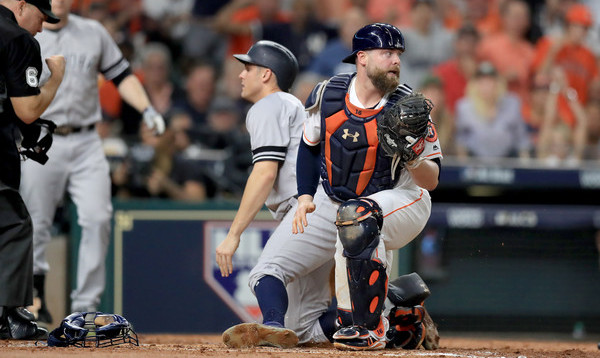 Not Enough Offense
The No. 1 reason the Yankees lose the ALCS: they scored three runs total in four games in hitter friendly Minute Maid Park. Yes, Dallas Keuchel and Justin Verlander started three of those four games, but still. That little offense on the road is not going to cut it, even as well as the Yankees pitched in the series overall. The Yankees were shut out in Game Seven, which I guess is a fitting end to the series.
Charlie Morton mowed the Yankees down for five innings with stunning efficiency. His pitch count by inning: 10, 6, 12, 8, 18. Morton was pounding the strike zone. When the Yankees jumped on a first pitch fastball, they did nothing with it. When they took the first pitch and tried to work a long at-bat, Morton got head in the count quickly. They had no answer either way. Damned if you swing, damned if you don't.
Astros manager A.J. Hinch pulled Morton after five innings and 54 pitches because his control was starting to deteriorate, and because his numbers going through the lineup a third time are pretty terrible. The Yankees had their best chance to score in the fifth inning, which Greg Bird led off with a double. He moved to third on a wild pitch with one out, and Todd Frazier could've tied the game 1-1 with a fly ball. Instead, this happened:
Three things. One, that was a heck of a play by Alex Bregman. Real good throw home too. Two, wow did McCann take a spiking to make that play. Bird spiked him (accidentally, I assume) right in the forearm. That couldn't have felt good. And three, man is Bird slow. He's
sooo
slow. He also slid right into the tag instead of around it, which is exactly what happened when he was thrown out at the plate in Game One. Bird is a great hitter. But he is slow as hell and not the best slider in the world.
That was the only real chance the Yankees had to score in Game Seven. Bird was the only Yankee to make it as far as third base. The Yankees scattered one single and one walk in the final four innings, during which Lance McCullers Jr. completely mowed them down with his curveball. Frazier worked a leadoff walk in the eighth, and McCullers settled down to retire the final six batters by thrown 24 (!) straight curveballs. Oy vey. The final out of the season: Bird flying out to Springer in center.
Leftovers
For the third time this postseason, Aaron Judge made a ridiculous leaping catch at the wall. And it'll probably be completely forgotten. He took a home run away from Francisco Lindor in the ALDS, robbed Gurriel of extra bases earlier in the ALCS, then robbed Gurriel of extra bases again in Game Seven. To the action footage:
I'm not sure whether that ball would've gone out, but I do know that was a fantastic catch. Judge's best of the season. I really hope he gets more credit for his defense going forward. We all see the 50-something home runs and light tower power. But Judge is a well-rounded ballplayer who saves runs defense and runs the bases well. I feel like not enough people know that.
The Yankees had three hits total in Game Seven. The double by Bird and singled by Brett Gardner and Gary Sanchez. Hicks and Frazier drew walks. That's all the baserunners. Didi Gregorius had maybe his worst game as a Yankee, going 0-for-4 with four strikeouts on 14 total pitches, two over the minimum. The Yankees went 0-for-3 with runners in scoring position and I'm surprised they had that many at-bats in those situations.
This was only the fifth time in history the home team won every game in a best-of-seven series. It happened in the 1987 World Series (Twins vs. Cardinals), 1991 World Series (Twins vs. Braves), 2001 World Series (Diamondbacks vs. Yankees), and 2004 NLCS (Cardinals vs. Astros). Losing Games One and Two by identical 2-1 scores stings. Those games were there for the taking.
Box Score, WPA Graph & Standings
Head over to ESPN for the box score and MLB.com for the video highlights. We have a Bullpen Workload page, not that it matters anymore. Here is the loss probability graph …

Source: FanGraphs
Up Next
The offseason. At least this one will be a few weeks shorter than the last few. The first orders of offseason business will be re-signing Brian Cashman and Girardi, or finding a Girardi replacement should he step away to spent time with his family. Once that happens, the Yankees can move forward with improving the 2018 Yankees.