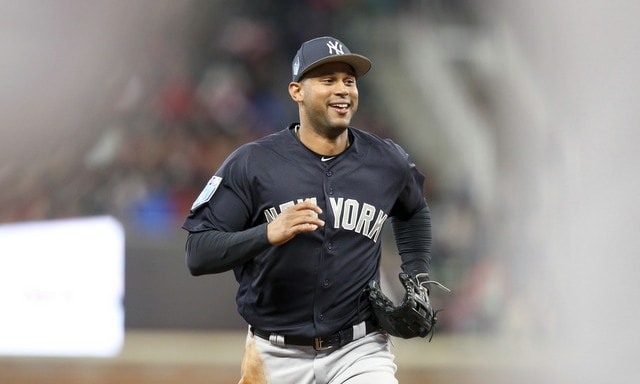 4:47pm ET: Brian Cashman told reporters in Toronto that Hicks has a Grade I strain and didn't want to go on the disabled list, but the Yankees decided to play it safe. He first felt it between his third and fourth at-bats yesterday. Cashman made it sound like the plan is to activate Ellsbury pretty much as soon as he's eligible.
"It's frustrating after spending the offseason trying to prevent something like this," said Hicks who Erik Boland, adding he is "pain free." "Last year I felt pain from the get-go. Right now it feels good."
12:49pm ET: Another outfielder has been sidelined by injury. The Yankees have placed Aaron Hicks on the 10-day DL with a right intercostal strain, the team announced. Billy McKinney has been called up from Triple-A Scranton — their season has not yet started — to fill the roster spot. He'll be making his MLB debut.
Hicks started yesterday and went 2-for-4, and played the entire game. There didn't appear to be anything wrong with him during the game. This is a bit of a surprise. Hicks dealt with right and left oblique injuries last year. The intercostal is in the same neighborhood. Those rib cage area injuries have been a problem for Hicksie.
With Jacoby Ellsbury (oblique) and Clint Frazier (concussion) also on the disabled list, Brett Gardner will presumably take over as the starting center fielder. McKinney is a corner outfielder only, so I guess this means Tyler Wade is the backup center fielder? He didn't play the outfield at all this spring, but has played there in the past.
Ellsbury returned to game action at the end of Spring Training and, with any luck, he shouldn't be too far away from rejoining the Yankees. (He is eligible to be activated from the disabled list Thursday.) Frazier's injury seems a little more long-term, though he has resumed baseball activities as of last week. He wouldn't do much to help the center field situation, however.
McKinney, 23, came over from the Cubs in the Aroldis Chapman trade two years ago. He hit .277/.338/.483 (124 wRC+) with a career high 16 homers between Double-A and Triple-A last season, though he didn't have a great spring, going 7-for-42 (.167) overall. McKinney did hit five homers though.
Gardner will move to center for the time being. Will Giancarlo Stanton or McKinney slot into left field? I guess we'll find out soon enough. Could be a mix and match thing. Stanton on some days, McKinney on others. McKinney is a lefty bat, so I'd guess he'll see most of his action against righties.