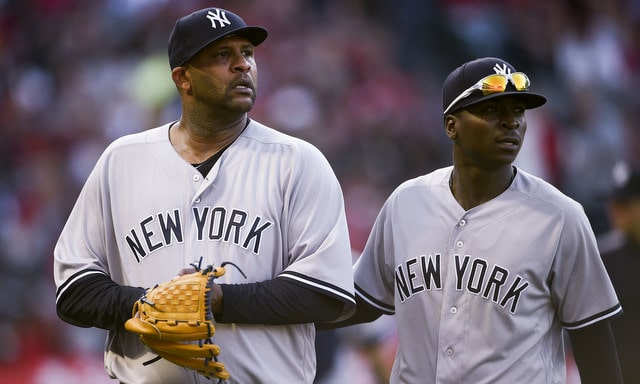 The wonderfully successful seven-game road trip is over and the Yankees are back in the Bronx tonight to begin a nine-game, ten-day homestand. They've won 12 of their last 13 games while outscoring their opponents 79-25. Yesterday's come from behind win was the perfect way to close out that series in Houston. Things are going pretty great right now. Can't deny it.
Of course, those last 13 games mean nothing tonight. It's a new day. The Indians are in town and while they're off to a bit of a slow start to the season, they are very talented and very good. Tonight's game has all the makings of a trap game if the Yankees let up one bit. Consider:
The Indians played a long doubleheader yesterday. Game One was delayed nearly two hours by rain and didn't start until 3:03pm ET, then it went eleven innings. Game Two ended at 11:41pm ET. They had to travel to New York after that.
Josh Tomlin, tonight's starter, owns a 9.16 ERA (10.05 FIP) and has allowed ten homers in 18.2 innings. Statcast says Tomlin has thrown one (1) pitch over 90 mph since last May.
Everything points to the powerful Yankees hammering Tomlin, going to town against an exhausted bullpen that threw 7.2 innings in yesterday's doubleheader, and Indians position players being too exhausted to put up a fight. Don't buy it. The Indians are good and Tomlin could have the game of his life. Don't underestimate this team. Here are the starting lineups:
New York Yankees
1. LF Brett Gardner
2. RF Aaron Judge
3. SS Didi Gregorius
4. DH Giancarlo Stanton
5. C Gary Sanchez
6. CF Aaron Hicks
7. 1B Neil Walker
8. 3B Miguel Andujar
9. 2B Gleyber Torres
LHP CC Sabathia
Cleveland Indians
1. SS Francisco Lindor
2. 2B Jason Kipnis
3. 3B Jose Ramirez
4. DH Edwin Encarnacion
5. RF Brandon Guyer
6. 1B Yonder Alonso
7. C Yan Gomes
8. LF Rajai Davis
9. CF Bradley Zimmer
RHP Josh Tomlin
It is warm and cloudy in New York, and there is rain in the forecast from about 8-10pm ET tonight. We might be in for a delay. Hope not. Hopefully it's something they can play through. Tonight's game will begin at 7:05pm ET and you can watch on WPIX. Enjoy the game.