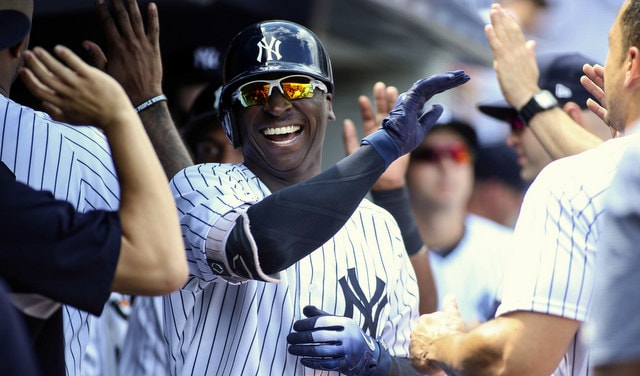 Somehow there are still five games to go on this homestand. It's a long one. Don't get me wrong, I'm not complaining. Love me some home games in Yankee Stadium. Just feels like the Yankees have been home all month, yet somehow they have only played one more home game (60) than road games (59) this year. Such a weird schedule this year.
Anyway, the Yankees won last night's series opener and they are 4-2 six games into this eleven-game homestand. They're 7-2 in their last nine games overall. The Yankees have been kicking butt at home all season and hopefully it continues tonight. Here are the lineups:
New York Yankees
1. LF Brett Gardner
2. DH Giancarlo Stanton
3. CF Aaron Hicks
4. SS Didi Gregorius
5. 3B Miguel Andujar
6. 1B Greg Bird
7. RF Neil Walker
8. C Austin Romine
9. 2B Ronald Torreyes
RHP Luis Cessa
Tampa Bay Rays
1. RF Mallex Smith
2. 3B Matt Duffy
3. 1B Jake Bauers
4. 2B Joey Wendle
5. DH Ji-Man Choi
6. CF Kevin Kiermaier
7. SS Willy Adames
8. LF Brandon Lowe
9. C Michael Perez
RHP Jake Faria
Clear skies and warm in New York today, and, for the first time in a few days now, there's no rain in the forecast. Tonight's game will begin at 7:05pm ET and YES will have the broadcast. Enjoy the game.
Injury Updates: Aaron Judge (wrist) received a cortisone shot. Brian Cashman said they expect Judge back this season, but it is obvious his return is not imminent … Gary Sanchez (groin) is tentatively scheduled to begin a minor league rehab assignment next Friday. That is not set in stone yet. Depends how he progresses between now and then. That's just their target date … Gleyber Torres is fine. Just a day off. "Pressing a little bit," said Aaron Boone, stating the obvious.
Roster Move: George Kontos was designated for assignment to clear a roster spot for Cessa, the Yankees announced. They have an open 40-man roster spot now. My guess is Cessa will be sent down tomorrow for another reliever (Tommy Kahnle?) since the Yankees won't need a fifth starter for a while.