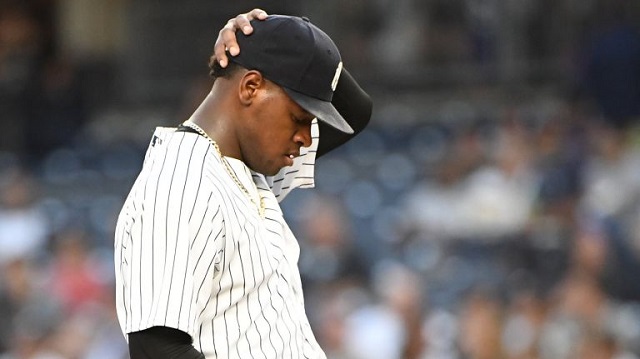 Monday mess
The week got off to a terrible start as the Yankees were embarrassed by their Big Apple rivals in a 8-5 loss on Monday. The Mets punished the Yankees pitchers with five home runs, the most the Yankees have ever surrendered in a Subway Series matchup.
Luis Severino's slump reached another level as he was blitzed by the weak-hitting Mets, coughing up four runs on seven hits — including two homers — in four innings. #NotFunFact No. 1: The last Yankee starter to allow that many hits and runs against the Mets in an outing as short as Severino's was Jaret Wright on July 2, 2006.
A.J. Cole entered in the sixth and immediately poured gasoline on the fire as Todd Frazier took him deep to lead off the inning, the first of three solo dingers Cole would give up before getting pulled with one out in the seventh. Thanks to that awful performance, Cole earned our #NotFunFact No. 2: He is the third Yankee reliever to allow at least three homers in a game while getting no more than four outs. The others were Darren Holmes (May 20, 1998) and Tom Ferrick (May 7, 1951).
We'll end this section on a positive note, with a milestone salute to the Gritty Gutty Brett Gardner, who hit his 200th career double. He is the 30th Yankee to reach that mark, but just the third to combine it with at least 200 career steals and 50 homers. The others: Derek Jeter and Roy White.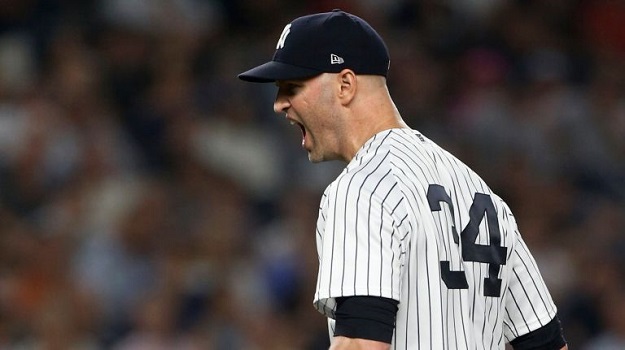 It's Happ-ening
The Yankees quickly rebounded from Monday's misery, taking a 1-0 lead on an Aaron Hicks RBI single in the first inning against the Rays en route to a 4-1 win on Tuesday night. The victory made the Yankees an MLB-best 30-4 (.882) when scoring first in the opening frame this season.
J.A. Happ delivered a gem and pitched like an ace, giving up just one hit over seven scoreless innings. After walking four guys in the first four frames, he retired 11 of the final 12 batters he faced, improving to 3-0 with a 1.89 ERA in three starts as a Yankee. Happ and Lance Lynn have rightfully earned their pinstripes since coming over at the deadline:
J.A. Happ and Lance Lynn With Yankees:

35.2 IP
1.26 ERA
0.84 WHIP
37/10 K/BB

— Katie Sharp (@ktsharp) August 15, 2018
This was a notable start for Happ in several ways:
It was the first time in his career that he completed at least seven innings and didn't allow more than one hit.
It had been nearly four years since a Yankee pitched seven or more scoreless innings while giving up one hit or fewer in a game. That last guy to do it was Michael Pineda on Sept. 22, 2014 against the Orioles.
And you have to go back four more years to find the last time a lefty achieved the feat, when CC Sabathia held the A's to one hit over eight scoreless innings on Sept. 2, 2010.
Happ was aggressive in pounding the zone with his fastball-heavy arsenal, but the Rays couldn't square up his pitches as he located them on the edges and changed eye levels while carving thru the lineup multiple times. A ton of four-seamers up and two-seamers down kept the Rays off-balance and helped him get a whopping 30 foul balls, the most in a game by any Yankee pitcher this season.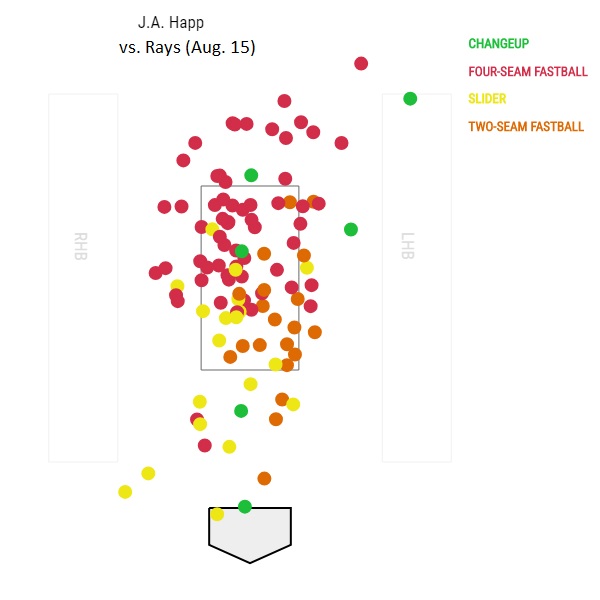 Austin Romine added a couple insurance runs in the fifth with an opposite-field shot to give the Yankees a 3-0 lead. It was his eighth homer of the season (in 199 plate appearances), one more than he hit in his 611 career major-league plate appearances prior to 2018. The last time he had eight or more longballs in any pro season was when he hit 10 homers at Double-A Trenton in 2010.
RISP-Fail, Part I
The one game win streak came to a screeching halt on Wednesday as the Yankees dropped a very boring game to Rays, 4-1. The bats fell silent in the clutch, going 0-for-9 with runners in scoring position while leaving a small navy of 10 men on base.
Luis Cessa put the Yankees in an early hole as Tampa Bay raced out to a 5-1 lead before he got the hook in the fourth inning. He's now given up 10 runs and 14 hits in his last two games in a Yankees uniform:
Luis Cessa Last 2 MLB Games

Aug. 15:
3.1 IP, 5 R, 1 HR, 7 H
Aug. 2:
3.2 IP, 5 R, 1 HR, 7 H

— Katie Sharp (@ktsharp) August 16, 2018
Only one other Yankee pitcher in the last 10 seasons allowed at least five runs and seven hits in back-to-back outings of fewer than four innings pitched — Masahiro Tanaka last year on May 14 and May 20.
Miguel Andujar was the lone offensive highlight, going 2-for-4 with a game-tying homer in the second inning and a double; the rest of the lineup was 3-for-28. Nine of his 19 homers (47 percent) this season have either tied the game or given the Yankees the lead. The double and homer were his 54th and 55th extra-base hits of the season, the most by a Yankee rookie age 23 or younger since a 23-year-old Joe Gordon had 56 in 1938.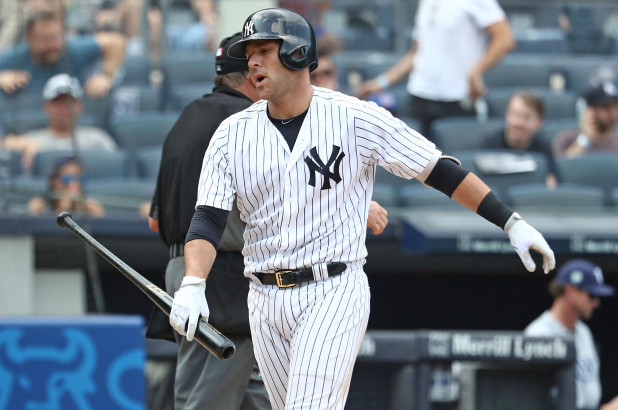 RISP-Fail, Part II
It was deja vu all over again for the Yankees, who lost 3-1 to the Rays on Thursday as their offensive deep-freeze continued for a second straight day. They have lost 17 of their last 26 games against AL East teams, after starting the season 18-9 within the division.
The loss was even more depressing because the Rays had been a virtual punching bag for the Yankees in the Bronx recently. They had won 12 straight home series against the Rays dating back to September 2014, their longest streak of series wins at the current Yankee Stadium against a single opponent. The last time they lost a series in the Bronx to the Rays was June 30-July 2, 2014 — the starting pitchers for the Yankees in those three games were David Phelps, Hiroki Kuroda and Vidal Nuno.
But perhaps the most miserable stat is the fact that the Yankees couldn't score more than one run on Wednesday or Thursday. This is the first time ever that the Rays have held the Yankees to one run or fewer in consecutive games within a series at Yankee Stadium (old or new).
The clutch-hitting woes reached a peak in the bottom of the ninth when they loaded the bases with no outs and down by two runs. The Rays called on Adam Kolarek to get the final three outs, rookie who entered with zero career saves and 6.17 ERA in 23 1/3 major-league innings.
The next three at-bats were a microcosm of the Yankees' season-long performance with the bags full: Greg Bird popout, Brett Gardner strikeout, Austin Romine strikeout. To put that futility into context, this year teams with the bases loaded and no outs scored at least one run 83.5 percent of the time, and the expected number of runs scored in that situation is 2.3, per Baseball Prospectus' expected runs matrix.
The Yankees are now hitting .213/.263/.361 with the bases loaded this season, ranking 27th in batting average, 26th in on-base percentage, 24th in slugging percentage and 25th in OPS (.624). If you believe in history repeating itself ….
The last time the Yankees finished with a bases-loaded OPS that low was 1991, a year that ended with the fifth-worst win percentage in franchise history; and the last time they finished with a bases-loaded batting average that low in a non-strike season was 1952, a year that ended with a World Series Game 7 victory over the Dodgers.