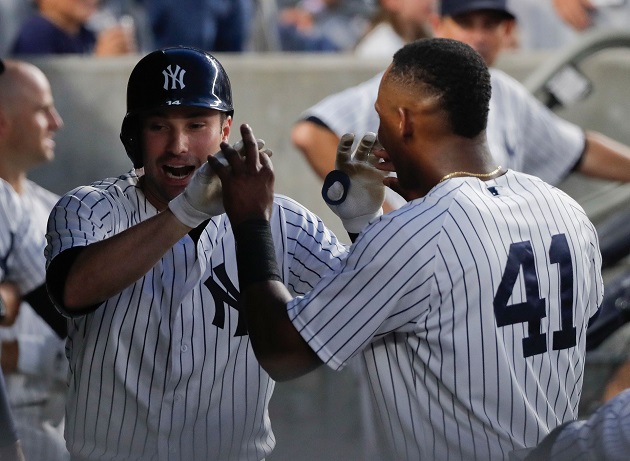 Bombs away
Back in the Bronx for a season-high 11-game homestand — their longest since June 2005 — a home run derby erupted as the Yankees beat up on the Rangers in series opener, 7-3. Aaron Hicks kicked off the fireworks with a two-run blast in the first inning, his 20th of the season. He is the fourth Yankee to reach that milestone this season, tied with the Indians for the most 20-homer players in MLB.
Hicks also is the third Yankee outfielder to hit 20 longballs this season. This is the fourth time in franchise history they've had three guys hit 20 homers and play at least 60 games in the outfield (yes, Stanton has played 60) in the same season.
2018: Aaron Judge, Aaron Hicks, Giancarlo Stanton
2004: Hideki Matsui, Gary Sheffield, Bernie Williams
1961: Yogi Berra, Mickey Mantle, Roger Maris
1941: Joe DiMaggio, Charlie Keller, Tommy Henrich
Miguel Andujar and Neil Walker launched back-to-back homers in the fourth inning, Stanton added a massive laser shot in the fifth and Walker capped the dinger party with another solo shot in the sixth.
Stanton's 449-foot missile left his bat at 121.7 mph, the fastest exit velocity of any home run measured by Statcast (since 2015), and the hardest-hit ball — out or hit — in the majors this season. Another #StatcastFunFact: through Thursday there have been 10 batted balls with an exit velocity of 119 mph or more this season … and all 10 were hit by Yankees (Sanchez and Judge each have one, Stanton has eight).
For Walker, it was his sixth career multi-homer game but the first time he's homered from both sides of the plate in the same game. Walker is the only player in franchise history to achieve the feat as a second baseman in a game.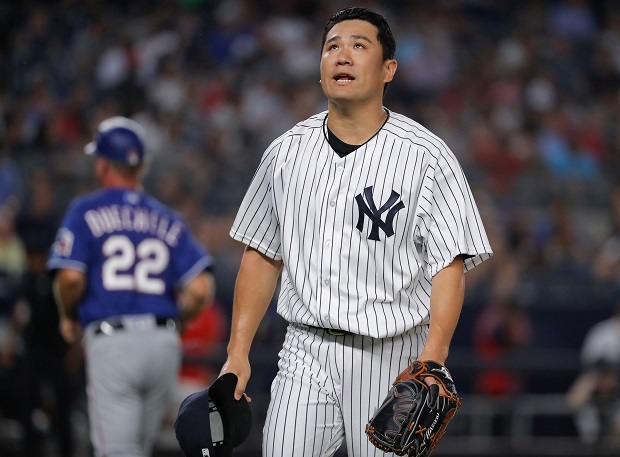 Bombs away, the enemy version
The Rangers got revenge on Friday night with their own dinger party, crushing four homers to beat Yankees, 12-7. Masahiro Tanaka's gopheritis returned as he coughed up three homers and was torched for six runs in five innings. He had been excellent in his first five starts off the DL, posting a 1.78 ERA with 36 strikeouts in 30 1/3 innings, but regressed badly on Friday night:
Masahiro Tanaka Since Return from DL

Tonight:
5 IP, 6 Runs, 3 HR

Previous 5 starts:
30.1 IP, 6 Runs, 3 HR

— Katie Sharp (@ktsharp) August 11, 2018
Rangers first baseman Ronald Guzman stole the highlights with his unprecedented three-homer night, becoming the first rookie ever to go deep three times against the Yankees. At the age of 23 years and 294 days old, he also was the second-youngest player to hit a trio of bombs against the Bronx Bombers, behind only Indians outfielder Pat Seerey (22 years, 118 days) on July 13, 1945.
Austin Romine earns our Obscure Yankeemetric of the Series for his huge effort, going 3-for-4 with a homer and a steal(!) while driving in three runs. He is the sixth Yankee catcher with a home run, a steal and at least three RBI in a game, and the first do it since Thurman Munson on June 15, 1976 vs Twins. The other guys were Jake Gibbs (1971), Yogi Berra (1958), Bill Dickey (1938, 1932) and Eddie Phillips (1932).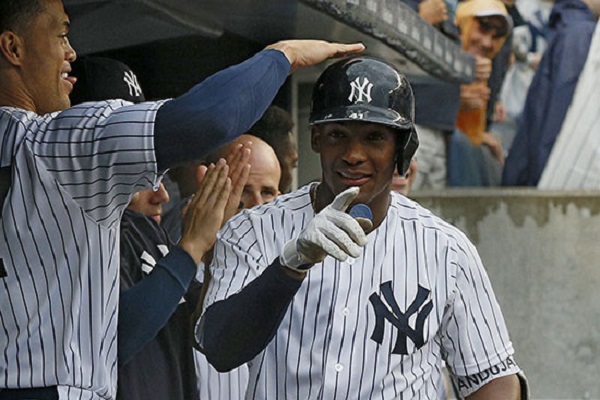 Mighty Miggy saves the day
The Yankees pulled out an ugly 5-3 win on a rainy Saturday at the Stadium, surviving a bullpen meltdown thanks to another clutch hit by Miguel Andujar. Lance Lynn delivered a third straight solid outing in pinstripes, and the one run he allowed in the third inning is the only scoring blemish on his Yankee resume so far.
Lance Lynn with Yankees:
16.2 IP
1 R
22 K
4 BB
0 HR

— Katie Sharp (@ktsharp) August 11, 2018
He also etched his name in the Yankeemetric record books with these two #FunFacts:
Lynn is first player in franchise history to begin his Yankee career with three consecutive games of no more than one earned run allowed and at least five strikeouts.
He is also the first guy to strike out at least eight batters and give up no more than one earned run each of his first two starts as a Yankee.
Miguel Andujar rehashed his role of clutch-hitting hero with a two-run, opposite field blast in the seventh inning that broke a 3-3 tie. It was his fourth go-ahead hit in the seventh inning or later this season, the most on the team thru Saturday. The only other Yankee rookies over the last 25 years to compile four go-ahead hits in the seventh or later are Nick Johnson (2002) and Derek Jeter (1996).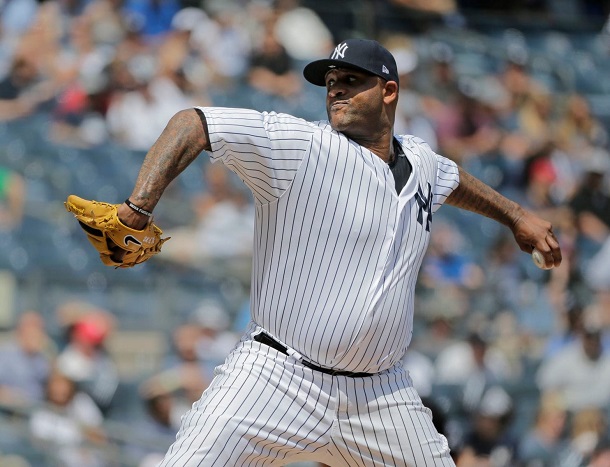 Ace Sabathia
Backed by a vintage gem from CC Sabathia and more bombs from the bats, the Yankees clinched the series win over the Rangers with a 7-2 win on Sunday. They still have lost just one series at home this season, April 5-8 against the Orioles.
The seven-run, two-homer outburst extended a couple notable streaks.
14th straight home game scoring at least five runs, tied for the second-longest such streak in franchise history (also had 14-game streak in 1937). The only longer one is a 21-gamer by the 1938 team.
Seventh straight game with multiple homers, tied for the second-longest such streak in Yankees history (also had 7-game streaks in 2014, 1986, 1955, 1937). The only longer streak is nine games during the 2009 season.
23 homers in seven games against the Rangers this season, their most home runs hit against any opponent in a season series of 10 or fewer games.
CC Sabathia carved through the Rangers lineup with his signature arsenal of well-located cutters and sliders, allowing a season-low one hit — a dribbler in front of the plate. The only ball in play he allowed to the outfield (excluding Andujar's error) was a warning-track flyout in the third inning. Otherwise, lots of groundouts and seven strikeouts: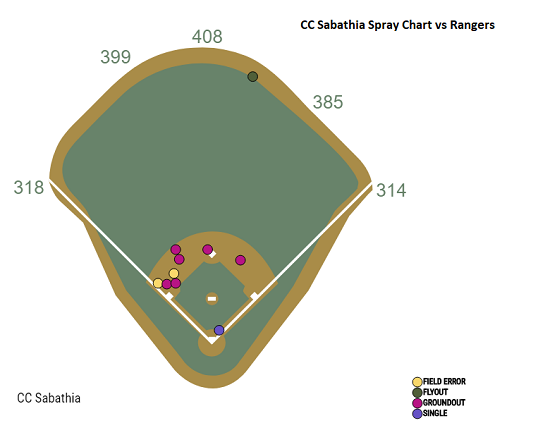 Only two other Yankees as old as (or older than) the 38-year-old Sabathia have pitched a game with at least seven strikeouts and no more than one hit allowed — Randy Johnson (in 2005 and 2006) and Roger Clemens (in 2001 and 2003).
Sabathia did have to pitch around six baserunners, but did so masterfully, with six scoreless innings. He's held batters to a .156 batting average with runners in scoring position this season, the third-lowest in the AL and seventh-lowest in MLB among qualified starters.
Giancarlo Stanton lit up the scoreboard early with a bullet line drive homer in the first inning, his 30th of the season. It was also his 16th longball in a two-strike count, tied for the most in MLB this season. Looking ahead … no Yankee since 1988 (when we have official pitch count data) has finished a season with at least 20 homers and more than half of them coming in two-strike counts.