The trade of Sergio Santos from the White Sox to the Blue Jays signaled that the White Sox were beginning the process of rebuilding, a word which the GM Kenny Williams used himself. Yankee fans have long hoped for the acquisition of the Chicago lefty John Danks, and this was the clearest indication yet that he would become available by trade. Yet Danks isn't the only pitcher Chicago is now willing to deal. They also expressed willingness to move righty Gavin Floyd. Given the Angels' signing of C.J. Wilson and Albert Pujols, one has to wonder if the Rangers will be extra aggressive in their bid for Japanese righty Yu Darvish. If so, the best route available to the Yankees for the acquisition of another starting pitcher may in fact be a deal with the White Sox. All things considered, who is a better fit for the Yankees, Gavin Floyd or John Danks?
From a performance perspective, it's difficult to see a lot of daylight between the two pitchers. Over the past five years, they've both averaged a strikeout rate around 7.0 and a walk rate around 3.0. Their career ERAs are only 0.07 apart (3.85 for Danks, 3.92 for Floyd) and their career FIPs differ by only 0.03 (4.06 for Danks, 4.03 for Floyd). For all intents and purposes, they get roughly the same number of ground balls.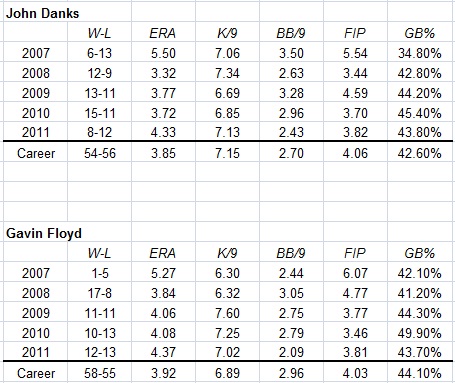 From a pitching repertoire approach, Danks is your prototypical lefty. He leans heavily on his fastball, but thanks to the tutelage of pitching coach Don Cooper Danks also throws a mean cutter. This isn't one of those weird Pitch F(x) classification issues, either. Cooper is famous for teaching his pitchers how to throw the cutter. Danks will also mix in a slider on occasion, but his real go-to offspeed pitch is the changeup. Floyd is a similar pitcher, throwing a straight fastball and, yes, a cutter. Floyd will also mix in a changeup infrequently, but his main offspeed pitch is the curveball. From a velocity standpoint they both sit in the low 90s with their fastballs.
There are a few key differences between the two pitchers though. To start, Danks is a lefty and Floyd is a righty. Further, Danks is a solid two years and three months younger than Floyd, and won't turn 27 years old until the second week in April. Floyd does have a four-inch height advantage over Danks, though, standing in at 6'6″. The biggest difference is perhaps their contract statuses. This is Danks' final year under contract with the White Sox, and he'll become a free agent after this season. Floyd will make $7M this year and has a club option for $9.5M for 2013, so he's under team control for one more year at a desirable salary. Even if the Yankees were to ink Danks to an extension after acquiring him, they'd surely have to pay him more than $10M per season.
From a performance perspective, the two are virtually equal. Danks has an advantage on Floyd in youth, but Floyd's contract situation is more desirable than Danks. That said, Danks still seems like the preferred candidate amongst fans. Perhaps it's the fact that he's a lefty and hearkens one RAB writer back to Andy Pettitte, or perhaps it's his age and frame that leads one to believe that the best is yet to come. Regardless, the relative proximity in quality between Danks and Floyd will mean that the team's rotation will be upgraded no matter who they get. Just as long as they get someone.