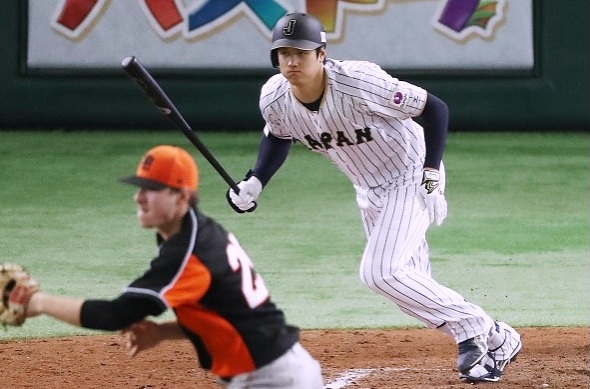 The offseason has been slow-moving so far, so here are some bits of news and notes to help you pass the time. Hopefully something exciting happens soon.
Otani will be posted this offseason
Yesterday the Nippon Ham Fighters announced they will indeed post Shohei Otani for MLB teams this offseason, according to the Japan Times and the Kyodo News. It's important to note the (Ham) Fighters have only announced their intention to post Otani. He hasn't actually been posted yet. MLB, MLBPA, and NPB are still haggling over the posting agreement. From the Kyodo News:
"Everyone in our ballclub accepts his thoughts," said Hideki Kuriyama, manager of the (Ham) Fighters, at a press conference yesterday. "It's not just me, but everyone in the ballclub believed in what he can do. I never lost doubt and I was sure he can do it. I spent the past five years just believing in that."
Otani recently hired Nez Balelo of CAA, an MLBPA certified agent, which could help settle the posting squabble between MLB, MLBPA, and NPB. The union knows Otani is in good hands now — Balelo is a veteran agent who has experience representing Japanese players (Nori Aoki, Junichi Tazawa) as well as big name players (Ryan Braun, Adam Jones) — and can be sure he is completely aware of the situation. Once the posting stuff if sorted out, Otani will be posted. Hopefully it happens sooner rather than later.
16 Yankees become minor league free agents
Earlier this week a whopping 572 players became minor league free agents across baseball, according to Matt Eddy. Sixteen of those 572 players are Yankees. Or were Yankees, anyway. Here are the 16.
Pitchers (8): RHP Colten Brewer, LHP Daniel Camarena, RHP Juan Jimenez, RHP Tyler Jones, LHP Joe Mantiply, RHP Jose Pena, RHP Eduardo Rivera, LHP Eric Wooten
Catchers (4): Wilkin Castillo, Kellin Deglan, Eddy Rodriguez, Wes Wilson
Infielders (3): 3B Dante Bichette Jr., IF Cito Culver, IF Donovan Solano
Outfielders (1): Mason Williams
Bichette and Culver are the most notable names here as former high draft picks, and Williams was once among the organization's very best prospects. Brewer and Camarena are the best prospects right now, though neither comes particularly close to cracking the organization's top 30 prospects list. Or even the top 40 list. Solano and Williams are the only two of those 16 players who played in the big leagues with the Yankees.
Also, according to Eddy, the Yankees have re-signed LHP Chaz Hebert, who was due to become a minor league free agent this winter. The 25-year-old southpaw had a breakout 2015 season, throwing 134 innings with a 2.55 ERA (3.11 FIP) at three levels. Then he blew out his elbow and missed the entire 2016 season and the first half of 2017 with Tommy John surgery. Hebert got back on the mound late this year and will back in the fold next year.
Yankees top 2018 AL ZiPS projections
A few days ago Dan Szymborski used his ZiPS system to put together way-too-early 2018 projected standings. ZiPS right now pegs the Yankees for 92 wins and first place in the AL East next year. In fact, those 92 wins are the most among all AL teams — the 90-win Astros are second — and second most in MLB overall behind the 96-win Dodgers.
New York of course had a gigantic payroll in 2017 as it typically does, but what people haven't completely noticed about this team is that it got far more of its wins from inexpensive, young talent than the good Yankees teams typically do. The last time the team won a World Series, it got 9.7 WAR (17 percent) from players making less than a million bucks. In 2017, that number was 25.9 WAR (49 percent).
Of course, there is still an entire offseason to go, so every team's roster can and will change before Opening Day. As things stand right now though, the Yankees are set up well going into next year thanks to their young core and some nice veteran complementary players. It's entirely possible they could go into next season even bigger favorites to win the AL East depending how the offseason plays out.