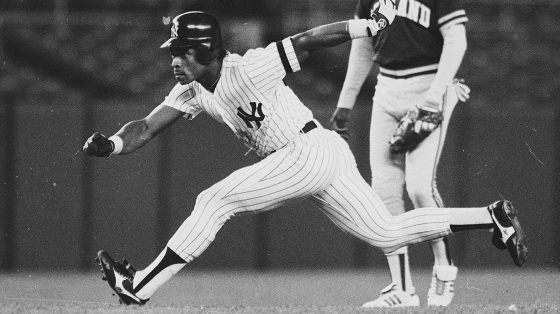 The mid-80s Yankees were better teams than they're generally given credit for, and boy were they star-laden. Don Mattingly was a batting champion and MVP, Dave Winfield was a perennial All-Star and top ten MVP-candidate, Willie Randolph was insanely underrated, Ron Guidry was still fronting the pitching staff, and Dave Righetti was slamming the door in the ninth. All great players in their own right, but none were as big a star as Rickey Henderson in the 1980s.
Henderson had taken the league by storm in 1980, his first full season in the bigs. He hit .303/.420/.399 with a hundred steals on the nose for the Athletics, then improved to .309/.408/.437 the next year, though the work stoppage limited him to 56 steals. From 1982-1984, Henderson hit .284/.404/.420 with 304 steals in 436 games, and by the end of his fifth full season, he had five stolen base titles to his credit. Billy Martin managed Rickey early in his career, and in 1985 he had returned to New York for his fourth of five stints as Yankees manager.
"Billy Martin had been a manager of mine before and he always felt that the type of player I was that I needed to be a Yankee," said Henderson to The Sacramento Press last year. "The Yankees were the best club, the best organization in baseball, and one of the best players in his eyes was on the Oakland A's. He told George Steinbrenner that there is a player he wanted him to go get, and George was like, why? Martin said this is the best player in baseball, and I want you to go get this player. So Billy really made the deal for me to get over to the Yankees. He always told me he was going to bring me over to the Yankees."
The Yankees acquired Henderson — then just 25 years old — from Oakland in December of 1984, a year before he was scheduled to hit free agency. Tim Birtsas, Jay Howell, Stan Javier, Jose Rijo, and Eric Plunk went to the Athletics while Bert Bradley joined Rickey in New York. Henderson signed a five-year, $8.5M contract following the trade. The Yankees had won 178 games in the previous two years and just added the best leadoff man in the game. The impact was immediate.
With Henderson, Randolph, Mattingly, and Winfield batting 1-2-3-4, the Yankees played .500 baseball through their first 58 games of the 1985 season while their leadoff man hit .313/.398/.480 with 21 steals in 22 tries. Rickey got hot after that and so did the Yankees, who went 69-36 in their final 105 games while Henderson hit .315/.429/.533 with 59 steals in 68 tries. He finished the season with a .314/.419/.516 batting line and a league leading 80 steals and 146 runs scored, earning him a third place finish in the MVP voting. Mattingly led the world with 145 RBI that year, 30 more than any other season in his career. It's not a accident given who getting on base all the time in front of him.
Despite the hot finish, the Yankees closed the 1985 season in second place, two games back of the 99-win Blue Jays. Henderson had a down season by his standards in 1986 — .263/.358/.469 with a league leading 87 steals and 130 runs scored — but the team still won 90 games. They again finished in second place, this time five-and-a-half back of the Red Sox. Hamstring injuries hampered Rickey in 1987, and he insisted he wasn't going to play until he was 100%. The Boss didn't like that.
"If he says he can't play and the doctor and trainer say he can, then he has a right to get his own opinion, and I'm going to demand that he do that," said Steinbrenner. "If there's a disagreement, then we'll get a third doctor to arbitrate. And if that doctor says he can play, then I will consider a suspension."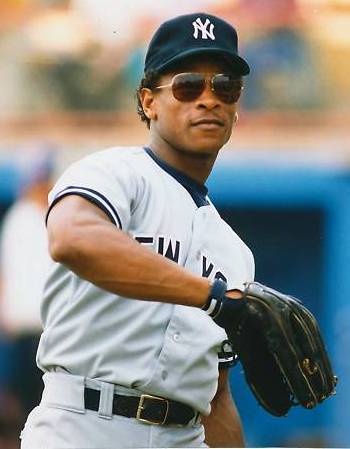 Henderson never was suspended, and he wound up hitting .291/.423/.497 with 41 steals in 95 games while the team finished in fourth in the division. His run of seven consecutive stolen base titles came to end. Rickey's power output dropped off in 1988, though he still hit .305/.394/.399 with 93 steals, the most in the game and the most of his Yankees career. The team continued to go nowhere though, finishing fifth in the seven-team AL East. Entering the final year of his contract in 1989, Henderson reported to Spring Training a few days late.
"Yeah, it ticks me off one more day," said new manager Dallas Green. "I don't know if he's smart enough to know what he's really doing. I don't know whether it's being spiteful, whether it's a lack of understanding or whether he just doesn't know what's going on. I want to understand what his thinking is at this time … You've got to look at the kids out there watching. Maybe they don't understand all this. Maybe they have Rickey Henderson as an idol or a role model. Is that the way you raise baseball players?"
It was the latest incident in Henderson's Yankees career, which was built on greatness and what the team thought was selfishness or a lack of desire. He slumped to .247/.392/.349 with 25 steals through the team's first 68 games, contributing to a 33-35 record that had them sitting in third place in the AL East. Rickey had worn out his welcome and the team was wary of giving him another big contract after the season, so they traded him. Back to the Athletics went Henderson on June 21st, with three players coming to New York: Luis Polonia, Greg Cadaret, and Plunk, who went from the Yankees to A's in the original Henderson deal.
During his four-and-a-half years in pinstripes, Rickey hit .288/.395/.455 with 326 steals, and currently ranks tenth on the franchise's all-time OBP list and second in steals. He was the first man to steal 300 bags in pinstripes, and held the club's all-time stolen base record until Derek Jeter broke it last season. Jeter needed roughly 2,400 games to steal as many bases as Rickey did in 596. The Yankees never made the playoffs with Henderson, but it was hardly his fault. The pitching let them down, mostly.
The Athletics got five useful pieces in the trade sending Rickey to the Bronx, but none stood out while wearing their uniform. Rijo was the best of the bunch, pitching to a 4.74 ERA in 339.2 IP with Oakland from 1985-1987 before being traded to the Reds for Dave Parker. His career then took off in Cincinnati. Birtsas threw 143.1 innings with a 4.27 ERA while Howell pitched to a 3.68 ERA in 195.2 IP in their three-year stints with the A's. The former went to Cincy with Rijo in the Parker trade. Javier was a part-time first baseman, hitting .255/.328/.346 in over 2,100 plate appearances across seven years with the Athletics. Plunk was an swingman for the most part, posting a 4.30 ERA in 322 innings before coming back to New York in the second Rickey deal.
I was a little too young to fully appreciate Henderson's time with the Yankees, but he was clearly one of the best players of his generation and all-time. The trade was an easy win for the Yankees, who acquired Rickey's prime years for what amounted to Jose Rijo and four spare parts. Yeah, they could have used a pitcher like Rijo later in the decade, but giving up a young pitcher like that (he was just 19 at the time) for an established superstar like Henderson is a trade you make every day of the week.