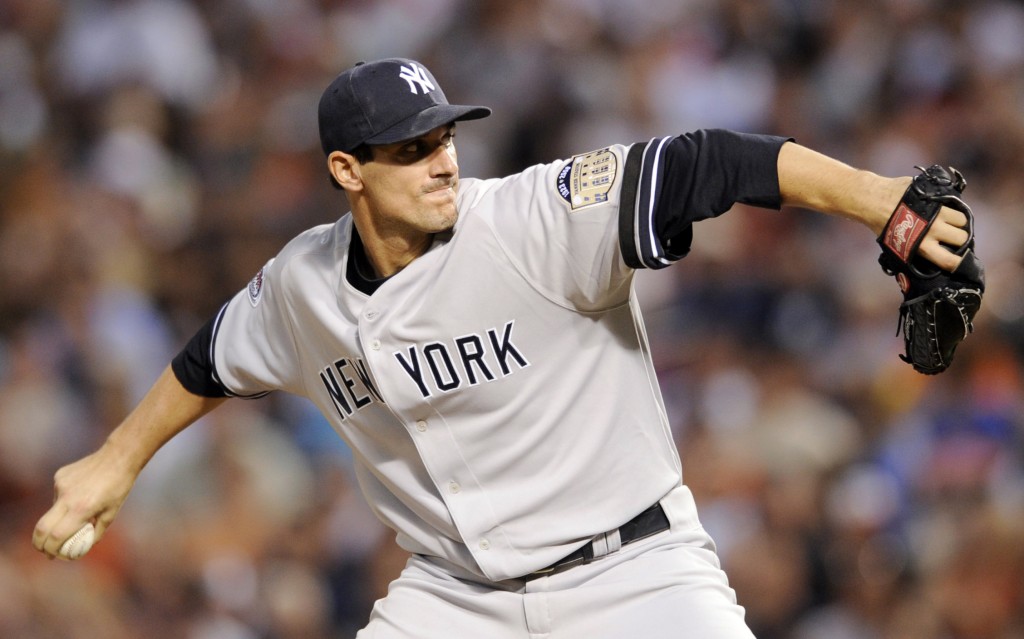 If Carl Pavano hadn't already pitched for the Yankees, would you consider him as an starting pitching option?
With Hiroki Kuroda and Jake Westbrook re-signing with the Dodgers and Cardinals, respectively, Pavano is the best pitcher on the free agent market not named Cliff Lee. Usually a guy like that would be the first backup plan should the Yankees fail to sign Lee, but given their history there's zero chance of Pavano returning to New York. They'd sooner start Sidney Ponson every five days. But let's forget all that for a second and break him down as a pitcher.
Pavano, 35 in January, has developed into a bonafide workhorse over the last two seasons, ironic given his tenure in New York. He threw 221 innings in 2010 (seven (!!!) complete games) and 199.1 the year before, good for the 19th most innings in all of baseball over the last two seasons. A sinker-slider-changeup mix results in a ton of groundballs (47.5% over the last two years) and he doesn't hurt himself with walks at all (just 73 unintentional walks during that time, or 1.56 BB/9). Lots of innings, lots of groundballs, and few walks are a slam dunk recipe for success, but there are legitimate reasons to be concerned about Pavano going forward.
For one, he doesn't strike anyone out, just 4.76 K/9 in 2010 and 6.64 (second best mark of his career) the year before. Pavano's swing-and-miss rate is just 8.02% over the last two years, below the 8.5% league average. His fastball velocity is trending downward, and despite the impressive ground ball rate, Pavano can still be prone to giving up the long ball (1.07 HR/9 since 2009). That's with just about a quarter of his innings coming at spacious Target Field as well, a park that suppressed homers to just 64.1% of the league average in its inaugural season. When he's made mistakes, he's made them up in the zone, a bad sign.
Given the contracts already handed to Kuroda, Westbrook, Ted Lilly, and Jon Garland, it's safe to say that Pavano's looking at no fewer than two years (likely three) guaranteed at $10M per season. For a guy that struggles to miss bats and needs a strong defense behind him to survive, that price just doesn't make sense for the Yankees. They've built their pitching staffs around strikeout pitchers the last few years, taking what was once a below average team defense out of the equation as much as possible. It's a sound strategy regardless of what the team's defense looks like, really, but Pavano doesn't fit that mold at all. He'd probably be able to step into their rotation and be a back-end innings guy in New York, which absolutely has value, but they need something better that right now.
Even assuming 2005 through 2008 never happened, I'd still be against a Carl Pavano signing unless the Yankees whiffed on Plans A, B, and C. He'd be a last resort kind of guy for me. If he's not missing bats and is giving up a decent amount of homers now, what will he be doing in two or three years?