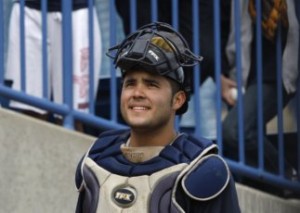 The superlatives are familiar by now. Keith Law compares his hitting style to Frank Thomas; Kevin Long has invoked the name of Robinson Cano. Baseball America's 2010 Scouting Report projects him as having 80 power on a scale of 20 to 80. Even our own Mike Axisa has speculated that we shouldn't be surprised to see him eventually hit .300 with 30 homers on a regular basis, benchmarks that would vault him into the EqA pantheon with catching icons Yogi Berra, Carlton Fisk and Johnny Bench. As though this weren't tizzy-inducing enough, when projecting his offensive ceiling, otherwise paragons of baseball sanity have broached names like Mauer, Konerko, and Miguel Cabrera. In responding to a reader's question in October, Jim Callis of Baseball America chose Montero as the best hitter in the minors. From Callis via "Yardbarker":
I don't have confidence he's going to stay at catcher for the long term, but I fully believe in his bat. There isn't a minor leaguer who can match his ability to hit for average and power. He started slowly this year but rebounded to hit .351 with 14 homers in 44 games in the second half – as a 20-year-old in Triple-A. A career .314/371/511 who always has been extremely young relative to his competition, Montero has strength, bat speed and the ability to barrel balls seemingly at will…only Moustakas is in the same league as Montero in terms of power.
Still, some of us do things to stave off the hyperbole, to inhibit our own irrational exuberance, and to create intellectual distance between ourselves and the frothing lynch mob on The FAN that will inevitably call for Cashman's head on a post at the first signs of a Montero slump.
I can't believe we coulda' gotten Roy Halladay straight-up for Montero! If this was Boston, they woulda' gotten three Halladays for this kid by now.
Slightly more sane Yankees loyalists use a variety of coping mechanisms to maintain some semblance of rationality. Snarky "Jesus" jokes temporarily distract us from visions of a rookie slash line that reads like it was cut-and-pasted from Manny Ramirez's B-Ref home page. Denial works, too. Saying things like, "He's a little on the doughy side," "He hasn't faced real competition yet," and "He's one-dimensional" sound logical enough even though, deep down, we know they probably have little bearing on Montero's future output as a pro. If neither of those strategies works, there's always the milquetoast buzzkill of cautious optimism: surmising aloud that it might ultimately be in everyone's best interest if Montero were given a full year to ripen in Triple-A, or warning that, for every Joe Mauer there are ten Ben Davis carcasses strewn across the big league landscape, can stanch one's lapses into prospect-hugging euphoria.
But these coping devices are fleeting, mainly because having unrealistic expectations is such a stubbornly endemic component of being a Yankees fan, post-'96. The "can't miss" rhetoric proffered by some of the more astute and sober analysts in the game, coupled with the knowledge that Montero is the best Yankees hitting prospect in decades, will prevent a good number of us from sitting back and simply enjoying the natural ebbs and flows of a supremely talented young ballplayer.
Part of this impatience probably stems from the novelty of having our very own homegrown position player blue chip who's on the cusp. And the proliferation of blogs and online scouting sites has enabled fans to follow Montero's almost daily progress for the past several years. Had scouting reports been as prevalent in the early 90s, we might've held the same outlandish expectations for Derek Jeter, as opposed to the gigantic collective shrug that took place when the future captain made the opening day roster in 1996. Or maybe Jeter would've been run out of town by then, seeing as he was sent down the previous season for failing to outhit a gimpy Tony Fernandez. (The hypothetical specter of a reinvigorated George Steinbrenner harassing the Yankees brass over coffee and Danishes to "get me Roberto Hernandez for this gangly bum!" should fill us all with terror and a bit of caution.)
To its credit, the current Yankees organization has taken measures to make Montero's eventual arrival as soft a landing as possible. By acquiring the enigmatic Russell Martin, the big club can afford to stave off Jesus' call-up. Of course, this assumes Martin doesn't remain mired in a mid-career offensive funk. If, however, Montero mashes in Scranton while neither Martin nor scrappy hustle machine Francisco Cervelli can exceed their 2010 WAR of 1.9 and 0.3 (?!) respectively, the only rational alternative for a team perennially competing for a championship will be to bring up the kid. What won't be rational will be the fan and media response to it.
Prepare for a fairly massive outbreak of incredulity when Jesus Montero the human being fails to live up to the mythological beast-child with "light-tower power." And when the fault lines in his game reveal themselves to be more gaping and persistent than his PS3 avatar's would suggest, nerves will become even more frayed. I envision Lohud and NYY Fans crashing beneath waves of collective outrage if Montero has the temerity to slug fewer than 10 homers by Labor Day. To that end, imagine, if you dare, a mid-May oh-fer against Josh Beckett, or a bottom-of-the-ninth bases loaded strikeout looking against Papelbon. I offer my deepest sympathies for the WFAN call screeners should either occur.
Amidst any of these abject horrors, the most obvious thing of all will be overlooked, which is that Jesus Montero is really young. When Montero digs into the batter's box for his first big league game at some point this season, he'll be about as old as many of us were when we found ourselves slack-jawed to discover that Mom and Dad had just donated our entire baseball card collection en route to converting our old bedroom into a Bow Flex commercial. And yet even mild failure on Montero's part will represent, for many, not just the mismanagement of resources (They could've gotten Halladay, you know), but further proof of the narrative that the Yankees organization is incompetent when it comes to developing top-shelf young talent.
In the worst-case scenario, Montero will struggle in all facets of his game: He'll prove an unwieldy statue behind the plate and an exposed mark at bat. His swing will be long, he'll clash with A.J., and he'll lag out of the shoot. The boo birds will surface, always with a fresh and nuanced take things, and their sell low, buy high brethren will demand a trade, at least, they'll claim, while the kid still possesses some value. Meanwhile, Montero will have only played a fraction of a season, all under the microscopic scrutiny of the New York media and a helicopter mom fan base awaiting the emergence of Hank Aaron in shinguards.
But this worst-case scenario will likely never come to fruition. Because before it ever happens, there's a very real chance that Jesus will already be gone.