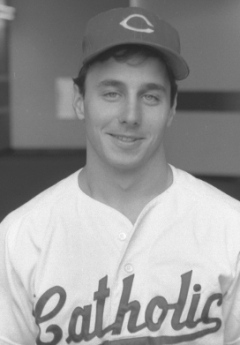 You might not recognize the man pictured to the right. Two and a half decades after this snapshot, he hardly looks like the same person. Were he to wear a baseball cap, there wouldn't be any hair protruding. He also wouldn't be wearing a uniform, since his current job is more administrative. The only familiar aspect, really, is the same haven't-slept-in-weeks look. Yes, the man to the right is Brian Cashman, from his ball playing days at Catholic University of America.
At CUA's campus newspaper, The Tower, Douglas K. Barclay reminisces on Cashman's time at the university. While he is often chided for not being a baseball guy — he never played professionally at any level — Cashman's decision to attend Catholic was centered solely on baseball. "The Catholic decision…was pure baseball," he said.
Really, this post is just an excuse to display an image of Cashman that might catch people off-guard. It's certainly not how we're used to seeing him. But make sure you read the entire article. It's a quick one, and it provides us with a little more insight about the man making the decisions for the Yankees.