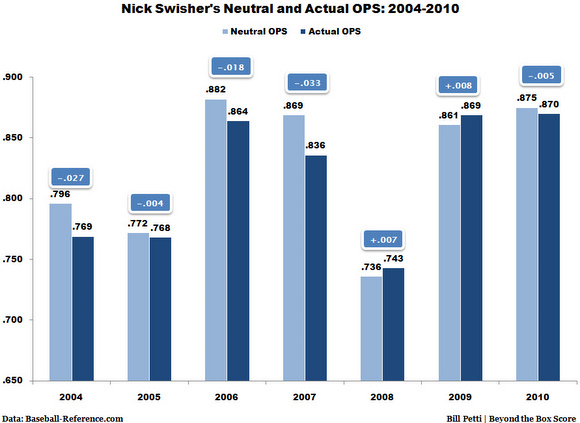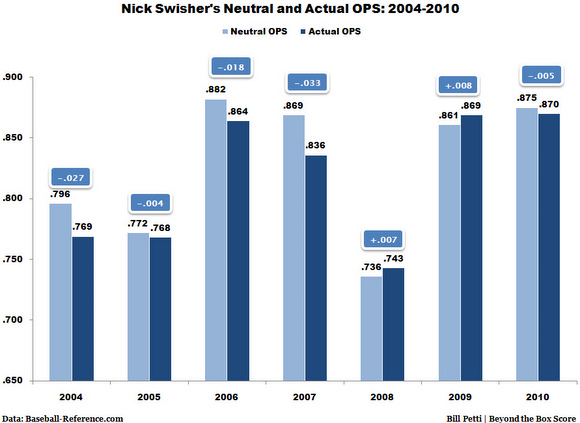 It's been more than two years since I implored the Yankees to look into Nick Swisher as a potential buy-low option, but of course I was talking about adding him as a first baseman since it looked unlikely that Mark Teixeira was coming to New York at the time. Anyways, you all know what happened next; Swish has gone on the enjoy two tremendously productive seasons with the Yankees since then, but just how productive compared to the rest of his career?
Bill Petti of Beyond The Box Score examined Swisher's year-by-year park adjusted OPS totals (which is what you see above), and showed that the Yankees' right fielder hasn't really taken his offensive game to another level over the last two seasons. He just rebounded from his hideous 2008 season with the ChiSox to perform like he had with the Athletics in 2006 and 2007. Go figure.
OPS, even adjusted, isn't the best metric, but for quick and dirty stuff like this it's perfectly fine. Swisher has posted a .376 wOBA with 7.4 fWAR over the last two years compared to a .364 wOBA with 7.2 fWAR with Oakland from 2006-2007, so the difference is negligible once you consider just how inexact some of this stuff is. It's pretty obvious that his 2008 season was nothing more than an unfortunate fluke, but I still blame Ozzie Guillen.