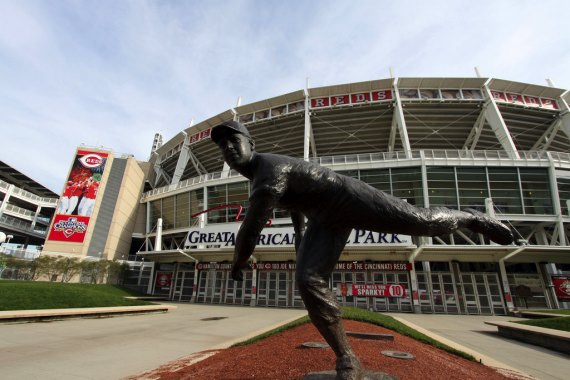 While the Cubs are more renown for their long and rich history, the Cincinnati Reds have been around for just about as long. During that long span they have one fewer World Series appearance and three more World Series victories. But they have neither the ages-old ballpark nor the infamous curse, and so they're not paid as much attention as their fellow National League founders. But they've had a good deal more success than the Cubs lately, which leaves the Yankees a tougher challenge in their second (third, if we count rivalry weekend) interleague series.
What Have the Reds Done Lately?
Just a week ago the Reds were busy trouncing the Dodgers in a three-game series, outscoring them 16-8. But once interleague started back up the run scoring halted. They scored only four runs this weekend against the Blue Jays, salvaging just one win in the series. They're now 1-5 during interleague play, losing by a collective score of 27-13.
Reds on Offense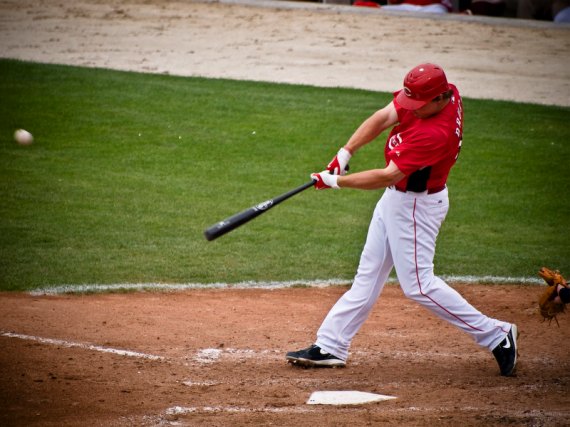 Despite the poor scoring in interleague affairs, the Reds lead the NL in scoring, at 4.78 runs per game. That could make for a high-scoring series, since the Yankees have scored 5.31 runs per game. Despite their NL-leading run scoring, they have produced to the level of an average offense — 100 wRC+ and 100 OPS+. That might be one reason why they've struggled during interleague play: of the 10 teams with a wRC+ of 100 or greater, seven are in the AL.
Leading the way on offense is one of the best 3-4 combinations in the game, Joey Votto and Jay Bruce. Votto is having a spectacular season that seems a bit underreported. That's probably because he won the MVP award, but it's not as though his numbers this season are that far off. In fact, his OBP is even higher, though his power is a bit down. But, since power is down across the league it's not that big a difference (173 wRC+ last year, 162 this year). He already has seven intentional walks this year, after receiving just eight last year. Yet this year they hurt a lot more, because Jay Bruce has broken out in a big way. After a slow April he has put a hurting on baseballs, producing a .379 wOBA (137 wRC+) on the season. The big difference for him has been power. After 21, 22, and 25 homers in his first three seasons, he's at 17 already in 2011.
The Reds are even more dangerous on offense because of the producers they have elsewhere in the order. Drew Stubbs's .335 OBP might not look pristine for a leadoff hitter, but he brings some pop (10 HR) and speed (20 SB, 2 CS). If he gets on, chances are he's headed for second base. That could become a problem when Cervelli is behind the plate. Ramon Hernandez has also put up some quality numbers, a .372 wOBA in part-time duty.
Keeping the Reds afloat is a cadre of players who hit right around league average. Scott Rolen, Miguel Cairo, Jonny Gomes, Chris Heisey, Fred Lewis, Brandon Phillips, and Ryan Hanigan all have more than 120 PA and a wRC+ with 10 of the league average. That covers all but one starting position and some bench spots. Their only weakness comes at shortstop, though it is a glaring hole. Paul Janish and Edgar Renteria have spent time there, and have wRC+ numbers of 41 and 56. That does leave them with two black holes at the bottom of the order, but it also does give them averagish or better production everywhere else.
Reds on the Mound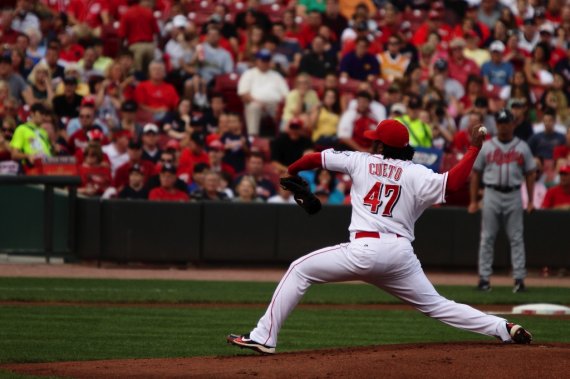 Monday: RHP Johnny Cueto. The Reds came into the season with more starters than rotation spots, but that strength quickly turned into a weakness after many of them pitched poorly. Cueto actually didn't start the season in the rotation; he spent the first month on the DL. But since his return he's been a bright spot for the Reds. In eight starts he's produced a 1.68 ERA, though he's not going to keep that up all year. In fact, his numbers closely resemble his career marks, with the exception of his home run rate. He's getting more grounders, which might play into that. But as we know, when ground ball guys miss they often give up the long ball. His 6.7% home run to fly ball rate is due for a correction, and the Yankees are just the team to do that. Then again, it's hard to bet against someone who is going so well. He's gone at least seven innings in each of his last four starts, allowing two runs at most.
Tuesday: LHP Travis Wood. While Cueto has outperformed his peripherals this season, Wood has underperformed his. That's not to say he's pitched particularly well: he has a 4.30 FIP against a 3.84 league average, and has a 5.11 ERA overall. Above average walk and home run rates have hurt him, which seemingly plays into the Yankees hands. That goes even more so, because the start is at home. Of the 10 homers Wood has surrendered this year, eight have come at home. But it seems as though every time the Yankees come up against someone like that, he holds them homerless.
Wednesday: RHP Mike Leake. The year did not start off well for Leake, but after being sent down to the minors in May — which is odd, considering his two AAA starts this year are the only minor league innings he's ever pitched — he's been on something of a tear. In his five starts back he's gone 35 IP, 33 H, 9 R, 5 BB, 19 K, including three straight starts in which he has pitched seven or more innings. He's also allowed just two homers in that span, meaning he's essentially the anti-Travis Wood.
Bullpen: The Reds bullpen has been pretty middle of the road, with a 3.46 ERA and 4.05 FIP. They do have a number of quality contributors, including lefty, and former first round pick Bill Bray, Logan Ondrusek, and closer Francisco Cordero. Nick Masset can also be a weapon, though his propensity to walk batters has haunted him at times this season. But with those four they can handle most leads, so it would benefit the Yankees greatly to work up Cueto's pitch count tonight and get into that bullpen early. A wild card here is Aroldis Chapman, whose rehab clock has expired. The Reds could bring him up, but will more likely let him work on his control issues in AAA for a bit.
Recommended Reds Reading: Redleg Nation and Red Reporter.