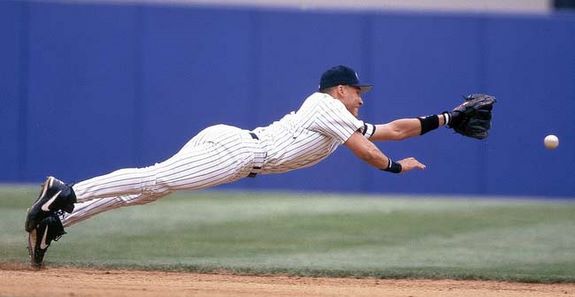 The fine folks at Baseball Prospect put their entire 1996 Annual online over the weekend, and it's free for all to see. You don't need a subscription to see the 28 team sections (no Devil Rays or Diamondbacks yet!), complete with overviews, player comments, and projections for the 1996 season. I think it goes without saying that it's amazing to look back and see what was being written about some of these guys, even moreso when you consider everything we know now. Hindsight can be an amazing thing.
Given his recent historical accomplishments, I think it's only fair that we start with Mariano Rivera, who was just a 26-year-old kid with a 5.51 ERA in 67 career innings at the time …
Skinny swingman who has good control of the corners of the strike zone. His K rate seemed to jump up a little as of late, and if that's development rather than a fluke, this kid could really be something special. Looks way too skinny to be durable, but you never know.
Unfortunately the annual did not provide a projection for Rivera, but I highly doubt it would have come close to what he actually did that year, a 2.09 ERA with 130 strikeouts and just 34 walks in 107.2 relief innings. He's still way too skinny, but the durability thing proved to be a complete non-issue.
Of course, Mo was not even the most highly touted Rivera in the organization at the time. Ruben Rivera, Mariano's cousin, had just been ranked as the third best prospect in the game by Baseball America before the season (behind Andruw Jones and Paul Wilson), and BP loved him just as much as BA…
I don't know anyone that doesn't think this guy's going to be nearly as good as the hype. You may include me in that bunch. Steady improvement, 22 this year, will take a walk, and hits the snot out of the ball.
The projection suggested immediate impact, a .269/.333/.440 batting line with 20 homers and 26 steals (in 31 attempts) in 561 at-bats as a 22-year-old. Rivera actually beat the triple-slash projection (.284/.381/.443), but he only got 106 plate appearances across two stints with the big league team. He was traded to the Padres in the Hideki Irabu swap after the season, and famously flamed out without ever delivering on that promise.
What about Derek Jeter, then  a lanky 21-year-old that only got the full-time shortstop job because Tony Fernandez got hurt in Spring Training?
… most definitely the real thing. Does everything well except walk, and he's shown flashes of doing that for a few weeks at a time. Will win an AL batting title right around the turn of the century or so, and twenty years from now, people will be arguing over whether or not he or Rodriguez was a better player.
Jeter never won a batting title, but he came damn close a number of times. He blew his projection (.301/.355/.396 in 515 at-bats) right out of the water (.314/.370/.430) en route to the AL Rookie of the Year Award. Now let's look at this Rodriguez character they mentioned in Jeter's write-up…
The Natural. Piniella should just put him out there and leave him alone. If he does, this kid will hit like a banshee, be amazing in the field and the mainstream media will praise Piniella for giving him seasoning during 1995 … I can't advise Seattle fans to hire a sniper if Felix Fermin or one of his clones is run out to SS next year that would be wrong.
I like that they listed A-Rod's position as "SS/Deity." His projection: .282/.335/.450 with 21 doubles and 24 homers in 588 at-bats. His actual production that year: .358/.414/.631 with 36 homers and a league-leading 54 doubles as a 20-year-old. Twenty! Alex would have won the RoY in a landslide if he hadn't racked up too many at-bats the year before. Don't take this as a knock on the projection system, A-Rod really is that damn good.
Of course, they didn't like everyone in the annual. Check out Jorge Posada's capsule…
There are worse catching prospects…in front of him on the depth chart.
Ouch. This was still two years before Posada took over as the full-time catcher, displacing Joe Girardi. The same Joe Girardi that got trashed a few pages prior…
When I spellchecked this document, one of the potential replacements for Girardi was "giardia", an infection often caused by the accidental ingestion of bacteria from beaver feces. But anyway this organization has the chutzpah to lose Mike Stanley, arguably one of the top two or three catchers in the AL, replace him with this out with a pulse, and call it "improvement behind the plate." On some level, you have to admire the gall. A truly execrable hitter.
The projections had Girardi at .258/.301/.327 for 1996, well below the .296/.346/.371 he actually hit that year. In fairness, Joe was a .269/.315/.349 hitter in over 2,000 career plate appearances coming into that season.
As fun as the player capsules are, the team write-up took the team to task for the way it was being run and painted a grim picture for the future…
Of course, all this is just the ceremonial whining before the team threatens to move, extorts the local taxpayers and builds a new stadium/movie theater/tanning booth. So we'll let that one ride for now. How about personnel moves? "We're very proud to add Darryl Strawberry and Ruben Sierra to the Yankee Family of Stars." Do I really need to comment on this? Sierra's an expensive lump of flesh, sinew, and baldness, and Strawberry, although once a great hitter, is on the bad side of 32, and hasn't played enough to keep his once formidable skills. But hey, we're winning, right?

[snip]

Sometimes, organizations are able to overcome their own incompetence. The Yankees have spent several years concentrating on what their prospects can't do, rather than what they can. Billy Masse sat in favor of Luis Polonia. Dave Silvestri was sent packing to free up shortstop time for Tony Fernandez. Just like a bunch of other organizations, the Yankees have been exceedingly risk-averse, choosing guaranteed dishwater over potential champagne.
Kinda eerie, isn't? The Yankees eventually got that new stadium thanks to the taxpayers and they continue to be afraid to use their prospects, at least to a certain extent. We've talked about this earlier in the year, that vibe of fearing failure, and the annual shows that this is something that dates back long before Phil Hughes and Ian Kennedy in 2008. The gloomy but scary accurate team overview is easy to dismiss because hey, the Yankees won the World Series in 1996, but man … the more things change, they more they stay the same, right?
I wasted far too much time digging through the annual last night, and I suspect a few of you will end up doing the same this morning. It's not often that you get a chance to step in the machine and go back to 15 years, especially in detail with stuff like that. That 1996 team will always be special to me, it was my first championship as a fan, so going back and reading through (electronic version of) the book is like a reunion of sorts.
(h/t to Royals Review)