The save statistic is grossly overrated in today's game, but Mariano Rivera is not. The greatest reliever in the history of baseball made some more history on an otherwise nondescript Monday afternoon in the Bronx, passing Trevor Hoffman for sole possession of the game's career save record. Everything else seems like an afterthought.
602
Fast forward to the end, when the Yankees were nursing a 6-4 lead and the crowd was still buzzing from Nick Swisher's inning-ending double play ball in the eighth. I've never seen the fans get so excited for a blown scoring opportunity, but Swisher's failure to come through preserved the save situation. Enter Sandman began to play, and the cheers grew even louder.
The first batter was Trevor Plouffe, who had the gall to take the first two pitches for balls. The third pitch was a cutter on the outside corner for a called strike, the fourth pitch another cutter that generated a swing and a miss. The fifth pitch was (of course) a cutter, one that Plouffe grounded harmlessly to second for the first. Michael Cuddyer, the only legitimate hitter in Minnesota's lineup, worked the count to 2-2 before flying out to right on a broken bat. That was two outs. The third batters was Chris Parmelee, who spend the entire season in Double-A. A first pitch cutter was down the middle for strike one. The second cutter was fouled back. The third was vintage Rivera, a cutter down and away for a called strike three. Game over, let's go home.
The team swarmed Rivera on the field after the final out, but eventually Jorge Posada and Alex Rodriguez pushed him out to the mound so he could wave to the fans. Mo stood on the same mound he's stood on countless times before, with all eyes on him like they have been so many times, but for what seemed like the first time ever, he soaked it all in. Rivera waved to the crowd, waved to the Twins players and staff that remained in the dugout and applauded, waved to his family, waves to some more fans. The consummate team-first player was enjoying an individual moment, and quite frankly he looked awkward. Like he didn't want the attention, like a man who had just done his job and wanted to go home.
We can argue Rivera's place in Yankees history for hours on end, but this is no place to do it. I don't know if he's a greater Yankee than Joe DiMaggio or Yogi Berra, or more valuable to the dynasty than Derek Jeter, but I do know one thing: I've never any athlete in any sport dominate his position as thoroughly and for as long as Rivera has dominated the closer's role. There might someone else like him down the road, but I'm pretty comfortable in saying that I'll never forget how I feel whenever Rivera is on the mound. The most chaotic spots imaginable, and yet there was this calm figure on the mound, raised above everyone else on the field, just like it should be. He is simply on another level.
Confirmed
If there's one good thing that came out of A.J. Burnett's start, it's that he basically pitched himself out of having any chance at making the postseason rotation. He finished off his last start with six strikeouts in three innings and started this one with seven strikeouts in three innings, but don't be fooled, he's still awful. After whiffing seven of the first dozen Twins he faced on Monday, seven of the next ten reach base. Two of those seven were homers, and overall, Burnett allowed four runs on nine hits and a walk in just four innings against a Triple-A lineup (more on that in a bit). Eight strikeouts are great, but nothing else is. Believe it or not, A.J. now has a higher ERA (5.28) than he did last year (5.26). Impressive.
Leftovers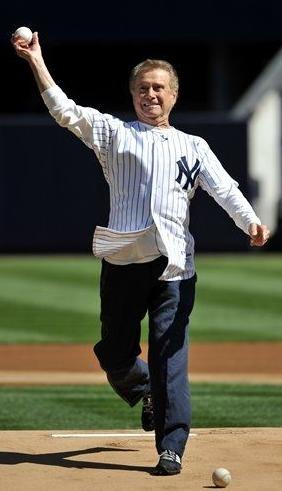 Oh yeah, the offense. Curtis Granderson started things off with a two-run homer in the first inning, then the Yankees tacked on another run in the second thanks to a Russell Martin single. Robinson Cano tripled home a run in the third, and then Swisher singled in Cano one batter later to make it 5-0. Alex Rodriguez's run-scoring single in the sixth gave the team an insurance run. The pitching was the story of the game, for better and for worse, so it's kinda easy to forget the offense.
The bullpen between Burnett and Mo was solid. Cory Wade, who's been shaky of late, allowed three hits and a walk in 1.1 IP, striking out Joe Benson and Rene Rivera with the bases loaded to end the fifth. Boone Logan got the only man he faced, then Rafael Soriano and David Robertson sat down all six men they faced before Rivera made history.
Aside from 602, Regis Philbin was pretty much the highlight of the game, the best half-inning from the booth all season. He poked fun at Michael Kay ("how do you go from Fordham to The Post?"), Suzyn Waldman and John Sterling ("could they sit any further apart?"), and was just all around entertaining. We should all be lucky enough to have that much life and energy at 80.
This game was originally scheduled for April 6th, the Yankees fifth game of the season and what would have been Freddy Garcia's first start. Here's the lineup Minnesota was going to use that day…
Denard Span, CF
Tsuyoshi Nishioka, 2B
Joe Mauer, C
Justin Morneau, 1B
Jim Thome, DH
Michael Cuddyer, RF
Jason Kubel, LF
Danny Valencia, 3B
Alexi Casilla, SS
Now here's the lineup they ran out there on Monday…
Ben Revere, CF
Trevor Plouffe, SS
Michael Cuddyer, RF
Chris Parmelee, 1B
Danny Valencia, DH
Brian Dinkelman, RF
Luke Hughes, 3B
Joe Benson, LF
Rene Rivera, C
Yeah, that's some difference. It must really suck being a Twins fan right now.
The Rays were off on Monday, so the Yankees increased their lead in the wildcard by half-a-game to seven games. The magic number to clinch a playoff spot is down to just four. The Red Sox split their doubleheader with the Orioles, so the lead in the division increased to a full five games in the loss column with ten to play.
Box Score, WPA Graph & Standings
MLB.com has the box score and video, FanGraphs some other stuff, and ESPN the updated standings.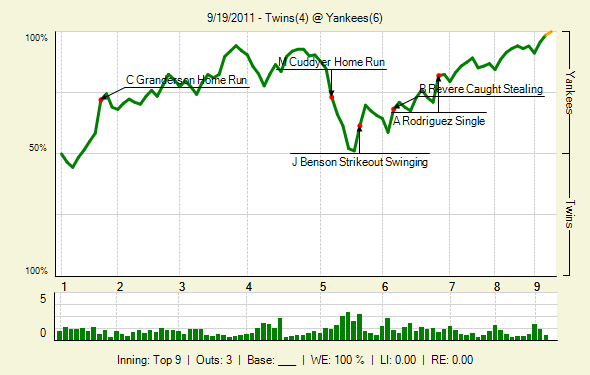 Up Next
The Twins were only here for the one-day makeup, so they're off to Minnesota and the Rays are coming to town for four-games in three days. It's an enormous series for Tampa, and probably a four out of ten on the importance scale for New York. Ivan Nova kicks things off against Wade Davis on Tuesday night. If you want to catch the game, RAB Tickets can get you there.