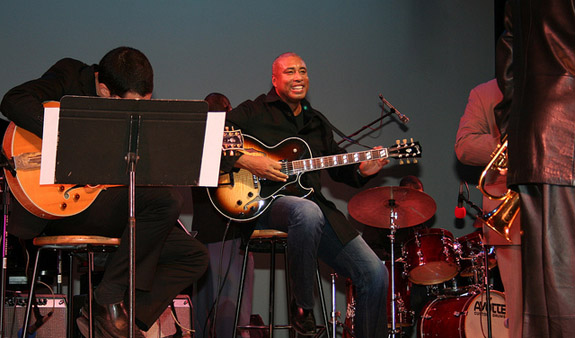 Sports have a lot in common with music.
First off, it's easy to get over-invested. You love a band? Suddenly, you're seeing three of their shows in a row, driving up and down the state and maybe into (shudder) Massachusetts. You might be listening to the same album over and over again. Likewise, I'm sure plenty of Yankees fans are going to Boston, DC, Queens, and Baltimore to check out your team. Also, there's the fact we end up watching these guys play the same game 162+ times. That's a lot to watch the same damn thing. I think we're all crazy.
Additionally, there is nothing more pointless than arguing either music or sports with your friends. Your friend is Mets fan? Get new friends, but first, try to convince them to be a Yankees fan. Sadly, futile. Meanwhile, your friend likes that band you hate? There is no way they will ever tell you it's not the best thing they've ever listened to. Meanwhile, you will make an equal fool of yourself singing in your cubicle or talking avidly about your fantasy team. (Hint: No one cares about your fantasy team.)
With this, I present Yankees as songs from my iPod.
Derek Jeter as "The Lightning Strike," by Snow Patrol
There are lots of great things that Jeter presents: as a baseball player, he's really good, really consistent, determined, disciplined, and talented. As a front presented to the media, he's calm, with no surprises and no big crises; he doesn't get into trouble, and as a result he doesn't ever have to wiggle out of it. Jeter's the golden boy, as everyone knows.
"The Lightning Strike" off A Hundred Million Suns, gives the listener all these things. Not only does it match Jeter's lengthy career (the song has four parts and combines for a whopping 16:18 in play time), but the song starts with an intriguing intro before being played with a dramatic flare through all four parts. It even comes with a part around 9:35 where you thought it was over, but then you realize there's a lot more to go. Despite the dramatic notes, there's no surprises – gravitas is the norm, like Jeter, and there's no random cymbal banging or screaming guitar solos where you didn't expect them. The song ends leaving the listening feeling fulfilled, like this whole story was written and told perfectly, and couldn't have been any other way, and when Jeter's career is over… well, how could it have been any better? Ain't no one out there like El Capitan.
David Robertson as "Don't Stop Me Now," by Queen
In the Non-Mariano Rivera division of things that happen in baseball games, is there anything that made you feel more secure in 2011 than David Robertson? The man was flat-out amazing on the mound in relief, and as such I think he's worthy of such a great song.
Quite frankly, no one could have stopped Robertson, both last year and '11, and even with a little regression he'd still be a downright amazing reliever. He had a real good time. He felt alive. He was floating around in ecstasy.
You get the point.
While there was usually a tenseness that came with Robertson's appearance, they almost always ended in the impossible-to-frown-at cheeriness that also accompanies this song. Both the song and his at-bats tended to follow an easy routine: he throws fastballs, and curveballs, and strike guys out. Meanwhile, the song, like the baseball season, becomes bigger both in terms of leverage and Freddie Mercury's voice, and Robertson still has it in the bag. With his strikeout rate's rocket ship already reached Mars, he's going to make a supersonic man out of you. By that, I mean he's going to embarrass you with his pitches and make you ashamed as you walk back to your dugout.
Whether you think 200 degrees means the heat on his fastball or the break of his offspeed pitches, it was all enough to earn him a pretty awesome nickname (sadly, not Mr. Fahrenheit).
(Shameless Plug: I did a Yankees year in review video to this song.)
Phil Hughes as "Vida La Vida" by Coldplay
Phil Hughes used to be everything. He was the future. He was brilliance. He was the next 6-year-100M contact. He was the Yankees' pride and joy. He was the kind of guy you ran off to get the jersey of, the one you knew was gonna mean everything.
But that was when he ruled the world.
These days, Hughes is but a shadow of the flawless prospect we imagined him as. Injuries and ineffectiveness have kicked him down from the position, and he's gone from being The Future to fighting for a rotation spot. Given as how entertaining the "Phil Hughes is Fat" jokes can sometimes be, there's a good chance that even if he returns to form, they'll persist, and that possibility is even greater if he doesn't. Both Hughes and Coldplay tell stories about rising and falling from power, and how easy it can be. After all, baseball's almost as difficult as ruling a country, I bet.
While the song ends on a morbid, depressing note, I'm hoping Phil can break the trend here and get himself together in 2012. It wouldn't be legitimately awful for him to end up as a reliever, but it does seem a little a let-down when he was so good in the first half in 2010. That seems far away now, doesn't it?
Anyway, because this is music, I'm sure there will be many differing opinions on song choice. And because this is sports, I'm sure lots of people will disagree with me. That's what the comments are for.
(I shamelessly modified this idea from where Friend of the Blog Rebecca Glass discusses the Yankees as mythical creatures. Derek Jeter is a unicorn.)