Six questions and five answers this week. Remember to use the Submit A Tip box in the sidebar to send us anything, mailbag questions or otherwise.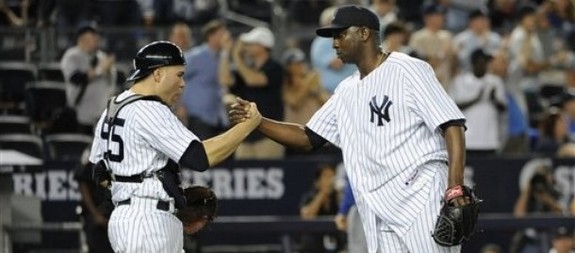 Jerome asks: With the Yankees starting to win a lot of games (and close ones at that) without David Robertson and Mariano Rivera, who should we credit for this? Does Joe Girardi's binder deserve some love? I'm not saying we're better without D-Rob and Mo but will this help convince the Yankees to never again spend big bucks on bullpen help in the future?
Yeah, it's funny how the binder jokes went away when Girardi mix-and-matched his bullpen to 16 wins in 20 games without Robertson or Mo. I've always been amazed at how every industry in the world uses available data to make informed decisions and progress forward, but in sports it's frowned upon. The number of people that think relying on "gut feel" is a good thing is staggering.
Anyway, I wouldn't hold my breath if you think the team's recent ability to put together strong bullpens using internal options and the scrap heap will keep them away from the free agent market. They are the Yankees and will always spend on players. Maybe they won't splurge to the extent to Rafael Soriano again, but I doubt the Pedro Felicianos and Damaso Martes are going to go away forever. There's nothing wrong with taking a one-year flier on a guy like LaTroy Hawkins or Chan Ho Park or Luis Ayala each winter, but the multi-year commitments for less than elite relievers are what really irk me.
Anonymous asks: Would you still be interested in acquiring John Danks after this rough start he has had to the season, including injuries? I know you were pretty high on him as a trade target.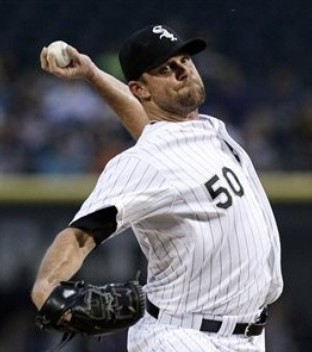 Danks was terrible early on this year — 5.70 ERA and 4.97 FIP in nine starts — and is currently on the DL with a shoulder strain. He's expected back sometime later this month. I drove the Danks train this offseason, I'm a big fan of the guy and like his chances of improving into his age-27 season, plus I liked his left-handedness and the fit for Yankee Stadium. Obviously the shoulder problem changes that somewhat, but also his new contract extension — five years and $75M — changes things as well.
The new contract basically eliminated my interest. I liked the idea of getting Danks for one year (2012) and seeing how he handled the AL East and Yankee Stadium before committing long-term. Now they'd be locked in long-term right out of the chute, which could be problematic given the 2014 payroll plan. I still like Danks and think he'll be very good going forward, but I don't think he makes sense for the Yankees at this point. Not with that contract.
Miller asks: If the starters keep pitching effectively, will the Yankees go after another starter at the deadline? Will they have faith in Phil Hughes and Ivan Nova to carry them through the playoffs?
Yeah, I'm sure they'll trust those two into the postseason. Remember, you only need four starters in October and the fourth starter will be marginalized, maybe three starts tops if you make a deep run and play five or six or seven games in each series. The Yankees have a strong front three with CC Sabathia, Andy Pettitte, and Hiroki Kuroda, so just one of those two — I'd go Nova and stick Hughes in the pen if the playoffs started today — needs to serve as the fourth starter.
The non-waiver trade deadline is still six or so weeks away and a whole lot can change between now and then. Injuries could pop up, guys could start stinking for no apparent reason, all sorts of stuff could force the Yankees to swing a deal for a starting pitcher. Things are going well right now and I wouldn't expect rotation help to be all that high on the deadline shopping list at the moment.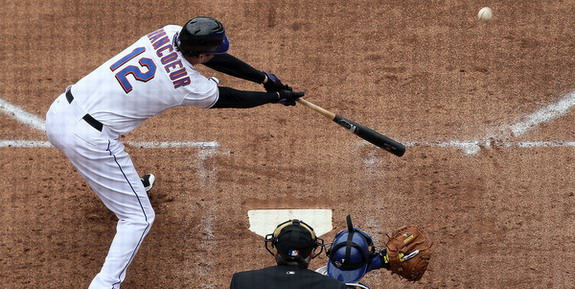 D.R. asks: If Gardner is out for an extended period of time, what do you think of Jeff Francoeur as a trade target?
Peter asks: Jon Heyman reports that the Royals are putting Jeff Francoeur on the block. He's a bit pricey for his production, but do you think he could be a fit for the Yanks to 1) fill in for Brett Gardner this year and 2) be a one-year stop-gap if they don't re-sign Nick Swisher in 2013?
Frenchy is still only 28 years old and he's under contract for $6M this year and $7.5M next season, so he's not cheap. He had a very good season in 2011 (.346 wOBA and 117 wRC+) but has since reverted to his usual terrible self: 93 wRC+ in 2012 vs. 92 career. The two things Francoeur can do really well is hit left-handers (114 wRC+) and play defense (both just running down balls in the outfield as well as making throws). He also has a reputation as a great clubhouse guy, for what it's worth. Frenchy is a classic underachiever in the sense that he should be so much better than he is; the talent is there for him to be a top-25 player in the game. The lack of plate discipline — not just not walking (5.0 BB%), I mean swinging at bad pitches and making weak contact — has been his downfall.
That said, Francoeur isn't a terrible platoon option given his production, but he is given his salary. He's being paid like an everyday guy and there's no way the Yankees could run him out there for 500+ plate appearances. If he was making like, $2-3M or so, maybe it's a different story as a one-year stopgap. He's on the short-end of the platoon stick as the right-handed bat, so you'd still need a quality left-hander to make this thing work.
Rahul: Is there any update on the Michael Pineda injury? I actually forgot he is even a Yankee. I just haven't even thought about the guy since maybe mid-May.
Pineda had his surgery as scheduled on May 1st, and Brian Cashman confirmed that everything went well that day. Based on the Twitter feeds of various Yankees' farmhands, Pineda is currently in Tampa doing whatever he needs to do. I haven't been able to find any kind of rehab timetable, but his arm may still be in a sling since we're only six weeks out from surgery. I wouldn't expect many updates at this point just because we're less than two months into a year-long process.