The Yankees have won three straight over the Rangers and seven of their last eight overall, restoring some order to the universe after playing sub-.500 ball for about three weeks. They're on the verge of sweeping Texas in a four-game series, something that was honestly unthinkable when the week began. The Yankees are playing so well and with the quick turn-around for the afternoon game today, there's no use for a focused post this morning. Instead, here is a collection of some random thoughts. Feel free to expand or add to the discussion in the comments…
1. I think that we, as a fanbase, don't give Freddy Garcia enough credit. He had that brutal April and it seems to have lingered in everyone's minds, but he's been rock solid ever since regardless of role (starter or reliever). Part of the problem is that he doesn't fit the profile of the type of pitcher that usually succeeds in the AL East. He's not a hard-thrower and he doesn't miss bats, but he generates lots of weak contact and simply outsmarts hitters. When I saw the weather prior to the game last night, my thought was that the Yankees were in pretty good shape because Garcia's a veteran starter who has pitched through everything. A little rain wouldn't bother him. Freddy really does deserve a lot of credit for stepping up once Andy Pettitte went down.
2. He isn't going to continue hitting this well through the end of the season and into the playoffs, but don't the Yankees have to find a way to keep Eric Chavez in the lineup once Alex Rodriguez comes off the DL? They could get him three or four starts a week at third base and/or DH, but to do so they would have to take some playing time away from Ichiro Suzuki and Raul Ibanez. I suppose they could platoon those two and use Ichiro in left for the fly ball pitchers (Phil Hughes and Garcia) while Ibanez gets the call for the ground-ballers (CC Sabathia, Hiroki Kuroda, and Ivan Nova). Either way, Chavez has been far too productive to turn him back into a once-a-week type player. Someone's going to lose at-bats when A-Rod comes back and it shouldn't be him.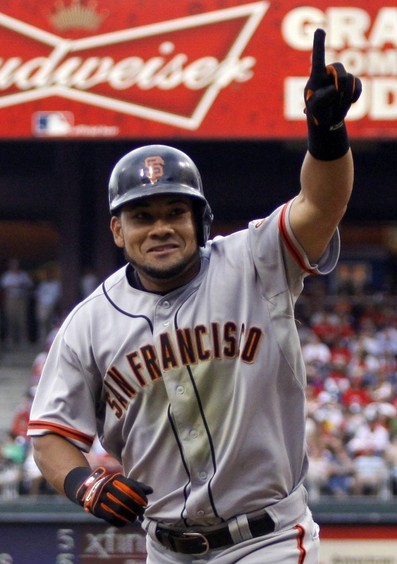 3. Isn't this Melky Cabrera stuff just sad? You know I'm not the biggest Melky fan in the world, but it's sad because he was so close to a life-changing contract. We have no idea how much the added testosterone helped his performance, but the story about him getting into shape and taking his career seriously after getting released by the Braves seemed completely plausible. Melky always had some skills, he makes lots of contact and he has a pretty good idea of the strike zone, so it's not completely unexpected that he turned into a BABIP machine during his peak years. Now his free agent value is destroyed — I was thinking something along the lines of six years and $80-90M this offseason, but he might have to settle for a one-year, prove yourself contract now. He was staring at money that would put his great great great grandkids through college, now he has to do it all over again to land that kind of payday. Rough.
4. On the heels of his perfect game yesterday — which was just absolutely brilliant, I can't tell you how filthy he was if you didn't see it — would you take Felix Hernandez over any other pitcher if you had one game to win? I'm pretty sure I would. The top three names that immediately jumped to mind for me were Felix, Justin Verlander, and Clayton Kershaw, but I'd rather have Hernandez over the other two. MLB Network joked (or maybe it wasn't a joke) yesterday that the ninth inning of the perfect game were the three biggest outs of his career, and that kinda bummed me out. Felix has never pitched in the postseason and only once have the Mariners finished above third place during his career, but he just seems to give off that vibe that he would be untouchable on the big stage. Maybe I'm completely off the mark here, but he always seems to perform his best when facing top teams like the Yankees or Red Sox or Rangers or the Rays yesterday.
5. Is this not the most likable Yankees team in quite some time? At least since the 2009 squad, and I think you might even be able to go back farther than that. The mid-aughts teams were just awful in that regard, full of grumpy and unlikeable players that came off as far too corporate (Gary Sheffield and Kevin Brown stand out as notable examples). This team has likeable players all over the place, from Chavez to Sabathia to Kuroda to Curtis Granderson to Robinson Cano to many others. They're all just very easy to root for and it makes the whole baseball fan experience that much better. The Yankees placed a renewed emphasis on makeup and character a few years ago, and I think this is a byproduct.