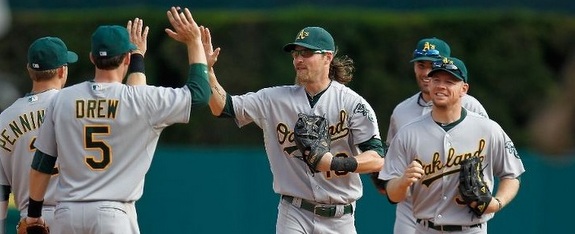 Blame the Athletics. The Yankees' second half slide all started out in Oakland, with a four-game sweep that featured four one-run losses. The Bombers have started to right the ship these last two weeks and now the A's are coming to the Bronx for three games. I think payback is on everyone's mind.
What Have They Done Lately?
Although they hammered the Tigers yesterday, Oakland lost three straight prior to that and four of their last seven overall. The A's are no pushover; they're within shouting disaster of the Rangers in the AL West and are just one game worse than the Yankees at 85-64 with a +74 run differential.
Offense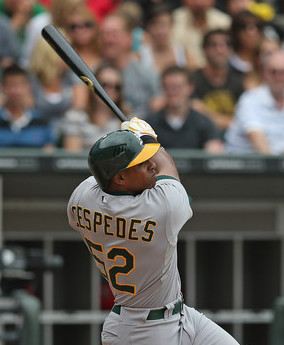 The Athletics have a middle of the road offense, featuring a team 96 wRC+ with an average of 4.3 runs per game. I think they have the offense people think the Yankees have, meaning homer-reliant (172 HR, ninth in MLB) with a super-low batting average (.236, 29th in MLB). They will draw some walks but generally just sit around waiting for the long ball, far more than the Yankees have this year.
Oakland's two best hitters this season have been Josh Reddick (114 wRC+) and Yoenis Cespedes (134 wRC+), the latter of whom just crushed the Yankees during the four-game set in July. Coco Crisp (108 wRC+) has been solid at the leadoff spot and Chris Carter (140 wRC+) has hit the snot out of the ball since coming up at midseason. Josh Donaldson (94 wRC+) and Stephen Drew (61 wRC+) hold down the left side of the infield. The various platoon bats including Jonny Gomes (162 wRC+ vs. LHP), Seth Smith (125 wRC+ vs. RHP), Brandon Moss (155 wRC+ vs. RHP), and catchers Derek Norris (59 wRC+ vs. LHP) and George Kottaras (124 wRC+ vs. RHP).
The list of September call-ups is quite lengthy and is highlighted by former everyday guys Daric Barton (82 wRC+), Cliff Pennington (64 wRC+), and Jemile Weeks (75 wRC+). Pennington never actually went down, but Drew gets the majority of the playing time at short these days. Infielder Brandon Hicks, outfielder Collin Cowgill, and utility man Adam Rosales round out the rest of the bench.
Pitching Matchups
Friday: LHP CC Sabathia vs. RHP Jarrod Parker
The 23-year-old Parker picked a bad year to be a good rookie. Guys like Mike Trout, Yu Darvish, and Cespedes mean he will be a Rookie of the Year afterthought despite a rock solid 3.54 ERA (3.48 FIP). He doesn't miss a ton of bats (6.64 K/9 and 17.7 K%), doesn't walk a ton (3.24 BB/9 and 8.6 BB%), and doesn't get an overwhelming amount of ground balls (44.1%). I suspect he'll be a Matt Cain type down the road in that his actual performance is greater than the sum of his peripherals. Anyway, Parker is a two fastball guy, sitting in the low-to-mid-90s with both the two- and four-seamers. His money pitch is a low-80s changeup that he'll throw to both lefties and righties. A low-80s slider is a distant fourth pitch. Parker dominated the Yankees earlier this season, holding them to one run in eight innings.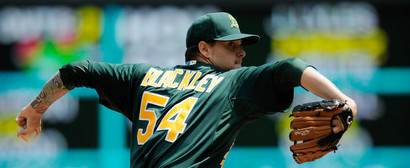 Saturday: RHP Ivan Nova vs. LHP Travis Blackley
Blackley, 29, is well-traveled. He was a hotshot prospect with the Mariners once upon a time, but after flaming out he wound up pitching in his native Australia as well as Mexico and Korea. He resurfaced in the big leagues this season, and has pitched to a 3.65 ERA (3.62 FIP) in 98.2 innings as a swingman. He's a ground ball (47.3%) guy who limits walks (2.46 BB/9 and 6.8 BB%), though he isn't a threat to strike many people out (5.93 K/9 and 16.3 K%). Blackley is a four-pitch guy who will sit right around 90 with his four-seamer, backing it up with a mid-80s slider, a low-80s changeup, and a mid-70s curveball. The Yankees didn't see him earlier this season, and it's worth noting that right-handers (.296 wOBA) have much more success against Blackley than lefties (.249 wOBA). He's starting this game because Brett Anderson suffered a season-ending oblique injury earlier this week.
Sunday: RHP Hiroki Kuroda vs. RHP A.J. Griffin
One of four rookies in the Athletics' rotation, the 24-year-old Griffin has been superb (2.45 ERA and 3.50 FIP) since coming up at midseason. He's an extreme fly ball pitcher (38.2% grounders) who won't walk anyone (1.55 BB/9 and 4.4 BB%) and will miss enough bats (7.23 K/9 and 20.5 K%). A big, slow, upper-60s (yes, 60s) curveball is Griffin's moneymaker, a frustrating little floater that catches everyone out in front. His fastball sits in the upper-80s and he'll also mix in low-80s sliders and changeups. Griffin has a bit of a reverse split (.227 wOBA vs. LHB and .265 vs. RHB) and he held New York to two runs in six innings back in July.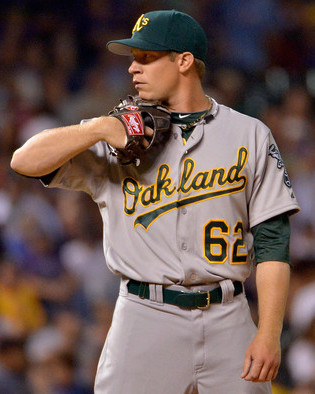 Bullpen Status
There's no such thing as a short bullpen these days, not with tight division races and September call-ups crowding the roster. Closer Grant Balfour (3.42 FIP) hasn't pitched in a week, but setup men Ryan Cook (3.21 FIP) and Sean Doolittle (1.31 FIP) both pitched yesterday. Doolittle, a left-hander and former first baseman, is especially ridiculous, with a 12.34 K/9 and 1.86 BB/9 since being recalled a few months ago. Nearly 40% of the lefties he's faced as a big leaguer have struck out. The guy has been crazy good.
Righties Pat Neshek (3.04 FIP) and Evan Scribner (3.32 FIP) join southpaws Jerry Blevins (4.22 FIP) and Jordan Norberto (3.91 FIP) in the middle innings. Blevins is the specialist, Norberto the multi-inning guy. The crop of September call-ups includes righty Jesse Chavez, lefty Pedro Figueroa, righty Jim Miller, and righty Tyson Ross. The Athletics are carrying 34 total players at the moment, so they're certainly taking advantage of the expanded rosters. Check out our Bullpen Workload page for the details on the Yankees' relief corps, then check out Athletics Nation and Beaneball for the latest on this weekend's opponent.