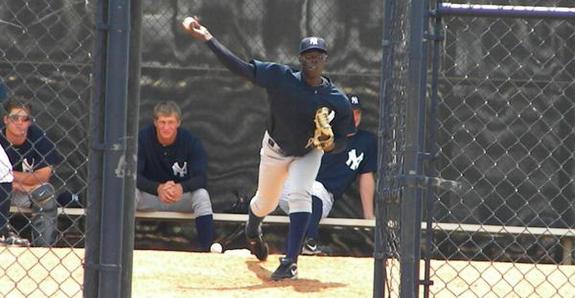 Rafael DePaula | RHP
Background
Hailing from La Victoria, Dominican Republic, the 21-year-old right-hander originally presented himself to teams as Rafael DePaula Figueroa with an April 1st, 1992 birthday in 2008. He didn't garner much attention as a prospect that summer, but his velocity spiked later in the year and he was in line for a seven-figure bonus. MLB suspended him for one year in January 2009 for problems with his documentation.
Following the suspension, DePaula came forward with a new name (Jose Rafael DePaula) and new date of birth (March 24th, 1991). MLB approved his free agency, and he eventually agreed to a contract worth $500k with the Yankees in November 2010. It took 16 months for the U.S. Consulate to approve his visa. DePaula's visa was finally approved this past March, and his contract became official when he passed a physical a few days later. In the meantime, he worked out at the team's complex in the Dominican Republic but could not pitch in official games.
Pro Debut
DePaula remained in the Dominican Republic this summer and pitched for one of the team's Dominican Summer League affiliates. He led the circuit in strikeout rate (12.4 K/9) and pitched to a 1.46 ERA (~1.65 FIP) with 85 strikeouts (35.9 K%) and just 18 walks (7.6 BB%) in 61.2 innings across 14 starts. He participated in Instructional League after the season.
Scouting Report
Listed at 6-foot-2 and 212 lbs., DePaula regularly runs his fastball into the mid-90s and has touched 99 in the past. His velocity jumped from the high-80s to low-to-mid-90s prior to suspension. DePaula's top secondary pitch is a hard curveball in the low-80s, and his changeup is promising but still a work in progress.
Despite his big and lanky frame, DePaula has a controlled and repeatable delivery that allows him to throw strikes with relative ease. He reportedly showed some rust in the DSL this summer, which isn't all that surprising given the lack of game action in recent years. The Yankees love his makeup, particularly how he stayed focused and worked through his suspension and visa delay. Here's some video.
2013 Outlook
The Yankees are expected to bump DePaula up to High-A Tampa next season, which would be a pretty big jump for a kid who has yet to pitch in the United States. I wouldn't be surprised if they changed course and held him back in Extended Spring Training for a few weeks at the start of the season before sending him out, but we'll see. Either way, DePaula is not your typical internationally signed arm. He is expected to move quickly.
My Take
With Manny Banuelos having Tommy John surgery, Jose Campos missing almost the entire season with an elbow injury, and Dellin Betances making zero progress taking steps back, a case can be made that DePaula is the organization's top pitching prospect. I don't like that he missed so much development time over the last few years, but he's got a big arm and showed the kind of results you want to see in his brief pro debut this summer. Next season is going to be a very important year for DePaula as he comes stateside for the first time, and he has the potential to emerge as a Top 100 Prospect within 12 months.