Our season preview series continues this week with the starting rotation, though the format will change just slightly. Since there's no clear starter/backup/depth lineage when it comes to starting pitchers, we'll instead look at each type of pitcher — ace, number two, back-end, etc. — at different levels.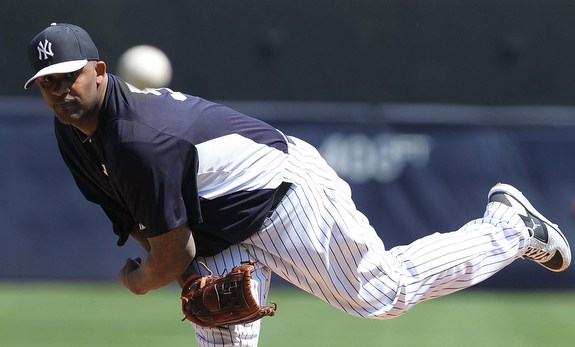 The term "ace" gets thrown around far too liberally these days. Technically every team has an ace in the sense that someone has to start Opening Day, but very few pitchers are true, bonafide number one starters. Those are the guys who provide both quality and quantity — they take the ball every five days and pitch deep into the game. Just as importantly, they do it every single year. It's possible for a pitcher to have an ace-like year in any given season (coughEstebanLoiazacough), but the guys who do it year after year stand out from the pack. Those are the true aces.
The Horse
CC Sabathia is a true ace. Despite two DL stints — including the first arm injury of his career — the 32-year-old still rattled off his sixth consecutive year of 200+ innings with a sub-3.40 ERA in 2012. The number of other big leaguers who have done that: zero. Raise the bar to a sub-3.60 ERA and it's still zero. Sabathia was the difference in the ALDS against the Orioles, allowing just three runs in an LDS round record 17.2 innings. That's an 8.2-inning start in Game One and a complete-game in Game Five. The Yankees and Orioles played five very tight games, but the difference was Sabathia shoving it in the first and last games of the series.
Going into 2013, CC is more of a question mark than he has been at any other point as a Yankee. He had surgery to remove a bone spur from his left elbow in late-October, which slowed his pace in Spring Training ever so slightly. The good news is Sabathia has been throwing with no complications or pain or even unexpected soreness in recent weeks, so he remains on target to start Opening Day. That said, his fastball velocity did drop more than one mile an hour from 2012 to 2013. It's a concern because of his age and all the mileage on his arm, if nothing else.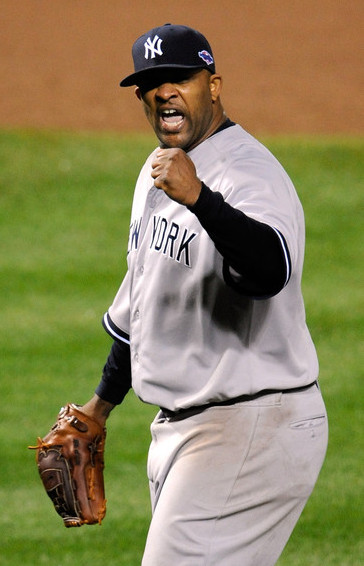 Despite the DL stints and reduced fastball, Sabathia was excellent last season — 3.38 ERA and 3.31 FIP — so excellent that his strikeout (8.87 K/9 and 23.7 K%) and walk (1.98 BB/9 and 5.3 BB%) rates were the second best of his career behind his monster 2008 campaign with the Indians and Brewers. Pitching coach Larry Rothschild came to New York with a reputation for increasing strikeout rates and reducing walk rates, and sure enough Sabathia has posted a 8.79 K/9 (23.5 K%) and a 2.16 BB/9 (5.8 BB%) during his two years under Rothschild after managing a 7.59 K/9 (20.6 K%) and 2.71 BB/9 (7.4 BB%) during his first two years in pinstripes. One year is a fluke but two years are a trend, as they say.
The Yankees have internally discussed scaling back Sabathia's workload going forward in an effort to keep him healthy and just fresher late into the season. That could mean treating him as a 200-inning pitcher rather than a 230-inning pitcher — one fewer inning per start, basically — but that's much easier said than done. Sabathia is, by his own admission, a rhythm pitcher who is at his best with more work, not less. Finding the balance between lightening the overall workload and remaining super-effective will be difficult.
Either way, Sabathia is a benefit of the doubt guy. I assume he'll remain a workhorse of the first order and highly effective until he isn't. The elbow surgery and reduced velocity are red flags, but they have yet to manifest themselves in a meaningful way. I still expect CC to strike out a ton of batters in his 200-something innings while keeping his ERA under 3.50. He's been doing it nearly a decade now and I'm not going to doubt him. At some point Sabathia will decline, but I don't expect it to happen just yet.
Knocking on the Door
There are only a handful of minor league prospects who project as future aces — don't confuse ace stuff with being a projected ace — and the Yankees don't have any of them, especially not at the Triple-A level. The only pitcher who is slated to open the season in the Triple-A Scranton rotation with ace-caliber stuff is Dellin Betances, who lacks everything else a pitcher needs to be an ace: command, durability, etc. Brian Cashman already acknowledged the club will start the 24-year-old Betances in the Triple-A rotation despite his miserable season a year ago, but this is his final minor league option year and I don't think the Yankees would hesitate to move the big right-hander into the bullpen if he doesn't show improvement within the first few weeks of the season.
The Top Prospect
The Bombers have a farm system that is top heavy in position players — the top five prospects on my preseason top 30 list were all position players — especially since their best pitching prospects all seem to be coming off injury. The best combination of ace-caliber stuff and command in the system belongs to 22-year-old Manny Banuelos, who will miss the season due to Tommy John surgery. His command started to waver in 2011 though, maybe due to the elbow problem.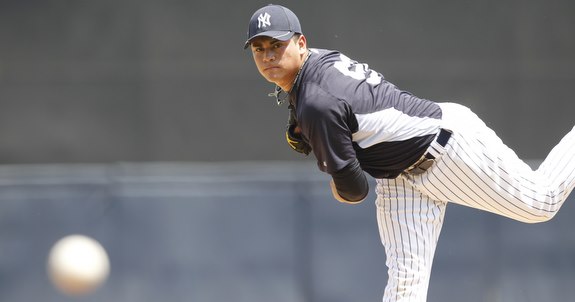 Right-hander Jose Campos lacks a defined breaking ball while right-hander Ty Hensley lacks command in addition to having basically zero professional experience. Righty Bryan Mitchell has nasty stuff, missing bats with a mid-90s fastballs and a knockout curveball, but he lacks command as well. Perhaps the best current ace package in the system belongs to 23-year-old Jose Ramirez, who is organization's consistently hardest thrower with a swing-and-miss changeup and a promising slider. That said, he's battled arm injuries and command throughout his five-year career. The Yankees don't have a minor league pitcher who clear projects as an ace, but Ramirez is probably the closest. He's a long way from that ceiling, however. A very long way.
The Deep Sleeper
The Yankees were very, very patient when it came to signing soon-to-be 22-year-old Rafael DePaula. They originally agreed to sign him for $500k back in November 2010, but it wasn't until March 2012 that the right-hander was approved for a visa and the contract became official. Because he wasn't allowed to play in actual games while waiting for his visa, DePaula lost a lot of crucial development time these last two years. With command of a mid-90s fastball and low-80s curveball, he's the best bet in the organization to emerge with the "future ace" label over the next 12 months. DePaula figures to start with High-A Tampa this year, but the Yankees could opt to hold him back with Low-A Charleston given the lack of experience.
* * *
Sabathia is one of the game's ten best pitchers and pretty clearly the second most important Yankee heading into the 2013 season. He's truly irreplaceable. The Bombers don't have any clear-cut ace-caliber pitching prospects in the minors — just a collection of guys with good stuff or good command or good health, but not all three. It's a problem going going forward given the team's plan to get under the $189M luxury tax threshold in 2014 (and beyond), so they'll have to get creative to pull it off. Either that or hope for good luck.