Got six questions this week, so I tried to keep the answers reasonably short. The Submit A Tip box in the sidebar is the way to go to send us questions, comments, links, complaints, whatever.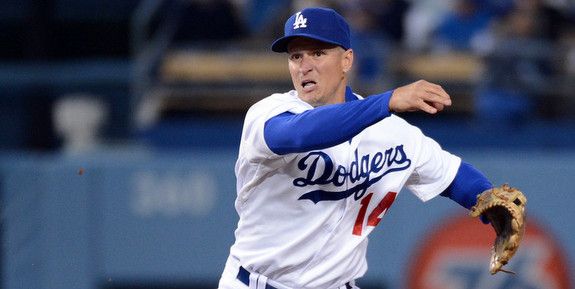 Brad asks: With the Dodgers recent injury bug to their rotation and the news of Derek Jeter being out until late July at the earliest, would it make sense to swap Ivan Nova to LA for perhaps Mark Ellis and a reliever?
Yes and no. The Dodgers started the year with eight legitimate starters for five spots, but they've since traded Aaron Harang and lost Zack Greinke (collarbone), Chris Capuano (calf), and Chad Billingsley (Tommy John surgery) to injury. Behind Clayton Kershaw they have Josh Beckett, Hyun-Jin Ryu, Ted Lilly, and rookie Stephen Fife. I'm sure they're in the market for a fill-in starter.
I've always been open to trading Nova, but Ellis wouldn't work because he can't play any position other than second base. Jerry Hairston Jr. would be a better fit, maybe even Luis Cruz if you think he's better than his -52 wRC+ suggests. Los Angeles has a ton of relievers, good ones too, so there would be a fit there. I don't like the idea of trading Nova for a utility man and a reliever though, even if it would fill two fringe roster needs. I'd rather use him as the second or third piece in a package for an impact player and instead trade prospects for infield and bullpen help.
Isaac asks: Would the Yanks ever consider extending Brett Gardner before he hits free agency? If so, what kind of deal makes sense? Does Carlos Gomez's extension with the Brewers work as a baseline?
I think there's a small possibility they would, but Gardner strikes me as a year-to-year guy because of his injury history. The thing that worries me most is that he's going to be 30 this summer, and he's the type of player who will lose his value very quickly once his speed starts to slip. I don't really want to be on the hook for that decline.
The framework of Gomez's deal actually works very well. His new four-year pact covers his final arbitration year and three free agent years for $28.3M total, and his $4.3M salary in 2013 should be similar to Gardner's salary next season. An $8M average value for the following three years is reasonable. Gomez is several years younger with more power (and more raw tools in general), but he hasn't had the same kind of success as Gardner. The Brewers bought potential. Eight million bucks a year for Brett's age 31-33 seasons seems fine, I just worry about a quick descent into uselessness if the speed slips.
Tarik asks: Do you think Al Aceves' release was motivated by behavioral issues that just weren't made public, or did Brian Cashman just not think he'd recover well from his injury? (Had to shorten the question, sorry Tarik.)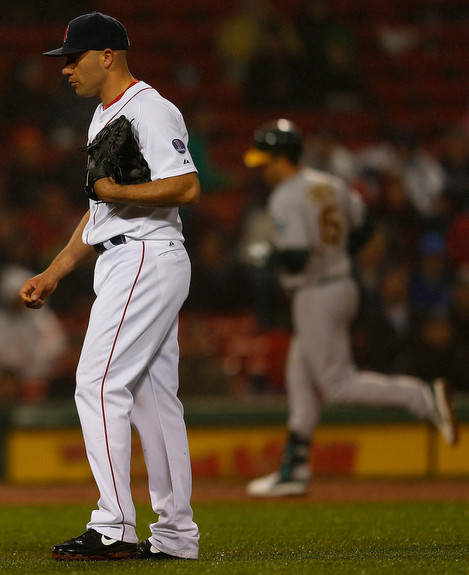 After seeing how things have played out the last 2+ years, I definitely think Aceves' nutcase ways played a role in the team's decision to release him. The back and collarbone problems likely contributed as well, but someone with the Yankees screwed up there. He healed just fine in time for Opening Day after the club's doctors said he would miss the first few weeks.
I'm guessing the Yankees did a better job of keeping any behavioral incidents under wraps than the Red Sox have, or maybe the veteran clubhouse just did a better job of keeping him in line. Hell, maybe Aceves was on his best behavior with New York because he was a rookie back then. We don't really know. It's easier to understand why they released him nowadays, but I still can't help but wonder if they could have found a trade partner.
Bill asks: Is there any chance the Yankees front office may value Ramon Flores more than any of the "Super 3" based on his approach at the plate?
I think that's possible but unlikely. The Yankees love athletes first and foremost, and Flores is a bat first player. A bat first player who has yet to show much power at that. Slade Heathcott and Mason Williams both provide a ton of value in the field, more than they do at the plate really, while Tyler Austin is simply a better hitter. I like Flores a lot — I didn't rank him fifth on my preseason top 30 prospects list out of boredom — but he's clearly behind the other guys for me. He's underrated, but I would hope the team doesn't value him more than their other outfield prospects.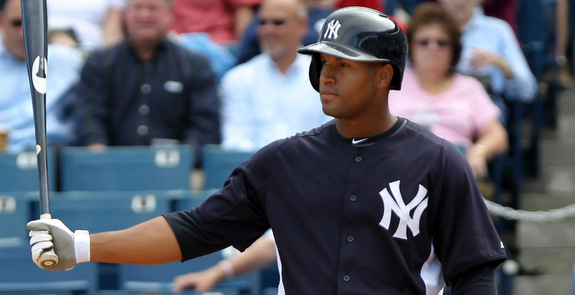 Mark asks: Are you in favor of bringing up Zoilo Almonte? If we're going to get zero production from Ben Francisco as an extra outfielder – why not bring someone up who can at least provide defensive and base running value. Shame that Thomas Neal got hurt.
Not particularly, no. Almonte's off to a really great start this year (125 wRC+) and he's drawing a ton of walks (20.5%), but the book on him is that his left-handed swing is ahead of his right-handed swing. That's typical and it's just a repetition thing because there are way more righty pitchers than lefties. His splits since the start of 2010 — .267/.324/.433 against lefties, .282/.349/.487 against righties — bear that out.
The Yankees should absolutely be looking for a Francisco replacement, though. Neal was probably the best internal candidate, but he just went down with a hamstring injury. Melky Mesa is back to his super high strikeout ways, so he's not really a big league candidate at the moment. I guess that makes Zoilo the top option by default, especially since Ronnie Mustelier is still sidelined. Mustelier would immediately become the top choice once healthy.
Jon asks: Let's say J.R. Murphy and Gary Sanchez continue to rake while Austin Romine is playing pretty good. What do the Yankees do?
Celebrate! I don't think the Yankees would dump Chris Stewart in favor of Romine, but I expect them to promote both Sanchez and Murphy at midseason. Romine and Murphy would just have to share catching and DH duties — Murphy can also squeeze in a few games at third base — at the Triple-A level for a few weeks. It's not ideal but hardly the end of the world.