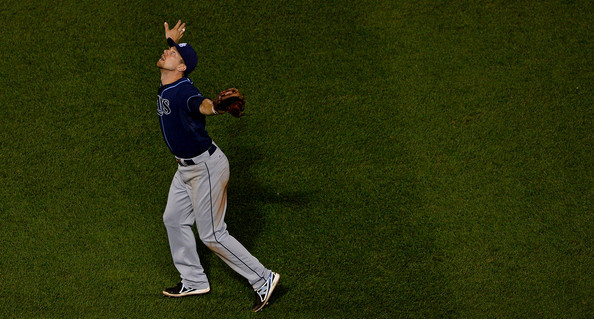 After sweeping the lowly Blue Jays in the Bronx, the Yankees now head out on the road to play a division rival and playoff caliber team on their own turf. Literally. They're going to play three games on the turf at Tropicana Field this weekend.
What Have They Done Lately?
The Rays had yesterday off and although they dropped Wednesday's game to the Orioles, Tampa has won six of their last eight games. Playing the Mariners and Blue Jays has its perks. Joe Maddon's squad is 72-53 with a +56 run differential overall, one back of the Red Sox for first place and five up on the Yankees.
Offense
At 4.5 runs per game with a team 110 wRC+, the Rays are one of the best offensive teams in baseball. This isn't the same club we've grown accustomed to seeing in recent years. They can score plenty of runs. DH Luke Scott (116 wRC+) is on the DL with a back problem and won't return for this series. Otherwise, Maddon's squad is perfectly healthy on the position player side.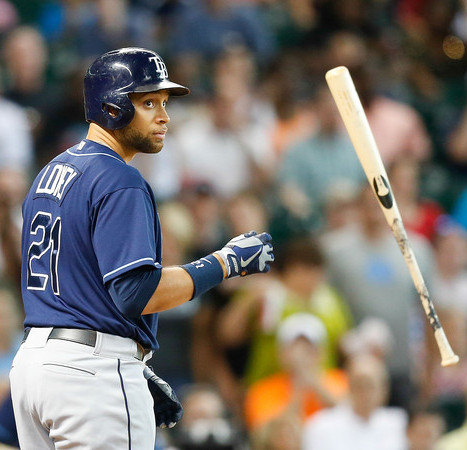 As usual, the Tampa offense is headlined by 3B Evan Longoria (135 wRC+), who now has a running mate in RF Wil Myers (136 wRC+ in limited time). 1B James Loney (125 wRC+), OF Matt Joyce (122 wRC+), 2B/OF Ben Zobrist (116 wRC+) and 2B/OF Kelly Johnson (116 wRC+) have all been well-above-average contributors. OF Desmond Jennings (108 wRC+), C Jose Lobaton (104 wRC+ in limited time), and SS Yunel Escobar (102 wRC+) are closer to average but still solid. That's an awful lot of players on the right side of a 100 wRC+.
The Rays acquired OF David DeJesus (99 wRC+) from the Nationals today and he is expected to be in uniform tonight. The rest of Maddon's bench is filled out by OF Sam Fuld (56 wRC+), OF Jason Bourgeois (86 wRC+ in very limited time), UTIL Sean Rodriguez (98 wRC+), and pitch-frame king C Jose Molina (74 wRC+). Bourgeois is likely to be taken off the roster for DeJesus. You probably know this, but expect Maddon & Co. to employ some wacky platoons and shifts and all that. The Rays don't steal as many bases (62) as they used to, but they do hit plenty of homers (133).
Starting Pitching Matchups
Friday: RHP Hiroki Kuroda vs. RHP Chris Archer
Thanks to yesterday's off-day, the Rays were able to rearrange their rotation and line up their three best starters for this weekend. Thanks, schedule-makers. Archer, 24, has a 2.95 ERA (4.32 FIP) in 15 starts with okay peripherals since being called up: 6.32 K/9 (17.3 K%), 3.06 BB/9 (8.4 BB%), 1.02 HR/9 (10.4% HR/FB), and 46.3% grounders. That's pretty much the exact opposite of the high-strikeout, high-walk guy he was in the minors. Archer has big time velocity, sitting in the mid-to-high-90s with his two and four-seam fastballs while backing them up with a mid-80s slider and mid-80s changeup. He uses the slider a lot, like 31.4% of the time. It's worth noting Archer has a massive platoon split, holding righties to a .213 wOBA while getting tagged for a .337 wOBA by lefties. Huge. The Yankees have seen the young righty twice this year and he's shut them down both times, including a complete game two-hit shutout last month. That was before the lineup cavalry arrived.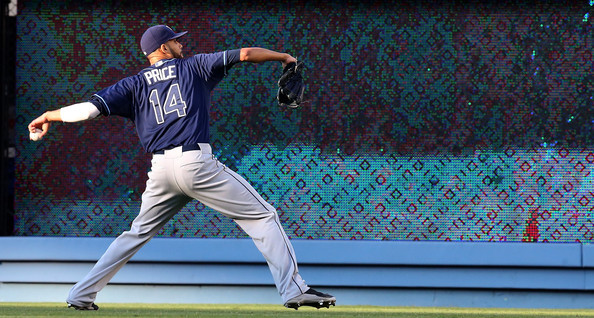 Saturday: LHP CC Sabathia vs. LHP David Price
This has been a tale of two seasons for the reigning AL Cy Young Award winner. Price, 27, pitched to a 5.24 ERA (3.91 FIP) in nine starts before landing on the DL in mid-May and missing a month and a half with a biceps problem. Since returning early last month, he's put up a 1.89 ERA (2.76 FIP) in ten starts and been just dynamite. Only twice in those ten starts did he allow more than two runs. Price's strikeout rate (7.26 K/9 and 20.3 K%) and ground ball rate (45.3%) have both dropped off this year, both before and after the injury. They haven't ticked back up at all. His walk rate is miniscule (1.30 BB/9 and 3.6 BB%) and his homer rate (0.96 HR/9 and 10.1% HR/FB) is in line with his career norm. Price is still the same fastball monster as always, using mid-to-high-90s two and four-seamers as well as an upper-80s cutter approximately 70% of the time combined. That cutter is lethal, he backdoors it to righties for called strikes and there's nothing they can do about it. Unhittable pitch. A mid-80s changeup and upper-70s curveball round out his arsenal now that he's basically scrapped his mid-80s slider. He's used the pitch just 0.9% of the time this year for whatever reason. There's no mystery here — the Yankees and Price have seen plenty of each other over the years. The good, the bad, the ugly.
Sunday: RHP Ivan Nova vs. RHP Alex Cobb
Cobb took a line drive to the head back in June, sidelining him the 25-year-old for exactly two months with a concussion. He rejoined the rotation two starts ago and has managed a 2.85 ERA (3.85 FIP) in 15 starts overall this summer. Cobb is missing bats (8.27 K/9 and 22.5 K%), limiting walks (2.76 BB/9 and 7.5 BB%), and getting ground balls (56.4%), which is pretty much all you could ever ask a pitcher to do. His homer rate (0.95 HR/9 and 17.2% HR/FB) isn't all that great considering how few fly balls he allows. Cobb is a changeup master, using low-90s two and four-seamers to setup his fading mid-80s put-away pitch. He'll also throw an upper-70s curveball that was just filthy in his last start. Here, look. Ridiculous. Cobb has faced the Yankees a few times since breaking into the league three years ago and he tends to pitch very well against them.

Bullpen Status
Thanks to the off-day, Tampa's bullpen is pretty fresh coming into the series. Closer RHP Fernando Rodney (3.01 FIP) is setup by RHP Joel Peralta (3.54 FIP) and LHP Jake McGee (3.22 FIP), though LHP Alex Torres (2.16 FIP) sees plenty of important innings as well. RHP Jamey Wright (3.07 FIP), LHP Cesar Ramos (3.34 FIP), and LHP Wesley Wright (4.35 FIP) round out the bullpen. Lots of lefties.
The Yankees bullpen, meanwhile, is worn out and overworked thanks in part to Tuesday's doubleheader. They do have an extra arm after calling up Preston Claiborne to replace the injured Jayson Nix yesterday, but long men Adam Warren and David Huff figure to be out of commission for another day or two after tag-teaming Wednesday's spot start. Our Bullpen Workload page has the full reliever usage breakdown. Check out DRays Bay and Process Report for everything you need to know about the Rays.