The 2013 season is over and now it's time to review all aspects of the year that was, continuing today with the team's super-setup man and likely heir to Mariano Rivera's throne.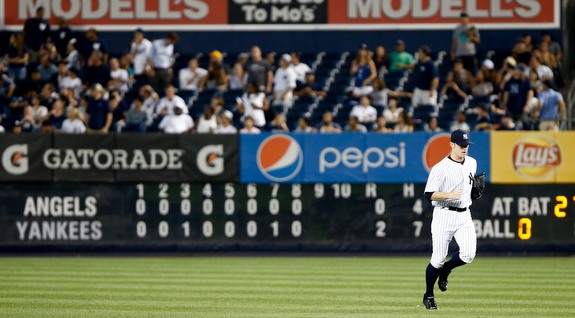 Over the last three seasons, the Yankees have been very spoiled in the eighth and ninth innings. Regardless of whether Mariano Rivera or injury fill-in Rafael Soriano was closing out games in the ninth, the one constant since 2011 has been the elite performance of David Robertson in the eighth inning. He has emerged as one of baseball's very best relievers and has reached the point where dominant performances are expected, not a surprise.
The 2013 season was more of the same from the 28-year-old Robertson. He pitched to a 2.04 ERA and 2.61 FIP in 66.1 innings as the primary bridge to Rivera, only twice going through a rough patch. Robertson allowed five runs in a 5.2-inning, ten-day span in late April and then five runs in a 3.1-inning, eight-day span in early-September. That's it. Two-thirds of his season runs allowed in 13.7% of his innings. The Yankees actually sat Robertson down for five days after the hiccup in September because of fatigue, which somewhat explains the poor performance.
From May 1st through September 1st, a span of 48 appearances and 46.1 innings, Robertson allowed five runs and 43 base-runners. Opponents hit .182/.257/.252 against him during that time, which is more or less what David Adams hit for the big league team this summer (.193/.252/.286). He was pretty much automatic during those four months — Robertson didn't blow a single lead and took only one loss, which came when he allowed a run in a tie game. There was every reason to feel confident when the Yankees handed a lead over to him.
Overall, Robertson struck out 77 batters (10.45 K/9 and 29.4 K%) and walked only 18 batters (2.44 BB/9 and 6.9 BB%) while posting a career-best 50.9% ground ball rate. The most important thing to me is those walks. Somewhere around the All-Star break last season, Robertson simply stopped walking guys. It's very cool but also kinda weird. Here, look: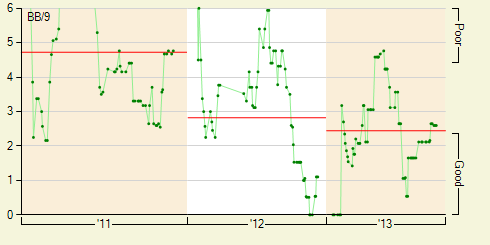 This is a guy who walked 4.72 batters per nine innings (12.2% of batters faced) during the first four seasons of his career. Robertson then went on to post a 4.38 BB/9 and 11.4 BB% in the first half of 2012, but since then? A 2.20 BB/9 and 6.2 BB%. For whatever reason, either improved mechanics or improved confidence or something else entirely (all of the above?), Robertson cut his walk rate in half after the All-Star break last year. He followed up this season by showing it was no fluke. That's probably the best thing the Yankees could have seen out of their setup man in 2013.
After three straight dominant seasons, Robertson has both raised expectations and put himself in position to be key long-term piece for the Yankees. Unlike much of the veteran dreck on the roster, it's easy to see him as part of the next Yankees team to make the postseason and contend for a World Series title. Robertson is due to become a free agent next winter and barring a catastrophic injury, he'll get paid top of the relief market dollars. He's earned it. New York could bring in a Proven Closer™ to replace Mo this winter — it's hard not to notice Joe Nathan will become a free agent in about a week — but they have the perfect internal candidate. Robertson has shown everything a team could possibly want to see out of a potential closer and he's earned the opportunity to inherit the ninth inning in my opinion. Sustaining that improved walk rate this year clinched it.