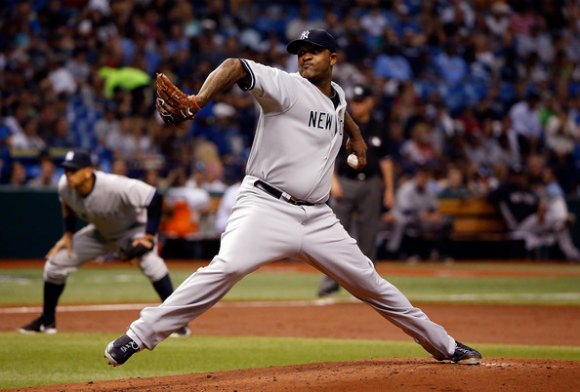 CC Sabathia was in the best shape of his life. Following a season in which he was twice placed on the disabled list, and after which he underwent offseason elbow surgery, Sabathia decided the time had come to shed some of his excess weight. It wasn't the first time; he had come to camp a bit slimmer in 2011 as well, but gained back much of that weight during the season. This time, the weight loss was here to stay.
The result: the worst year of his 13-year career, by no small measure.
We can start with the obvious, that Sabathia's 4.78 ERA (85 ERA+) ranked 35th out of 37 qualified AL pitchers. All of his peripherals declined from his 2011 to 2012 levels. Watching his starts you could see the points at which he'd start to unravel. In 28 of his starts he made it to the sixth inning, and during those sixth frames opponents hit .339/.419/.550 against him. The list goes on.
Did Sabathia's troubles stem from the weight loss? After all, he did turn in a very good 2012 season despite the injuries. While causation is always difficult to prove, there are some indicators that Sabathia did not adjust to his new body type. If that is the reason for Sabathia's poor 2013, there is certainly hope for 2014 and beyond; mechanics are correctable.
Sabathia has started his off-season a bit early, going on the DL with a Grade 2 hamstring strain just a few days after turning in one of his best performances of the season (albeit against the hapless Giants). He should be fine for Spring Training, and thanks to the necessary rehab from the injury he might come into camp a bit stronger. Perhaps with some more repetitions, he'll iron out his mechanics. But this represents the optimistic scenario for last year. We're still here to discuss what went wrong in 2013.
While his weight loss might have played a role in his poor 2013, it's hard to ignore another possible factor: past workload. Sabathia pitched a full season, 33 starts, at age 20, and has made at least 28 starts in each following season. Before he signed his first contract with the Yankees he had thrown 1659.1 innings. Heading into the 2013 season he had thrown 2564.1. He has now thrown the 139th most innings in MLB history, at age 33. That can be a good thing as well as a bad thing, of course. Tim Hudson has lasted through more innings than Sabathia, and is about five years older. There are cases where players can throw lots of innings and hold up.
In reading the last three paragraphs, you might have noticed the same thing I did while writing it: that each paragraph ends on an optimistic note. It is difficult to write about such an obviously disappointing season from a guy expected to anchor the rotation, hence the "things could be better" follow-up to every negative point. Instead of continuing in this fashion, perhaps it's best to list the final few factors in his poor 2013 and let that be that.
Sabathia's tERA, which accounts for batted ball types, stood at 4.87, the worst of his career and a full run worse than 2012.*
His average velocity was down a mile per hour from 2012, and nearly 3mph from 2009 — though his velocity did rise as the season progressed.
Then again, there was a drop-off after a steady rise sometime in August. Perhaps that was a turning point?
He used his changeup more often than any year since 2010, but according to weighted values it was worth negative runs. Chances are that has to do both with the drop in fastball velocity and with his command issues; hanging changeups go a long way.
*Not that I buy totally into the value of tERA, but it is one tool with which we have to measure pitchers. Just like all other stats mentioned.
Honestly, after 2013 there's nothing to do but hope that Sabathia gets stronger while rehabbing his hamstring, gets in as many reps as he needs in Spring Training, and starts 2014 fresh. Otherwise the last three to four year of his contract are going to hurt.