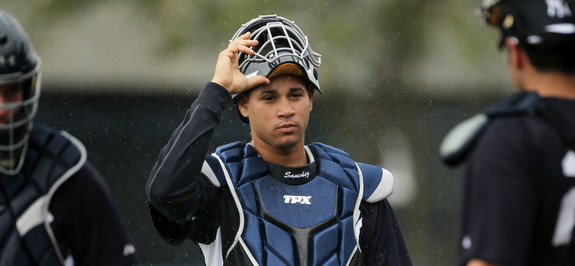 It's one thing for idiot fans like me to sit back and say the Yankees haven't gotten enough out of their farm system in recent years. It's another for the team itself to acknowledge that. In August, Hal Steinbrenner called a staff meeting to look into their development system and figure out why the farm was unable to provide help during an injury-riddled 2013 season. The system was examined over a several week stretch and while no major personnel changes were made, the Yankees did opt to make some procedural changes. They admitted things weren't going right and did something to correct it.
The Yankees had eight players come up from the farm system to make their Major League debut this season and the best of the bunch was LHP Vidal Nuno at 0.7 bWAR. He appeared in five games and threw 20 innings before a groin injured ended his year in early-June. The other seven players — IF David Adams, OF Zoilo Almonte, C J.R. Murphy, IF Corban Joseph, RHP Preston Claiborne, RHP Brett Marshall, and LHP Cesar Cabral — totaled 0.1 bWAR in 150 combined games. C Austin Romine (-0.7 bWAR) spent most of the year in the big leagues and failed to establish himself. The most productive player to come out of the system this year was swingman RHP Adam Warren, who racked up 1.2 bWAR in 77 innings. Needless to say, the Yankees didn't get much help from within this past season.
As always, there are a number of reasons why things went wrong in the farm system. It's never just one thing. Here are the three biggest in my opinion, and for reference, I'm including my preseason ranking of each player in parentheses.
Injuries
Might as well start with the inevitable. Injuries are completely unavoidable; they are point of the game and they're never going away. At least not anytime soon, who knows what will happen a hundred years down the line. The Yankees came into 2013 knowing LHP Manny Banuelos (#6 preseason prospect) would miss the season following Tommy John surgery in October, but they were dealt another pitching blow in Spring Training when RHP Ty Hensley (8) needed surgery to pair both hips. Just like that, the team's top prospect from a year ago and their most recent first round pick were lost for the season before Opening Day.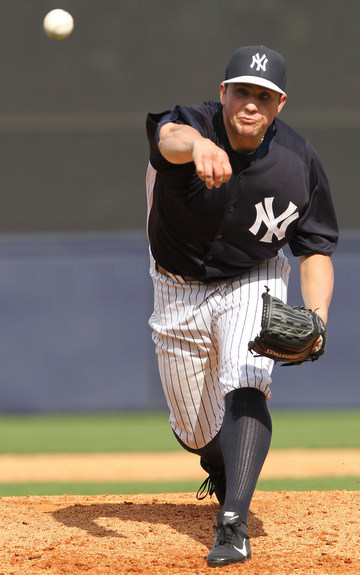 Also lost to injury were RHP Mark Montgomery (10), who was limited to 45.1 innings due to shoulder and back problems. If he had stayed healthy, there's a chance he would have been in the big leagues instead of Claiborne for much of the summer. OF Tyler Austin missed several weeks with a bone bruise in his wrist. 2B Angelo Gumbs (9) missed a month with a finger problem and had his season end in mid-August due to an unknown injury. RHP Jose Ramirez (12) missed the start of the season due to fatigue and was shut down in late-July with an oblique issue. 2B Corban Joseph (20, shoulder), RHP Nick Goody (21, Tommy John), and LHP Matt Tracy (22, hip) all had some kind of surgery while OF Ravel Santana (28) never made it onto the field because of a broken arm and lingering ankle problems.
Not that my rankings are definitive, but that's nine of the team's top 30 prospects — including four of the top ten and five of the top 12 — who missed considerable time in 2013. Two of New York's three best pitching prospects did not throw a single pitch this summer while two of their closest to MLB arms were limited to 119 combined innings and zero after August 10th. That's a lot of missed development time. Guys can't get better if they're not on the field. Injuries really ripped through the organization this year.
Steps Backwards
In addition to the health problems, the Yankees had a number of their best prospects not perform up to expectations. OF Mason Williams (2) followed up a 125 wRC+ in 2012 with an 87 wRC+ in 2013. Austin went from a 163 wRC+ to a 103 wRC+. OF Ramon Flores (5), who I was very high on coming into the year, put up a 104 wRC+ this summer after managing a 126 wRC+ a year ago. That's three of the team's top five prospects right there. Three of five failing to live up to expectations.
Others like RHP Brett Marshall (13) and OF Melky Mesa (26) did not force the issue after starting the year in Triple-A. Marshall pitched to a 5.13 ERA (4.62 FIP) in 138.2 innings while Mesa managed a 106 wRC+ with a 33.7% strikeout rate before being released. SS Austin Aune (14), who received a nearly double-slot $1M bonus as the team's second round pick in 2012, posted a 46 wRC+ with a 43.6% strikeout rate (!) in Rookie Ball this year. I get that he's inexperienced because his split his high school time between baseball and football, but my goodness. Gumbs and Montgomery didn't perform well when healthy either. That's a lot of important prospects — important in the sense that they were either ranked highly or knocked on the door at Triple-A — having down seasons.
Stalled Out
Having a bad year really stinks but it does not doom a prospect. Countless guys have rebounded from subpar minor league seasons and went on to be successful, like Robinson Cano (.695 OPS in 2003) or Ivan Nova (4.98 ERA in 2007). Back-to-back bad years is a problem and at least somewhat of an indication they aren't developing as expected. Back-to-back bad years in which the second year is worst than the first is an enormous red flag and what happened to 3B Dante Bichette Jr. (27). After putting up a 84 wRC+ with a 18.0% strikeout rate with Low-A Charleston in 2012, he hit to an 82 wRC+ with a 24.5% strikeout rate at the same level in 2013. That's a major problem and a big reason why the kid is a borderline (and that's being kind) non-prospect two years after being the 51st overall pick in the country.
* * *
Not everything went wrong in the farm system this year, of course. C Gary Sanchez (1) and OF Slade Heathcott (4) both had very good years while RHP Jose Campos (7) rebounded very well after missing most of last season with an elbow problem. Murphy (15) took a huge step forward — he led all minor league catchers with 105 games caught, according to Josh Norris — and RHP Dellin Betances (23) finally found success after moving into the bullpen. The team's draft haul in June was outstanding as well. Overall, however, the farm system took a hit this past season and the Yankees don't have any impact prospects knocked on the big league door. It's a problem both this winter (no good trade chips) and when planning for the roster down the road.