The 2013 season is over and now it's time to review all aspects of the year that was, continuing today with the end of a disappointing homegrown era.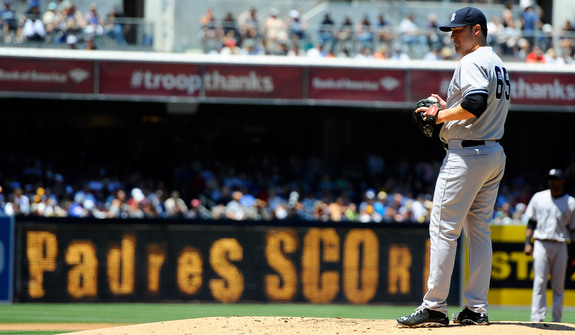 This was the biggest year of Phil Hughes' career. He was coming off a disappointing but almost perfectly league average 2012 season and had the opportunity to pitch his way into a hefty free agent contract this summer. This wasn't your average contract year. Hughes' walk year potentially meant going out onto the market at age 27 (!) with AL East and small ballpark success under his belt. Teams would have been lining up to pay him.
Rather than capitalize on that opportunity, Phil had the worst non-injury plagued season of his big league career. The end result was a 5.19 ERA and 4.50 FIP in 145.2 innings across 29 starts and one relief appearance, a performance that was below replacement level. Outside of a four-start stretch from late-April through early-May, Hughes never really put it together for any length of time. There was only one other instance this year in which he surrendered two of fewer earned runs in three consecutive starts. It was ugly for a number of reasons. Here are a few.
Homers For Everyone
Believe it or not, Hughes actually improved his homerun rate from 2012 to 2013. He allowed 35 homers in 191.1 innings last summer, which works out to 1.65 HR/9 and 12.4% HR/FB. This past season it was 24 homers in 145.2 innings, or 1.48 HR/9 and 11.1% HR/FB. Obviously the sheer volume of homeruns allowed is a problem, but timing was an issue as well. Twenty-three of those 35 homers in 2012 were solo shots (66%) and 25 came when the score was separated by two or fewer runs (71%). This season, 17 of 24 homers were solo shots (71%) and 22 of 24 (!) came with the score separated by no more than two runs (92%).
Obviously there is more to consider here than just Hughes — the Yankees played nothing but close games this past season because they had a crappy offense, so he had more opportunities to give up dingers in tight games. Still, it goes to show how untrustworthy Phil was for a team that needed steady and reliable pitching to compete. Any pitcher can give up a homer at any time, but Hughes is especially long ball prone and all season we sat on the edge of our seats waiting for the #obligatoryhomer. Every start he was walking on eggshells.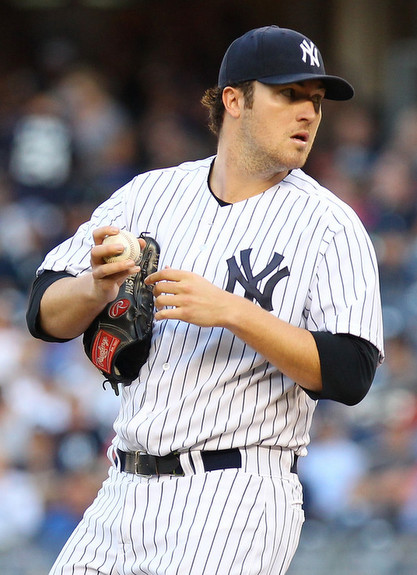 Bullpen Killer
Aside from missing his very first start of the season due to lingering back problem, Hughes did take the ball every five days for the Yankees. Despite that, he failed to throw enough innings (162) to qualify for the ERA title. Hughes led all of baseball with 14 (!) starts of fewer than five full innings of work, four more than second place Barry Zito and five more than second place in the AL Erik Bedard. Part of that was Joe Girardi's general lack of faith in him, as the skipper rightfully showed a very quick hook late in the season.
Among the 192 pitchers to make at least ten starts in 2013, only eight averaged fewer innings per start than Hughes (5.01). The guy was a drain on the rest of the pitching staff. He taxed the bullpen when he pitched and that's something that can (and often did) carry over and impact the next day's game. Calling Phil a five-and-fly starter this year would be pretty generous.
Getting Ahead But Not Putting Away
There is one thing that Hughes does exceptionally well, and that's get ahead of hitters. He threw a first pitch strike to a whopping 71.7% of batters faced in 2013, the highest rate in all of baseball (min. 100 innings). Patrick Corbin (70.2%) and Cliff Lee (68.5%) were the only other pitchers within four percentage points of Phil. Furthermore, Hughes was second in baseball by going to an 0-2 count on 26.3% of batters faced this summer. Only Lee (28.7%) was better. There's no denying Phil did an outstanding job of getting ahead in the count and putting himself in a position to succeed.
However, he rarely took advantage of those opportunities. Hughes' lack of a legitimate put-away pitch led to foul ball after foul ball and prolonged at-bats, so much so that he ranked 118th in pitches per plate appearance (3.97) out the 145 pitchers to throw at least 100 innings. He was 134th in pitches per inning (17.5). Batters hit a remarkable .281/.290/.409 (177 OPS+) against Phil when he was ahead in the count and a ridiculous .245/.290/.413 (213 OPS+) when he jumped ahead 0-2. The league average following an 0-2 count was .167/.197/.248 this summer. That's nut. It's easy to think Hughes is an out-pitch away from becoming an ace given his ability to get ahead in the count, but you can say that about a whole lot of guys. He's not anything special in that regard.
* * *
Barring something completely unexpected, Hughes will leave the Yankees and sign with a new team as a free agent this winter. He pitched his way out of a qualifying offer — making the offer seemed like a no-brainer as recently as late-July or so — so the Bombers won't even get a draft pick as compensation. For shame.
Hughes will leave the Bronx having pitched to a 4.54 ERA and 4.31 FIP in 780.2 innings. That's the third highest ERA and tenth highest FIP in team history among the 88 pitchers to throw at least 500 innings in pinstripes. Only Hank Johnson (4.84 ERA and 4.82 FIP), who played a century ago, and A.J. Burnett (4.79 ERA and 4.31 FIP) are worse in both categories. Hughes was electric as a reliever during the team's World Championship season in 2009 and he had two years as an adequate back-end starter (2010 and 2012), but otherwise he was a huge disappointment and another example of the team's inability to turn its top minor league talent into top Major League contributors.