Over the last 15-20 years or so, no division has been as consistently tough as the AL East. The Yankees and Red Sox have dominated the top two spots, and in recent years both the Rays and Orioles have become more serious threats. The AL East has produced 15 of the 21 AL wildcard teams since the system was introduced in 1995, giving you an idea of how many great teams it's housed. How is the division competition looking heading into 2014? Here's a breakdown.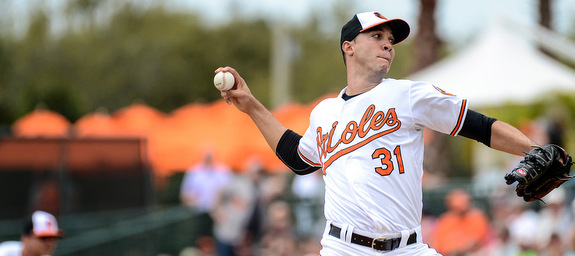 BALTIMORE ORIOLES
Notable Additions: RHP Ubaldo Jimenez, OF Nelson Cruz, RHP Ryan Webb, RHP Suk-Min Yoon, OF/DH Delmon Young
Notable Losses: RHP Scott Feldman, RHP Jason Hammel, RHP Jim Johnson, OF Nate McLouth
This isn't a loss in the sense that he was on the team and now he's not, but it's certainly worth mentioning that third baseman Manny Machado will start the season on the DL following offseason knee surgery. He should return sometime in April.
The Orioles played the market well and landed both Jimenez and Cruz on favorable contracts. They sorely lacked an ace and while Ubaldo might be the most unpredictable pitcher in the game, he can be absolutely dominant for long stretches of time. Baltimore got a weak .245/.293/.405 (87 wRC+) batting line out of their DHs last season, so Cruz and even Young should help correct that problem. Between Cruz, Chris Davis, and Adam Jones, the O's have three guys who could legitimately hit 30+ homers. They hit 24 more homeruns than any other team last season and added yet another power hitter this winter.
Even though Johnson always seems to blow games against the Yankees — he blew four of his last nine save chances against them and also took a loss after entering a tie game — the Orioles are worse off in the late innings without him. Webb is underrated and I'm sure Tommy Hunter will be fine in the ninth inning, but Johnson was a very good workhorse reliever and that will be missed. Baltimore is better than they were last season because of Jimenez and Cruz, though I'm not sure if they're good enough to make a serious run at a wildcard spot. I guess it depends on how long Machado is out, which Jimenez shows up, and how the bullpen shakes out without Johnson.
BOSTON RED SOX
Notable Additions: RHP Burke Badenhop, LHP Chris Capuano, RHP Edward Mujica, C A.J. Pierzynski
Notable Losses: RHP Ryan Dempster, SS Stephen Drew, OF Jacoby Ellsbury, C Jarrod Saltalamacchia
I assume the Red Sox will not re-sign Drew at this point, which means they lost three key up-the-middle position players this winter. Grady Sizemore has had a great spring, but replacing Ellsbury with him is the poor man's version of replacing Robinson Cano with Brian Roberts. Jackie Bradley Jr., last spring's MVP, is the backup plan there. Pierzynski takes over for Salty, and rookie Xander Bogaerts will replace Drew. He's a stud and appears poised to be a force for years to come.
Boston has earned some leeway after winning the World Series, but they lost a lot of good players this winter and are counting mostly on internal solutions to replace the lost production. That's dicey, especially when talking about prospects. If Bogaerts or either of the center fielders don't produce, the Sox will be left scrambling. Luckily for them, the pitching staff is deep and stalwarts like Dustin Pedroia and David Ortiz are still around to anchor the lineup. The Red Sox have a great farm system and a ton of money, so they have the wherewithal to address any needs at midseason. That said, they won the division by 5.5 games last year and the gap appears to have closed a bit.
TAMPA BAY RAYS
Notable Additions: RHP Grant Balfour, RHP Heath Bell, C Ryan Hanigan
Notable Losses: RHP Roberto Hernandez, RHP Fernando Rodney, DH Luke Scott, RHP Jamey Wright
The Rays will be without Jeremy Hellickson for a few weeks following offseason elbow surgery. They still have David Price and Alex Cobb to front the rotation, but Matt Moore is having a real problem throwing strikes this spring. Like 15 walks in 14.1 innings problem. Chris Archer had a strong rookie season and rookie Jake Odorizzi will replace Hellickson for the time being. Tampa always seems to crank out quality young starters, but with Moore struggling and Odorizzi projecting as more of a back-end arm than anything else, their staff seems more vulnerable than it has been at any point in the last five of six years.
After getting great production from one-year gems like Casey Kotchman and Jeff Keppinger, the Rays doubled down on James Loney and re-signed him to a three-year, $21M contract this offseason. That is the largest free agent contract the team had handed out since the current ownership group took over in 2005. Full seasons of Wil Myers and David DeJesus should boost an offense — DeJesus isn't great, but remember, he's replacing Sam Fuld — that ranked third in baseball with a 108 wRC+ last summer. Going from Rodney and Wright to Balfour and Bell is probably an upgrade, especially in terms in 2014 performance. Rodney and Wright are 37 and 39, after all. Tampa improved this winter after winning 92 games a wildcard spot a year ago, so of course they'll be right back in the thick of the race this year.
TORONTO BLUE JAYS
Notable Additions: C Dioner Navarro
Notable Losses: C J.P. Arencibia, OF Rajai Davis, RHP Josh Johnson
It's unbelievable the Blue Jays did nothing this winter, isn't it? They made all those moves last offseason and were such a colossal disappointment in 2013, yet nothing. They signed Navarro, who was nearly out of baseball three years ago. GM Alex Anthopoulos appeared to be playing the board a bit with the pitching market, presumably hoping to grab Jimenez or Ervin Santana on a cheap contract, but instead came up empty. The rotation includes the reliable Mark Buehrle and R.A. Dickey, the unpredictable Brandon Morrow, J.A. Happ, and righty Drew Hutchison fresh off Tommy John surgery.
I guess the good news for Toronto is that their offense is dynamite, at least when healthy. Edwin Encarnacion might be the most unheralded great hitter in the game (82 BB, 66 XBH, 62 K in 2013) and Jose Bautista is still a force, so the middle of the order is set. Colby Rasmus has a ton of power and others like Melky Cabrera, Adam Lind, and Brett Lawrie will contribute from time to time. Jose Reyes is dynamic but also prone to injury, and sure enough an MRI revealed a minor hamstring strain just yesterday. He might not be ready for the start of the season. Ryan Goins, who is slated to be the regular second baseman, will move over to replace Reyes to short if need be. He might be the worst everyday player in baseball. In the conversation, at least. The Blue Jays are banking on health and steps forward from guys like Hutchison and Rasmus to improve the team, and even if they get that, they still might only be the fourth or fifth best team in the division.
* * *
On paper, I think you can argue the Yankees are anywhere from the best to fourth best team in the division. They've obviously upgraded but so have the Rays and Orioles, all while the Red Sox lost some key pieces. The top four teams in the division are more scrunched together this season, which means the race will be more tougher and more exciting deep into the season. Injuries and unexpected performances, both good and bad, will play an even bigger role in determining the AL East this summer. The division is again very good and there are four teams to be reckoned with. (Sorry, Blue Jays.)