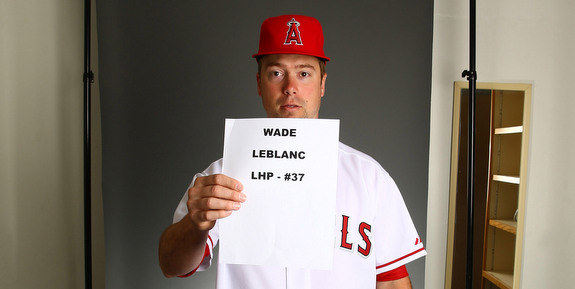 The Yankees have shaken up their bullpen, at least slightly. Alfredo Aceves has been designated for assignment and Preston Claiborne has been sent down to Triple-A Scranton, the team announced. In corresponding moves, Jose Ramirez was called up and Wade LeBlanc was added to the active roster. LeBlanc was claimed off waivers from the Angels yesterday. The moves leave the Yankees with an open 40-man roster spot.
Aceves had a 6.52 ERA (6.22 FIP) in 19.1 innings during his second stint in pinstripes. He somehow allowed six homers in his last 12 innings. In addition to his bad pitching, I think the Yankees were sick of his attitude as well. Aceves didn't seem to get on the same page as Brian McCann, plus Larry Rothschild had to go out to the mound the other day to tell Aceves to stop throwing inside after giving up a few homers. He's long had some attitude problems.
Claiborne had a 3.57 ERA (3.74 FIP) in 17.2 innings. I think he's going down because the team wants to get a look at Ramirez more than anything. Ramirez had a 0.84 ERA (2.86 FIP) in 10.2 Triple-A innings this year after missing the start of the season with an oblique problem. LeBlanc simple takes over as the veteran journeyman long reliever  Joe Girardi can use and abuse as needed. With the starters struggling to go five innings at times, that's guy is kinda necessary.
The Yankees called up Scott Sizemore and demoted Zoilo Almonte yesterday, and today they shook up the bullpen a little bit. Carlos Beltran is expected to activated off the disabled list either tomorrow or the next day, so there is at least one more change coming. It's not much, but it's better than remaining status quo. Sizemore should be more useful than Almonte, Ramirez could be an impact reliever, and dumping Aceves is a positive almost regardless of who replaces him.