* lol nope
The good news: the Yankees scored a lot of runs and beat the Rangers 12-11 on Tuesday night. The bad news: my cardiologist doesn't have any open appointments until next week. That was not the easiest win of the season. Let's put it that way.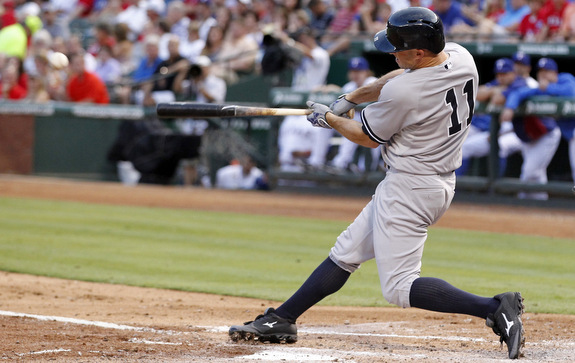 All With Two Outs, Again
For the third time this season and fourth time in his career, Brett Gardner opened the game with a leadoff homerun. That gave him three homers in the span of five plate appearances. I don't get it but I love it. Brett now has 13 homers on the season and is close to doubling his previous career high of eight, set just last season. Gardner being the team's best overall hitter and second best power hitter is both awesome and terrible at the same time.
The Yankees nursed that 1-0 lead until the third inning, when they ran into the same problem they had in the fifth inning of Monday's game: they couldn't get the third out. Brandon McCarthy got Shin-Soo Choo to fly out and Elvis Andrus to ground out for two quick outs, but Alex Rios and Adrian Beltre followed with singles to put men on the corners. Jim Adduci singled to score Rios and J.P. Arencibia doubled into the left field corner to score Beltre and Adduci. In the span of 17 pitches, the Rangers went from being down 1-0 with the bases empty and two outs to leading 3-1 with a runner on second and two outs. That third out, man. The Bombers are having some trouble getting it this week.
McCarthy managed to hang around a few more innings and surrendered four runs — Arencibia hit a wall-scraper solo homer in the fifth to give Texas a 4-1 lead — on nine hits and a walk in six innings of work. Fifteen of the 28 batters he faced hit the ball in the air, which is a more than usual. Only eight of his 15 non-strikeout outs were recorded on the ground. Not the best night for McCarthy, who was in bend but don't break mode.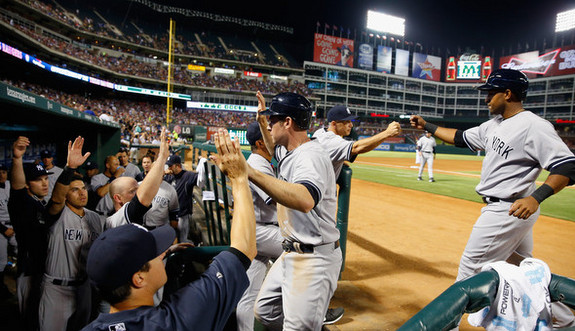 Crooked Number
Man, it has been a long, long time since we last got to see the Yankees put up an inning like the sixth inning of this game. One of those "everything goes right, everything falls in, all the runs score" innings. It's been too long. I had forgotten what they were like.
The seven-run assault started with a Gardner double into the corner because of course. He's in the middle of it whenever they score these days. Derek Jeter reached on an infield single off starter Nick Martinez's glove, and eventually Mark Teixeira walked to load the bases with one out. They had to score, right? Right. Carlos Beltran ripped a single to right to plate two and bring the Yankees to within 4-3.
Brian McCann's sac fly to center tied the game and I thought that would be the end of the rally, but no, they kept plugging along. Chase Headley walked, Zoilo Almonte poked a run-scoring ground ball single back up the middle, and Brendan Ryan ripped a two-run double into the left-center field gap to put his team ahead 7-4. This wasn't a well-placed bloop double inside the line or something, it was a rocket.
The Yankees scored their seventh and final run of the inning when Rios and Leonys Martin miscommunicated on Gardner's fly ball and basically ran into each other. The ball hit off Rios' glove, hit off Martin's head, and dunked in for a run-scoring three-base error. Here's a GIF. Jeter struck out to strand Gardner at third, but by then seven runs had scored on five hits, two walks, an error, and a sac fly. Man did I miss big innings.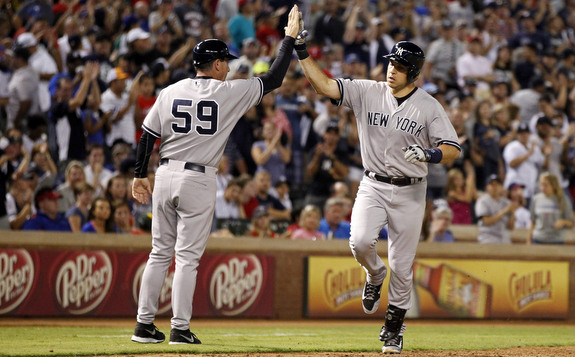 NEVER EASY
The Yankees extended their lead to 10-4 thanks to two walks (Jacoby Ellsbury and Teixeira), two singles (Beltran and Headley), and a run-scoring fielder's choice (Almonte) in the seventh inning, giving them their first huge lead in far too long. Six-run lead with nine outs to go against the worst team in baseball? Smooth sailing from there, right? I wish.
The usually dynamite bullpen had their first total disaster inning in a while in the bottom half of the seventh, as Adam Warren and Dellin Betances combined to allow four runs before the second out was recorded. Warren loaded the bases on two walks (Andrus and Adduci), a single (Rios), and a fielder's choice (Beltre, out made at home). Betances came in to clean up the mess and instead served up a grand slam to J.P. friggin Arencibia. J.P. Arencibia. The dude who came into the game with a .196 OBP and a 36 OPS+. He went 4-for-5 with two doubles, a solo homer, the grand slam, and seven runs driven in on the night. Argh.
Anyway, Betances put two more runners on base after the grand slam but escaped the inning with no more damage. Teixeira tacked on some much-appreciated — and ultimately needed — insurance runs with a two-run homer in the top of the eighth to give the Yankees a 12-8 lead, Chase Whitley coughed up a run to make a 12-9 lead in the ninth (Andrus single, stolen base, two ground outs), and the bottom of the order went quietly in the top of the ninth. Of course the bottom half of the ninth couldn't be a nice and easy 1-2-3 inning. Of course not.
David Robertson, who was warming for the four or five-out save in the eighth, started the ninth innocently enough, with a strikeout of Arencibia. Take that, JPA. Martin followed with a one-out ground ball single back up the middle. Then Robertson walked Robinson Chirinos. Rougned Odor grounded out to first for the second out, but Choo drew a walk to load the bases and bring the winning run to the plate. Andrus singled to score two runs and make it a 12-11 game.. The Robertson walked Rios to re-load the bases. Then he went to a full count to Beltre. Then Beltre ripped a line drive to left that … the total awesome and dreamy and handsome Gardner ran down for the 27th out. Never in doubt. /barfs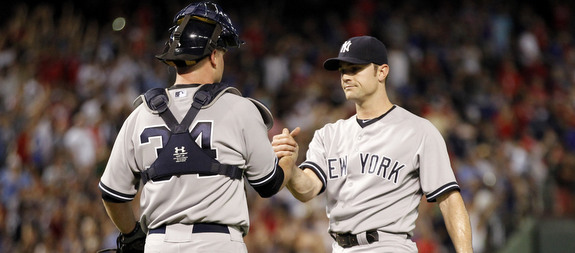 Leftovers
Four Yankees relievers — their top three relievers among them — allowed seven runs on six hits and six walks in three innings of work. Whitley was their most effective bullpen arm on the night. I guess they picked a good game to melt down like this? The offense gave them a lot of breathing room and they used every last little bit of it.
Gardner seems to be starting one of his sicko hot streaks, going 4-for-5 with a single, the homer, two doubles, and the makeshift three-base error triple one night after taking Yu Darvish deep twice. He is 7-for-10 with two doubles and three homers in the last two games, raising his season batting line to .283/.357/.455 (125 wRC+). Brett is prettay, prettay good.
Jeter went 2-for-5 and Beltran went 2-for-4, making them the only other players with multiple hits. Teixeira hit the homer and drew three walks while Headley singled and had two walks, his first two in pinstripes. The Yankees went 6-for-15 (.400) with runners in scoring position and had more walks (six) than strikeouts (five) for the tenth time this year, tied for the third most in baseball with the Blue Jays and Athletics. Only the Pirates (14) and Rays (11) have more.
The Yankees scored double-digit runs for only the third time this season and the first time in 83 (!) games. They last did it on April 24th at Fenway Park, in a 14-5 win over the Red Sox. The seven runs in the sixth inning were their most in an inning this season. They had scored five runs in an inning three times, most recently on June 24th.
Box Score, WPA Graph & Standings
MLB.com is the place to go for the box score and video highlights. FanGraphs has some more stats and ESPN has the updated standings. The Orioles, Blue Jays, and Mariners all won, so the Yankees are 4.5 games back of the top spot in the AL East and two games back of the second wildcard spot, tied with Seattle. FanGraphs puts their postseason odds at 15.3%.

Source: FanGraphs
Up Next
These two teams wrap up this three-game series on Wednesday night, when Hiroki Kuroda gets the ball against Colby Lewis. Gonna need you to go nine, Hiroki.